Thure de Thulstrup
Saved: Four 1862 Battlefields
Thanks to the efforts of our donors, plus the availability of state grants and generous landowner donations 101 acres of 1862 Civil War history are now saved! These five tracts include land from multiple efforts, and 61 acres at Shiloh in the West, and crucial tracts at Fredericksburg, Glendale and South Mountain in the East.
These battlefields represent different theaters of the war, but they share the distinction of having played an important part in shaping the history of our great nation.
The Trust and other preservationists have already saved many acres of land at both of these battlefields, but development is a real and present threat. This victory helps to ensure that the land we and others have worked so hard to protect is not compromised.
The History
On the eve of the battle of Shiloh, Confederate General Albert Sidney Johnston spoke the words "We shall attack them at daylight tomorrow." 
Attack at daylight they did, and after hours of bloody fighting and thousands of casualties on both sides, Johnston's foe in battle, Union General Ulysses S. Grant, echoed those same words. Counseled by advisors to retreat, Grant declared, "Retreat? No! I propose to attack at daylight, and whip them."
The carnage at the end of those two days was almost unimaginable. Nearly 24,000 casualties — killed, wounded, missing, or captured — made Shiloh the bloodiest battle in all American history up to that time.
Months following Shiloh, the Battle of Antietam became the bloodiest day in American history. And leading up to that infamous September day was the Battle at South Mountain on September 14. Today, our supporters are adding 18 acres to the 686 they have already saved at this battlefield. These 18 acres are at Crampton's Gap, where Union General William Franklin took at least three hours deploying his 12,000-man force to attempt to dislodge a few hundred Confederate defenders. Soon enough, the Federals gained control of all three passes through the South Mountain range. Yet the stubborn resistance on the part of the Confederates bought Confederate commander General. Lee precious time to begin the process of reuniting his army, setting the stage for the Battle of Antietam three days later.
Earlier that summer, the Battle of Glendale had taken place on June 30 as part six of the Seven Days' Battles. The battle, also known as "Frayser's Farm," took place just a few miles outside of Richmond and sits in an area that is highly threatened by development today. This preservation victory protects nine acres and gets us one step closer to completely protecting this entire battlefield. These nine acres are important for many reasons – the land was an untouched "hole in the doughnut," surrounded by hallowed ground saved by our members in previous years. Thankfully now, these acres in the center will never fall prey to development.
Swaths of contiguous open "raw" land are back in high demand by developers in both the Richmond and Fredericksburg areas, making every victory all the more important. At the battle of Fredericksburg, we can celebrate preserving 11 acres adjacent to "Latimer's Knoll" and near the Slaughter Pen Farm, the Trust's landmark preservation success. Saving this sector, that was aflame with fighting on the afternoon of December 13, is an important step in preserving the full historical meaning of this sacred place. Thanks to our members, we have ensured that these hallowed acres will never be paved over.
Your Victory
101
ACRES TARGETED
Donation Match
$4.85-to-$1
BATTLE MAP | American Battlefield Trust's map of the Battle of Shiloh, Tennessee on April 6, 1862.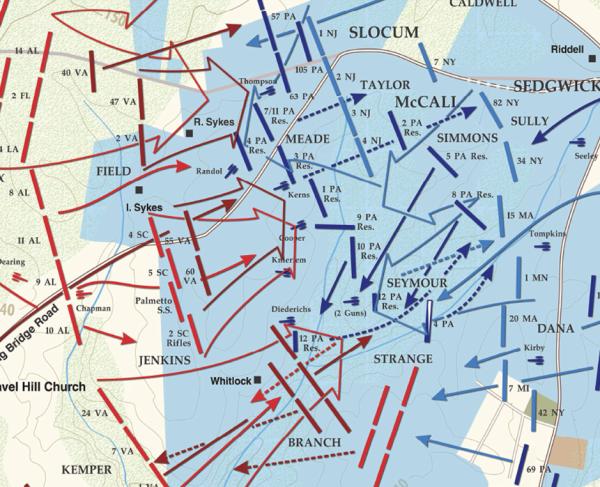 BATTLE MAP | American Battlefield Trust's map of land preserved at the Battle of Glendale, Virginia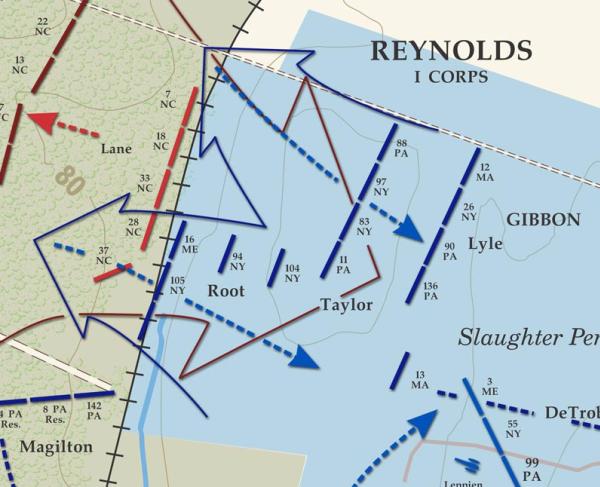 BATTLE MAP | American Battlefield Trust's map of the Battle of Fredericksburg, Virginia, at Latimer's Knoll on December 13, 1862