Saved: 49 Acres at Gettysburg
The American Battlefield Trust has saved more history at the famed Gettysburg Battlefield — three parcels — adding up to nearly 49 acres. Had it not been for the generosity of the Trust's tenacious members, along with the American Battlefield Protection Program and a landowner donation, this land would've likely succumbed to development threats along Baltimore Pike.
This broad historic landscape encompasses many aspects of the Battle of Gettysburg — and allows us to save scenic, as well as didactic, views of the battlefield. That is especially true of the largest tract, sitting at 46.8 acres, as it yielded such views of the battle at Big Round Top, Cemetery Hill and Culp's Hill in 1863. And not only that — the battle flowed over the property as well! In recent years, this area was foreseen as becoming a housing subdivision of large-lot "McMansions" that obstructed the view of Big Round Top. But not on the Trust's watch! Now, this preserved hallowed ground has the potential to give this and future generations the experience of seeing Gettysburg through a broader and more gratifying lens.
While smaller, the two other tracts — totaling 1.73 acres — played a significant role in the second day's battle. So, turning our attention to the slopes of East Cemetery Hill, one of these properties includes the historic James McKnight House with the other parcel laying immediately south. Surely, when McKnight bought this home — along with a barn and five acres of land — in 1860, he could've never imagined that the largest battle ever fought in North America would sweep over his property three years later.
Over the course of July 1-2, 1863, tens of thousands of Union troops marched right in front of, paused on, passed over, fought on and were buried on McKnight's farm. The Union made sure to strategically station the vital 5th Maine Battery on McKnight's Hill on July 1, and when Confederate troops under Gen. Jubal Early made their fierce attack on East Cemetery Hill on the evening of July 2, the battery held and secured ample time for Union reinforcements to come on scene and push the Confederate forces fully back.
Vast interest in this storied hallowed ground — evidenced by the awarding of grants, a landowner donation, and a handful of large gifts — allowed for donor dollars to be matched $5.48-to-$1, ultimately unlocking the way to save these three riveting properties forevermore and creating even more momentum to strive toward our next success story!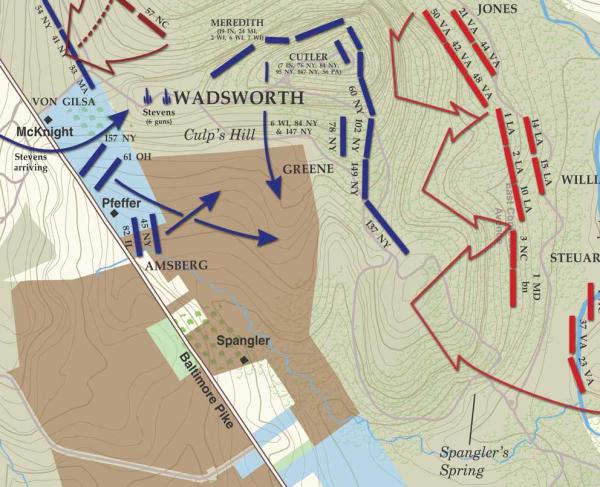 BATTLE MAP | American Battlefield Trust's map of the Battle of Culp's Hill, Gettysburg, Pennsylvania on July 2, 1863
SATELLITE MAP | American Battlefield Trust's satellite map of the Battle for Culp's Hill at Gettysburg on July 2, 1863.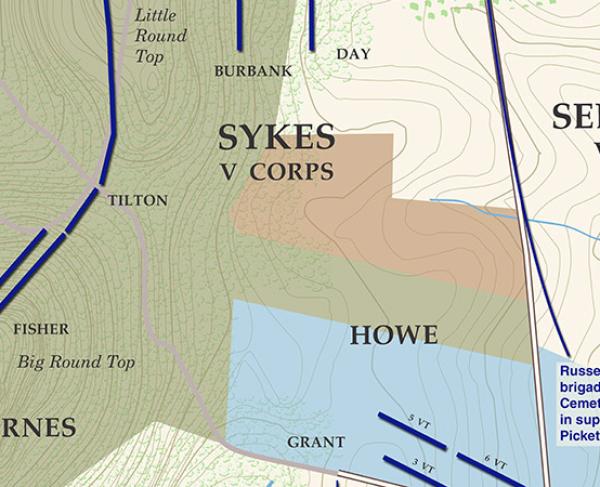 BATTLE MAP | American Battlefield Trust's map of Little Round Top at the Battle of Gettysburg on July 3, 1863