News
Veterans in Parks Act Will Provide America's Heroes With Unfettered Access to America's Treasures
American Battlefield Trust lauds federal legislation that will provide free federal recreation area entrance to active-duty military and lifetime access to veterans and Gold Star Families
Jim Campi, (202) 367-1861 x7205
Mary Koik, (202) 367-1861 x7231
(Washington, D.C.) — The American Battlefield Trust, the nation's premier nonprofit battlefield preservation organization, applauds U.S. Reps. Ruben Gallego (D-Ariz.) and Mariannette Miller-Meeks (R-Iowa) — plus 133 original bipartisan cosponsors —for the recent introduction of the Veterans in Parks Act, or VIP Act. This bipartisan federal legislation recognizes that our active-duty servicemembers, veterans, and Gold Star families should be treated like VIPs in America's national parks and on our public lands.
The act would allow for free annual America the Beautiful Passes to be made available to current military service members and free lifetime access to veterans and members of Gold Star families so they can freely enter all our national parks and public lands. The America the Beautiful Pass provides access to more than 2,000 federal recreation areas, including our national parks, national forests, and wildlife refuges. Although the pass was made free to veterans and Gold Star families for 2020, the VIP Act codifies and perpetuates that move. A hearing on the bill is scheduled for today, July 13, before the House Committee on Natural Resources' Subcommittee on National Parks, Forests and Public Lands.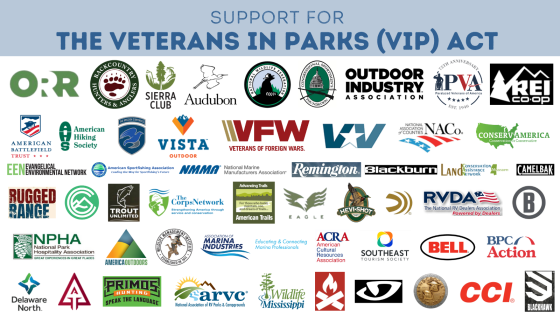 "By answering the call to service, our active-duty military and veterans have proven a willingness to sacrifice on behalf of this nation, demonstrating their commitment to its highest ideals," said Trust President David Duncan. "Ensuring them unfettered access to America's most meaningful landscapes, places of enduring significance to the fabric of our nation, is a fitting gesture of gratitude. The American Battlefield Trust, a stalwart supporter of both the National Park Service and our modern military, unreservedly supports the Veterans in Parks Act, and stands ready to help welcome modern warriors as they walk in the footsteps of their forbearers at the nation's battlefield parks."
The American Battlefield Trust is proud to support this meaningful legislation, along with scores of other likeminded organizations, including: Paralyzed Veterans of America, the National Association of Counties,  Veterans of Foreign Wars,  American Cultural Resources Association, VoteVets, The Mission Continues, Congressional Sportsmen's Foundation, Trout Unlimited, American Trails, Backcountry Hunters & Anglers, American Hiking Society, ConservAmerica, Southeast Tourism Society, REI Co-op, Audubon, Sierra Club, U.S. Travel Association, National Wildlife Federation, American Conservation Coalition, America Outdoors, Student Conservation Association and Wildlife Management Institute.
The American Battlefield Trust is dedicated to preserving America's hallowed battlegrounds and educating the public about what happened there and why it matters today.  The nonprofit, nonpartisan organization has protected more than 53,000 acres associated with the Revolutionary War, War of 1812 and Civil War. Learn more at www.battlefields.org. 
###