Urgent Action Required to Stabilize Portions of Vicksburg National Military Park Closed for Nearly Three Years by Catastrophic Rain and Erosion
Preservation organizations, led by the American Battlefield Trust, call upon Congress to allocate the funds for the National Park Service to repair and reopen the park before the damage can't be undone
Jim Campi, (202) 367-1861 x7205
Mary Koik, (202) 367-1861 x7231
(Vicksburg, Miss.) — Preservation and conservation organizations, led by the nonprofit American Battlefield Trust, are calling on Congress to take measures to reopen huge portions of Vicksburg National Military Park that have been closed for nearly three years following catastrophic damage caused by torrential rainfalls in early 2020. Nearly one-third of the park remains closed to the public, unsafe and inaccessible, due to erosion that undermined large swaths of the hilly landscape, buckling miles of the park's roads. Perhaps worst of all, it washed out portions of Vicksburg National Cemetery, endangering the remains of our nation's heroes. 
"Gradual erosion caused by the region's unique geology has been an ongoing issue for the park over the decades, but this event was truly devastating" said Trust President David Duncan. "We have the opportunity to address these underlying issues and create infrastructure built to last. But we must move now, before the damage can't be undone." 
To draw attention to the issue and showcase the massive scale of damage caused at key park locations, the Trust, along with the National Parks Conservation Association (NPCA) and the Friends of Vicksburg National Military Park and Campaign, created a short video paired with a mechanism for concerned citizens to speak out and contact their legislators.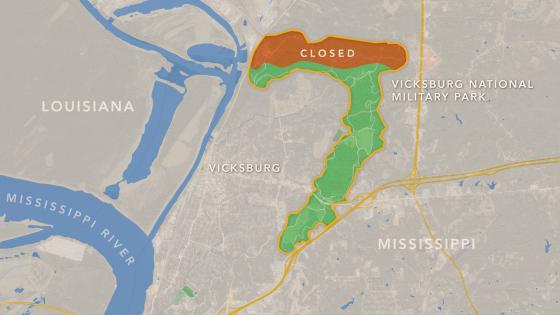 In the film, describing his visit to Vicksburg to assess the damage, Alan Spears, senior director of cultural resources at NPCA, confesses, "I was overwhelmed by what I saw," while Bess Averett, executive director of Friends of Vicksburg adds "It looks like an earthquake has come through." Certified landscape architect Glenn Stach assesses it as "a significant public health, safety and welfare situation."  
Beyond closing key areas of the park vital to a clear understanding of this turning-point battle, the long delay stands to have tangible community impact, with fewer heritage tourists making plans to visit Mississippi's single-most visited attraction, damaging the local economy. Advocates also point out that the lack of attention paid to this issue undermines Vicksburg's status as a key moment in the Civil War, cutting the Confederacy in half and leading to Ulysses Grant's elevation to general-in-chief of all Union armies.  
Unfortunately, the underlying issues related to soil type require more than simple repair. Studies must be undertaken so that new infrastructure is sufficient to withstand ongoing pressures, otherwise, the next major storm will start the cycle again, washing out sections of roadway and exposing burials in the nation's largest Civil War cemetery. As the closed portions of the park languish, they are exposed to even more weather than typical, speeding their deterioration. If action is not taken swiftly, the soft soil around Vicksburg will continue to erode unabated, pulling more of this hallowed ground into the Mississippi River. 
The preservation groups invite members of the public to use the mechanism on the Trust's website to contact their federal legislators and urge them to take immediate and decisive steps to help the National Park Service return this battlefield to its full glory. 
The American Battlefield Trust is dedicated to preserving America's hallowed battlegrounds and educating the public about what happened there and why it matters today. The nonprofit, nonpartisan organization has protected more than 55,000 acres associated with the Revolutionary War, War of 1812 and Civil War. Learn more at www.battlefields.org.  
###