News
Teachers Unite for the American Battlefield Trust's 20th National Teacher Institute
The nation's leading battlefield preservation and education organization maintains its commitment to enhancing history education with professional development events for educators worldwide
Colleen Cheslak, 202-367-1861 x7234
(Mobile, Ala.) — Teaching in 2022 comes with a host of challenges, but the American Battlefield Trust has educators covered when it comes to discussing the complexity of America's past. Its free, dual-track Teacher Institute programs provided outstanding continuing education opportunities to more than 860 individuals from four countries and 42 states, either online or in-person in Mobile, Ala. While the on-site National Teacher Institute is a long-time Trust tradition, it was paused for the past two summers in favor of a virtual option; this year marked the first time teachers could choose between both options.  
"Teachers are undoubtedly one of the most valuable resources a community has, and the American Battlefield Trust wants to ensure that those teaching our nation's intricate history can lean on a treasure trove of classroom-ready materials and professional development opportunities to bring creativity and perspective to the pivotal subject," said Trust President David Duncan. "With two ways to participate in the Trust's 20th Teacher Institute, we've made it possible for more educators to embrace the event, no matter where they are or what format they prefer." 
With both formats hosting K-12 teachers & administrators, museum professionals, librarians and college-level educators, the dual-track Teacher Institute featured a wide assortment of topics, time periods and wars — from the Revolution through Vietnam. Plus, speakers hailed from institutions including the National Park Service, Congressional Medal of Honor Society, AncestryK12, John L. Nau III Center for Civil War History at the University of Virginia, Museum of the American Revolution, American Civil War Museum, New Bedford Whaling Museum, National World War I Museum and Memorial, Boston Tea Party Ships & Museum, United States Holocaust Memorial Museum and the History Museum of Mobile, among others.  
In the Trust's third year of the virtual professional development event, 27 thought-provoking sessions between July 11-14 gave educators new stories and ideas to share with their students. From workshops to lectures that ranged from Civil War myth and memory to whaling and the U.S. Navy to Native American rock art, attendees were met by subject matter experts, including skilled practitioners and a number of best-selling authors. Sessions included: "Seeing the British Side of the American Revolution"; "Reel History: How Movies Influence American History, and What They Can Teach Students"; "Thenceforward and Forever Free: African American Freedom Seekers and the Complexities of Emancipation"; "The Boston Tea Party, 1773-2023: 250 Years of Significance"; and "Civil War Complexities in the Classroom: How We Tell Nuanced Histories."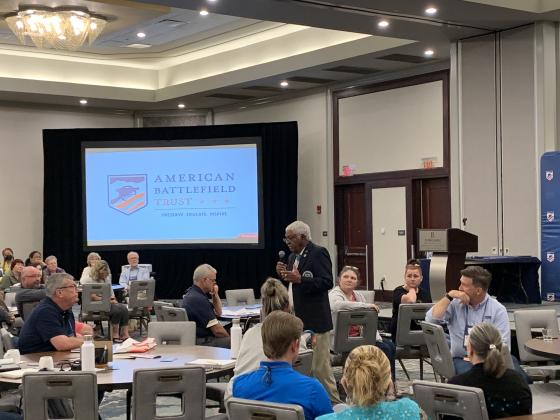 From July 21-24, attendees fell "Into the Depths of History" in Mobile, Ala., via breakout sessions, workshops, lectures and tours to Forts Blakeley and Gaines, Historic Mobile, Historic Pensacola Village, and the USS Alabama. Popular sessions included: "Teaching American History with 100 Milestone American Documents"; "Augmenting Your Reality: Using Augmented and Virtual Reality in the Field and in the Classroom"; "Mapping the Past: The Stories that Maps Tell"; "Season of Independence: Digital Classroom Resources Orientation"; and "Go South to Freedom: The Underground Railroad at Gulf Islands National Seashore."  Educators were also given the chance to hear from Medal of Honor recipient Melvin Morris, who spoke about his military service, the concept of valor and what educators can do in their classrooms to recognize acts of valor on and off the battlefield.  
Recognition came in many forms at the two-fold Teacher Institute. Notably, in Mobile, Dr. Chris Mackowski was presented with an award for outstanding service. Deputy Director of Education Kristopher White stated, "Chris has been a great partner of ours for years. He goes above and beyond, and we appreciate everything he brings to the table for us — from his teacher workshops to his tours to his appearances in our videos. If you've ever watched him, his passion shows through. You know he loves what he does, and we love what he does for us." Mackowski has also lent his knack for writing — a background in journalism — to the Trust's print and digital publications, and enthusiastically supported numerous battlefield preservation initiatives.   
Two decades of the Teacher Institute has left a large impression on educators and their students, and the new dual format has made an even bigger difference. In its virtual format alone, the event has reached more than 2,500 educators, giving the potential to connect 75,000 students with the American Battlefield Trust's educational resources. It wouldn't be possible to make these vital connections without the ardent efforts of the Trust's Education Department, who spend months in preparation to ensure that the Teacher Institute showcases the many layers of history education and is presented by a diverse mix of speakers. 
Of the feedback gathered from this year's in-person Teacher Institute, one appreciative participant noted, "Thank you, this is vital for teaching our history and also an incredible time to spend with other folks who are just as passionate about history." 
In the coming years, the organization will continue to offer a dual-track program with in-person and online options; both will remain free and provide an opportunity to procure Continuing Education Units. Next year's in-person Teacher Institute will bring participants to Charm City — Baltimore, Md. For additional educator resources, please visit www.battlefields.org/learn/educators. 
The American Battlefield Trust is dedicated to preserving America's hallowed battlegrounds and educating the public about what happened there and why it matters today. The nonprofit, nonpartisan organization has protected more than 55,000 acres associated with the Revolutionary War, War of 1812 and Civil War. Learn more at www.battlefields.org.  
###