Seven Score and 17 Years After Lincoln Gave His Iconic Address at Gettysburg, Augmented Reality App Lets Him Give It Anywhere
The Gettysburg AR Experience app from the American Battlefield Trust lets users interact with historic events, including battle action and cemetery dedication, digitally
(Gettysburg, Pa.) – Millions of visitors to the Gettysburg Battlefield over the past 157 years have sought to imagine exactly what the terrible struggle that unfolded there in 1863 would have looked to eyewitnesses. Now, a new augmented reality effort, the Gettysburg AR Experience from the American Battlefield Trust — the first such treatment for the Gettysburg Battlefield — digitally inserts animated versions of historical events into the user's environment. This means that a digital Lincoln can deliver his Gettysburg Address from the comfort of your living room or that any local park can bear witness to the agony of the wounded in the battle's aftermath.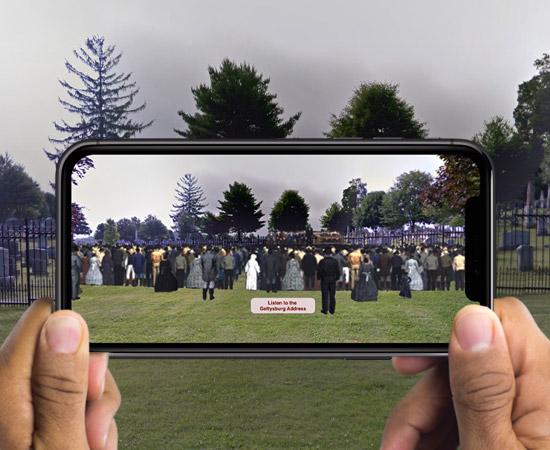 "The American Battlefield Trust is committed to finding ways for 21st century innovations to breathe life into events and personalities from the 18th and 19th centuries," said organization president David Duncan. "A decade ago, we pioneered this unique type of place-based education with our first Battle App® guides, and now we are pushing the envelope again with augmented reality."  
The Trust is the nation's premier battlefield land preservation organization, setting aside more than 53,000 acres associated with the American Revolution, the War of 1812 and the Civil War since 1987. But more than a land conservation entity, it has become an education and interpretation powerhouse, welcoming millions of students to enjoy its content and providing direct support to many thousands of classroom teachers in 2020 alone. 
From decades spent leading tours of Gettysburg and other important sites, the Trust's chief historian, Garry Adelman, knows what will spark the imagination of visitors. "What you need to do as a battlefield guide is to drag the past forward," he said. "We know that technology provides all sorts of windows to allow enlivening of the senses so you can get a little closer to the past. And the Gettysburg AR Experience is one of the closest things to time travel I have yet encountered."  
That level of immersion stems from cutting-edge technology brought to bear by Trust partners Lumina Datamatics, an international firm with American headquarters in Norwell, Mass., and Interactive Knowledge, a frequent Trust development partner based in Charlotte, N.C. Lumina Datamatics produced the app's audio and visual renderings — 3D animations and interactive objects and characters, while Interactive Knowledge built the app, which works for both iOS and Android systems and is structured to expand with additional interactive scenes in the months to come. 
"From the outset, we were excited by the way that this project marries high-quality educational content and the engaging use of technology," said Kurt Jordan, Director of Account Development, at Lumina Datamatics. "We are proud to have been part of this exciting process and hope that it shows meaningful applications for this type of work." Tim Songer, President, of Interactive Knowledge agreed, adding, "It was great to be part of such a dynamic team for this first-of-its-kind product. The opportunities for further growth in this app are tremendous and have the potential to revolutionize the way that people experience historic sites."  
The release of the Gettysburg AR Experience coincides with one of the included scenes — President Abraham Lincoln delivering the Gettysburg Address during the dedication of the Soldiers' National Cemetery. This initial package is designed for use anywhere, letting the 16th president offer his eloquent words in schoolyards and backyards. But functionalities set for release next spring will offer an enhanced experience for those who bring the app to Gettysburg in person, as a mobile device scans the land and virtually places people and things from the past in their precise geographic setting; history right there, where it all happened. Standing near the Angle where Pickett's Charge reached its climax, for example, users will not only see the staggering scale of that assault, but be prompted to interact with Lt. Alonzo Cushing still commanding his cannons despite a mortal abdominal wound.  
"We see augmented reality as an integral part of future battlefield visitation — and in-depth learning anywhere," said Trust Chief Digital Officer Lawrence Swiader. "Students are the biggest consumers of content on the Trust's website and we believe that functionalities like augmented reality will draw their attention to the battlefields by making the past seem more tangible. Families who visit Gettysburg now have a new and dynamic way to experience the battlefield together."  
The scenes depicted in the Gettysburg AR Experience were chosen to both emphasize dramatic moments in the battle and to illustrate important truths that aid in the understanding of history. When 69-year-old War of 1812 veteran John Burns took up his gun to fight alongside the Iron Brigade on July 1, 1863, it was because of the grim reality that the war had come to his backyard. And when the smoke of battle cleared, every house became a hospital and many citizens became nurses, perhaps tending to the wounded from both sides, as seen at the Hummelbaugh farm. 
That multifaceted approach to teaching history appealed to officials at the HTR Foundation, the Trust's most indispensably generous supporter over the last 30 years, which provided a generous grant to help finance this groundbreaking project. Additional funds were provided by Trust members via a digital-only appeal for contributions that swiftly met its $50,000 goal. 
"Our founder, A. Copeland Hill, clearly understood that history had the power to capture the imagination and make Americans feel powerfully connected to those who came before them," said HTR Board President Jeffery McClanathan. "If technology like augmented reality had been available in his lifetime, he would have immediately embraced its potential and so we are proud to do so in his name."  
The Trust is no stranger to pioneering the use of technology to improve history education, especially on-site interpretation of battlefields. To date, it has released a total of 23 apps designed to help battlefield visitors maximize their opportunities on site by integrating expert audio and video content as well as on-board GPS-enabled maps. Last autumn, the Trust launched Civil War 1864: A Virtual Reality Experience an award-winning immersive video that places viewers at the center of four period scenarios. Whereas virtual reality places modern audiences into a generated environment, augmented reality places digital elements onto the physical landscape.  
The Gettysburg AR Experience is now available for free download on both iOS and Android devices. 
The American Battlefield Trust is dedicated to preserving America's hallowed battlegrounds and educating the public about what happened there and why it matters today.  The nonprofit, nonpartisan organization has protected more than 53,000 acres associated with the Revolutionary War, War of 1812, and Civil War. Learn more at www.battlefields.org. 
###