History, Conservation & Education Entities Join Forces to Protect Alabama Civil War Battlefield
Conservation partnership will preserve the land for environmental and historical value, supporting new opportunities for Civil War research
(Mobile County, Ala.) — Today, The Conservation Fund, American Battlefield Trust and the University of South Alabama (USA) announced the protection of roughly 60 acres at the Fort Blakeley Battlefield in Baldwin County, Alabama. The permanent conservation of this historic site—where U.S. Colored Troops fought and won—will also expand research opportunities and enhance protection for one of Alabama's most endangered ecosystems, using funding from the American Battlefield Protection Program under the federal Land and Water Conservation Fund (LWCF) and other sources.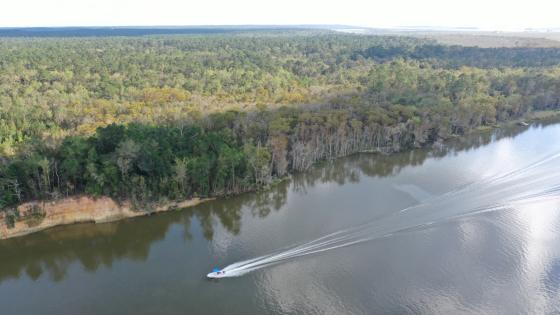 Many have called the Battle of Fort Blakeley the "last stand of the Confederate States of America," because it was fought as hostilities drew to a close in 1865. On April 9—the same day that Gen. Robert E. Lee surrendered the Army of Northern Virginia at Appomattox Court House—in less than half an hour the Confederate Fort was overrun by Union troops, including 5,000 African American soldiers, leading to an overwhelming victory. The encounter at Fort Blakeley ranks among the heaviest concentrations of African American soldiers who participated in any one battle during the Civil War. 
About 40 percent of the 2,000-acre battlefield is protected under public ownership by the State of Alabama. However, what is arguably the most significant quarter of the battle site, where U.S. Colored Troops overran Confederate defenses in a raging assault, was unprotected until now. The 60-acre property known as Blakeley Bluff is expected to contain valuable archaeological data related to this African American experience. The protection of this land will allow USA greater opportunities for archaeological digs, historical research and preservation of the battle site's rich history. 
"The involvement of Black Troops in critical U.S. battles like Fort Blakeley is largely untold. Between the Revolution and Civil War, more than 200,000 Black Troops fought for the U.S. prior to being granted full citizenship. Today's accomplishment protects one of the last critical pieces of the war's most poignant battles, prefiguring the nation's long battle for civil rights that followed. The result is one of the region's largest, best-preserved and most significant Civil War parks," said Bill Finch, a writer and naturalist who has been promoting Gulf Coast conservation for decades. 
"The University of South Alabama is pleased to be a partner in this important effort to preserve and protect a key component of historic Fort Blakeley Battlefield," said Tony G. Waldrop, president of the University of South Alabama. "As stewards of the conservation easement on this property, the University will be able to provide numerous opportunities for research for our students and faculty."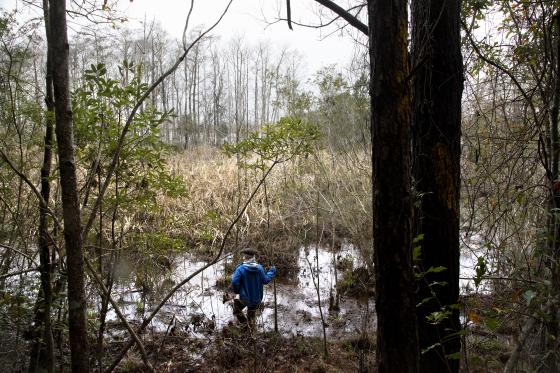 A conservation easement, granted by The Conservation Fund and held by USA, will restrict any future development of the property, not only supporting USA's ongoing research of the land, but preserving a unique and at-risk ecosystem. The Conservation Fund will continue to own and managed the land in partnership with USA. 
Blakeley Bluff is well-acknowledged for its historical importance, but it also has significant conservation value, unique ecology and diversity of interesting plant species. The bluffs are broad, rounded cliffs overlooking the Tensaw River, slightly above where the Tensaw intersects with the Apalachee River. This property contains some of the highest bluffs in Alabama, and the surrounding land consists of hardwood cove ravines, blackwater swamps and pine uplands. The hardwood ravines shelter some of the most pristine forests in the area and support rich plant diversity for species such as lilies, hibiscus, orchids and the rare Alabama dahoon holly.  
"There's no doubt that Blakeley Bluff is extremely important to American history, and its unique ecosystems made it that much more important to protect," said Andrew Schock, The Conservation Fund's Alabama and Georgia State Director. "This land has impacted so many lives in the region and finding a conservation solution that protects the bluffs both for their ecological and historical significance was a huge priority for us. I'm grateful for the dedication of USA, the American Battlefield Trust, the National Park Service and the community for sharing this goal with us." 
Funding for this preservation effort was supported in part by a battlefield land acquisition grant from the National Park Service's American Battlefield Protection Program, which is funded through the LWCF. Thanks to facilitating efforts from the American Battlefield Trust, the grant was awarded in 2019 for The Conservation Fund's purchase of the land. The remaining portion of funding was provided by private donors. 
"This land at Fort Blakely joins an incredible roster—more than 32,000 acres in 20 states—protected through an outstanding federal program designed to create public-private partnerships for preservation," said American Battlefield Trust President David N. Duncan. "We are honored to play a role in saving a site with such multilayered significance for posterity."  
The National Park Service's American Battlefield Protection Program uses funds appropriated from LWCF to permanently protect historic battlefield lands. With the recent enactment of the Great American Outdoors Act, historic legislation that ensures full and permanent funding for LWCF, the program will continue to support future projects like this one for generations to come. The Alabama Congressional delegation representing Fort Blakeley Battlefield includes U.S. Senator Richard Shelby, U.S. Senator Doug Jones and U.S. Representative Bradley Byrne.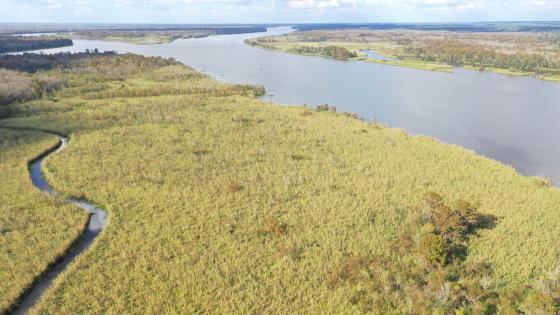 "I commend the University of South Alabama for its work, alongside the American Battlefield Trust and The Conservation Fund, to preserve a part of the Fort Blakely Battlefield which was – until this collaborative effort – unprotected," said Senator Jones. "As the site of the last major battle of the Civil War, a battle in which African-American soldiers fought among Union troops, the historical significance of this property, to Alabamians and to all Americans, cannot be understated. I am pleased that this land will now be protected, so that future generations can benefit from its rich cultural, environmental, and historical heritage." 
"The land at Blakely being set aside for preservation will ensure that an important but often unknown part of Alabama and American history will be preserved and promoted for generations," said Representative Byrne. "Students across many disciplines will be able to study its unique historical and archeological lessons waiting to be explored as well as its incredible biodiversity found nowhere else. I thank USA and all other stakeholders for working to make this happen." 
"I'm proud to support the University of South Alabama's efforts to protect this unique and historical piece of property for generations to come," Representative Matt Simpson (R - Daphne) said. "Baldwin County's historical legacy, from the First Nations to the Civil War era, is something we continue to work to defend and the grant and actions taken with this new property will enhance the great work done by previous generations. This is our history, and we will continue to preserve these notable landmarks and properties." 
In 2018, prior to the protection of Blakeley Bluff, renowned biologist and author E.O. Wilson wrote a letter to The Conservation Fund concerning the importance of protecting this land. In his letter, not only did Wilson site the personal value that the bluffs had on his childhood, but he referenced the ecological and historical significance of the property that could not risk being threatened by development. "It is, in short, one of the most significant properties within the entire Mobile-Tensaw Delta system," Wilson said in the letter. "It demonstrates how closely linked human history is to natural history. It is also one of the most endangered properties of the region." 
About The Conservation Fund 
At The Conservation Fund, we make conservation work for America. By creating solutions that make environmental and economic sense, we are redefining conservation to demonstrate its essential role in our future prosperity. Top-ranked for efficiency and effectiveness, we have worked in all 50 states since 1985 to protect more than eight million acres of land, including over 21,600 acres in Alabama. www.conservationfund.org/  
About the University of South Alabama 
The University of South Alabama is a global teaching and research university that provides students with an exceptional education in business, the liberal arts, education, engineering, computing, the sciences and health care. USA's commitment to student success includes small class sizes and hands-on research opportunities in more than 100 undergraduate, graduate and doctoral degree programs offered through 10 academic colleges and schools. USA offers advanced and innovative health care through the USA Health system of hospitals and clinics, as well as the College of Medicine. For more information, visit the University of South Alabama website, www.SouthAlabama.edu. 
About American Battlefield Trust 
The American Battlefield Trust is dedicated to preserving America's hallowed battlegrounds and educating the public about what happened there and why it matters today.  The nonprofit, nonpartisan organization has protected more than 53,000 acres associated with the Revolutionary War, War of 1812, and Civil War. Learn more at www.battlefields.org   
###