News
Civil War Trust Announces Battlefield Preservation Accomplishments for 2017
National nonprofit celebrates significant preservation successes, expands its digital reach, and adds exciting online resources for public and teachers
(Washington, D.C.) – The Civil War Trust, America's premier nonprofit battlefield preservation organization, achieved steady gains in 2017, continuing its aggressive pace of conserving historic lands.  Thanks to the generosity of individual donors, coupled with strategic partnerships with government officials and nonprofit groups across the country, the Trust protected 2,474 battlefield acres in 11 states during 2017, saving sites associated with the Civil War, American Revolution, and War of 1812.
"Because the Trust has protected these critical, until-now-threatened lands, untold future generations will enjoy and be inspired when visiting these important battlefields," Trust President James Lighthizer said.  "Our nation's history was written at these places. The work we accomplished in 2017 will be a lasting legacy."
Among the accomplishments notched in the Trust's 30th anniversary year were the preservation of its first lands in New York state: a 160-acre Revolutionary War battlefield at Fort Ann and the 24-acre Horse Island at Sackets Harbor, the Trust's first War of 1812 battlefield; the 38-acre Barlow's Knoll at Gettysburg; and 87 acres at Brice's Cross Roads in Mississippi, where U.S. Colored Troops prevented Nathan Bedford Forrest from capturing Union Gen. Samuel D. Sturgis' Union army.
At Appomattox Court House in Virginia, the Trust assembled more key sites near the village where Robert E. Lee surrendered his vaunted Army of Northern Virginia, preserving 267 acres in three separate parcels — including the Morton House site where George Armstrong Custer's troops repulsed a Confederate attack on the morning of April 9, 1865, even as truce flags flew elsewhere on the battlefield.
The Trust partnered with the National Park Foundation and the HTR Foundation to save acreage at Mississippi's Champion Hill, the decisive battle in U.S. Grant's campaign to capture Vicksburg. Near Harpers Ferry National Historical Park, the nonprofit preserved 200 acres along the scenic Shenandoah River which were crucial to the largest single capture of Federal forces during the war, by "Stonewall" Jackson's troops.
Campaign 1776 — the Trust's national initiative to preserve Revolutionary War and War of 1812 battlefields — also generated headlines in 2017.  It continued to make headway on one of the Trust's most ambitious initiatives: working to save and restore the 15-acre Washington's Charge site on the Princeton Battlefield.  In Pennsylvania, Campaign 1776 joined local, state and federal leaders at the Brandywine Battlefield to announce preservation of the 10-acre Dilworth Farm property and its new goal to save Brandywine's 88-acre Osborne Hill tract. Overall, Campaign 1776 has preserved 667 acres since its creation in 2014.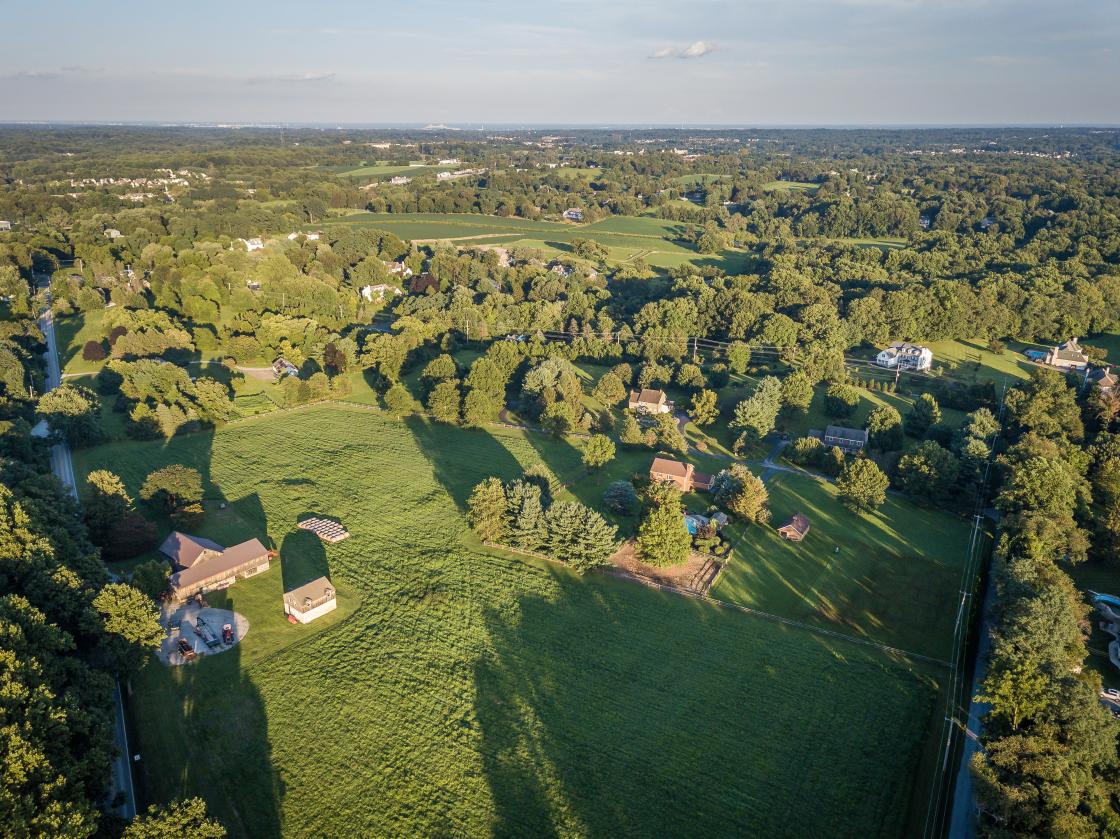 All told, the Trust and Campaign 1776 saved 41 properties valued at $29 million at 28 battlefields in 11 states in 2017: Kettle Creek, Ga.; Monocacy and South Mountain, Md.; Champion Hill, Brice's Crossroads and Vicksburg, Miss.; Bentonville, N.C.; Princeton, N.J.; Fort Ann and Sackets Harbor, N.Y.; Gettysburg, Pa.; Eutaw Springs and Hanging Rock, S.C.; Fort Donelson and Shiloh, Tenn.; Appomattox Court House, Brandy Station, Bristoe Station, Cedar Creek, Cold Harbor, Fredericksburg, Gaines' Mill, New Market Heights, Second Manassas, Trevilian Station and Upperville, Va.; Greenbrier River and Harpers Ferry, W.Va.
"We thank our donors, partner organizations, lawmakers and other individuals who understood the critical importance of preserving these historic landscapes," Lighthizer said. "These battlefields are living monuments — not just to the men in blue and gray whose blood hallowed this ground, but to all of America's veterans."
In July, Trust and National Park Foundation leaders joined U.S. Interior Secretary Ryan Zinke at Antietam National Battlefield as he announced $7.2 million in National Park Service grants to help acquire 1,200 acres of Civil War, Revolutionary War and War of 1812 battlefield land in nine states, in collaboration with the Trust.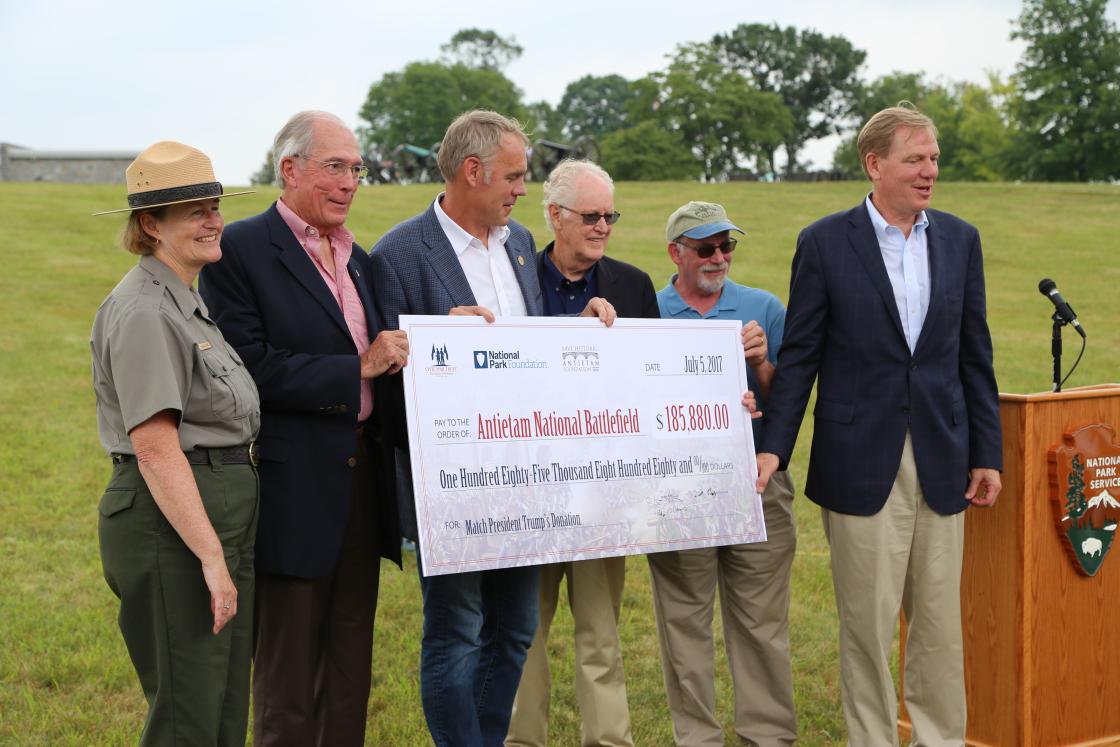 2017 saw author and journalist Bob Zeller publish his well-reviewed book, Fighting The Second Civil War: A History of Battlefield Preservation and the Emergence of the Civil War Trust — an unvarnished, dramatic and pointedly human look at the first three decades of the modern battlefield preservation movement.
In addition to land acquisition successes, the Trust and Campaign 1776 promoted greater appreciation and understanding of America's defining conflicts through innovative educational programs and digital offerings.
The Trust produced an animated, narrated 360-degree video enabling viewers to sample the Gettysburg Cyclorama, and complementing artist Mark Bradford's mural exhibition "Pickett's Charge" at the Hirshhorn Museum in Washington. On Jan. 19, Trust Director of History and Education Garry Adelman will lead a Hirshhorn gallery walk about the 19th century's Cyclorama craze, the IMAX movie phenomenon of its day.
Digitally, the Trust redesigned Civilwar.org to make the website easier for mobile visitors to use. It added 100-plus articles, battle summaries and biographies of key players, and launched a series of battlefield travel itineraries.  In 2017, the website generated some 10.5 million visits. People viewed Trust videos on Facebook and other channels such as YouTube 5 million times last year. The Trust's series of "In4" and "Your State in the Civil War" educational videos added 33 topics in 2017. With other channels — such as Pinterest, which caters to history enthusiasts who enjoy pictures — the Trust is doing a better job of reaching people "where they are." The nonprofit's 35-plus mobile apps were downloaded more than 150,000 times in 2017.
The Trust continued its popular Facebook Live coverage in 2017, streaming video from battlefields and historic sites to online viewers. It commemorated battle anniversaries at Gettysburg, Fredericksburg and Antietam, featuring special guests, access to restricted sites, and artifacts that returned to the field for the first time since the Civil War. For the holidays, it shared vivid Thanksgiving, Halloween and Christmas stories with families.
The Trust's "Generations" program, which encourages young people's interest in history and offers them fun experiences with their parents and kin, had children follow in the footsteps of heroes at Gettysburg, defend Library Hill in Pittsburgh, and watch re-enactors gallop on horseback at Brandy Station in Culpeper County, Va. The Trust's Field Trip Fund helped 4,500 students and teachers visit battlefields and historic sites in 27 states in 2017.  Plus, the Trust's Traveling Trunk program crisscrossed the country, bringing history directly into 92 classrooms in 33 states and the District of Columbia.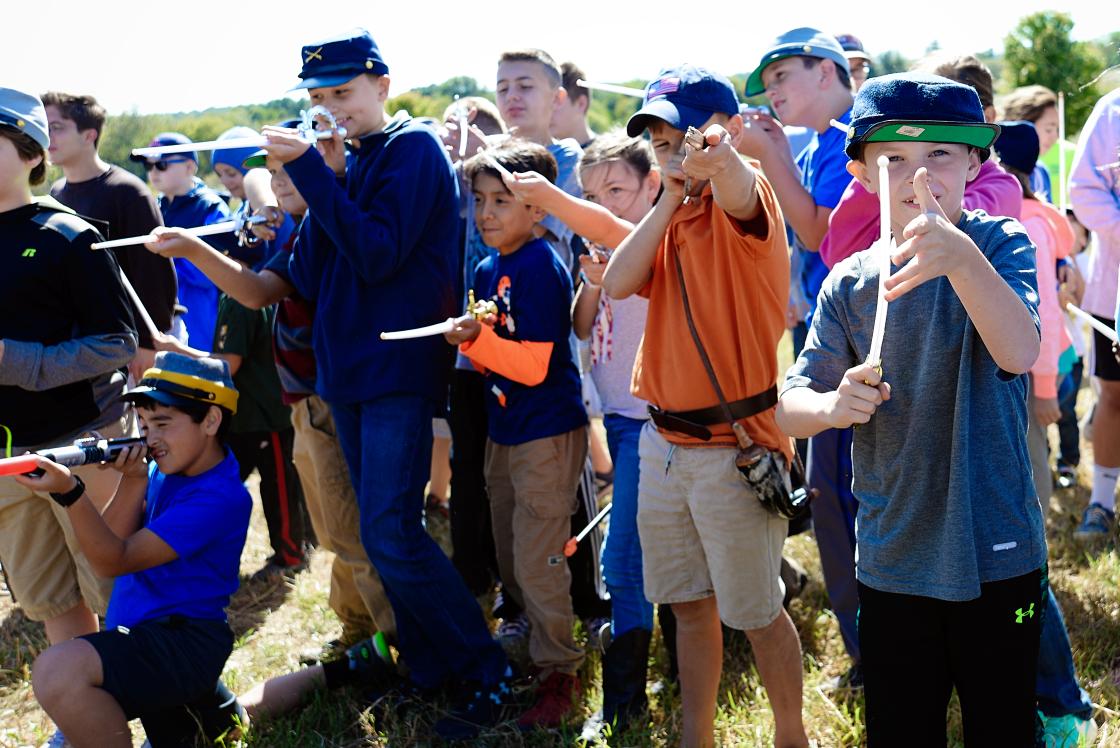 The Trust earned accolades for sound fiscal management and commitment to top-notch donor relations.  National nonprofit leader GuideStar recognized the Civil War Trust with the coveted Platinum GuideStar Nonprofit Seal of Transparency, its highest award for excellence in nonprofit management and transparency. The Trust earned its eighth consecutive 4-star ranking from Charity Navigator, America's leading charity evaluator — an honor attained by only 2 percent of charities it ranks.
The Trust's preservation work in 2017 would not have been possible without the dedication of Trust partners, including: the American Battlefield Protection Program, National Park Service; Adams County, Pa; Bentonville Battlefield State Historic Site (N.C.); Birmingham Township, Pa.; Boyle County Fiscal Court (Ky.); City of Franklin, Tenn.; Frederick County, Md.; Georgia Department of Natural Resources; Jefferson County Historic Landmarks Commission (W.V.); Lancaster County, S.C.; Maryland Department of Natural Resources; Maryland Department of Transportation; Maryland Environmental Trust; Maryland Heritage Areas Authority; Maryland Historical Trust; Mississippi Department of Archives and History; Municipality of Princeton, N.J.; New Jersey Department of Environmental Protection; New York Parks, Recreation and Historic Preservation; North Carolina Department of Natural and Cultural Resources; Oklahoma Historical Society; Pennsylvania Historical and Museum Commission; Prince William County, Va.; South Carolina Conservation Bank; South Carolina Department of Archives and History; Tennessee Historical Commission; Town of Fort Ann, N.Y.: Virginia Department of Conservation and Recreation; Virginia Department of Historic Resources; Virginia Department of Transportation; Washington County, Md., and Wilkes County, Ga.
Numerous organizations also contributed to these successes, including: the Agricultural Stewardship Association; Averasboro Battlefield Commission; Battle of Franklin Trust; Brandy Station Foundation; Brandywine Conservancy; Brice's Crossroads National Battlefield Commission, Inc.; Central Maryland Heritage League; Central Virginia Battlefields Trust; Fauquier and Loudoun Garden Club; Franklin's Charge; Friends of Cedar Mountain Battlefield; Friends of Perryville Battlefield; Friends of Shiloh National Military Park; Friends of Vicksburg National Military Park and Campaign; Friends of Wilderness Battlefield; Georgia Battlefields Association; Georgia Piedmont Land Trust; Gettysburg Foundation; HTR Foundation; Katawba Valley Land Trust; Kettle Creek Battlefield Association; Land Conservancy of Adams County; Land Trust of Virginia; Lord Berkeley Conservation Trust; Lyndhurst Foundation; Manassas Battlefield Trust; National Parks Conservation Association; National Park Foundation; Northern Virginia Regional Park Authority; Petersburg Battlefields Foundation; Piedmont Environmental Council; Princeton Battlefield Society; Richmond Battlefields Association; Riverview Foundation; Save Historic Antietam Foundation; Shenandoah Valley Battlefields Foundation; Shepherdstown Battlefield Preservation Association; South Carolina Battleground Preservation Trust; The Historic Green Springs, Inc.; Tennessee Civil War Preservation Association; The Journey Through Hallowed Ground National Heritage Area; Trevilian Station Battlefield Foundation; The West Virginia Land Trust, Inc.; Watson-Brown Foundation; and Williamsburg Battlefield Association.
The Civil War Trust is a national nonprofit land preservation organization devoted to the protection of America's hallowed battlegrounds. It saves the battlefields of the Civil War, the Revolutionary War and War of 1812, and educates the public about their importance in forging the nation we are today. To date, the Trust has preserved more than 48,000 acres of battlefield land in 24 states.
The Civil War Preservation Trust became the Civil War Trust in January 2011; the Civil War Trust became a division of the American Battlefield Trust in May 2018. Campaign 1776 was created in 2014 as an initiative of the Civil War Trust; in May 2018 it became the Revolutionary War Trust, a division of the American Battlefield Trust.