News
American Battlefield Trust Unveils Two Digital Offerings That Put Users in the Center of the Action
Exciting new technologies let you experience the battlefield like never before
Mary Koik, (202) 367-1861 x7231 
Melissa Winn, (202) 367-1861 x7252 
(Washington, D.C.) — The American Battlefield Trust is once again using new technologies to merge the past and present and offer users an opportunity to experience battlefields in a new way. The Trust's Civil War Battle Maps App now offers GPS-enabled maps that allow you to locate your position on the map and follow in the footsteps of those who fought in America's defining conflicts. Our new "Step Into History" video series merges historic photos with video of the modern-day spot on the battlefield, allowing viewers to watch the Trust historians literally step into the past and back again.  
"The American Battlefield Trust is more than just a land preservation organization. We take pride in our mission to educate the world about our history and to inspire this and future generations to interact with battlefields in new ways," said Trust President David Duncan. "Using these innovative technologies, we hope users will explore these hallowed grounds with a new understanding of what occurred there."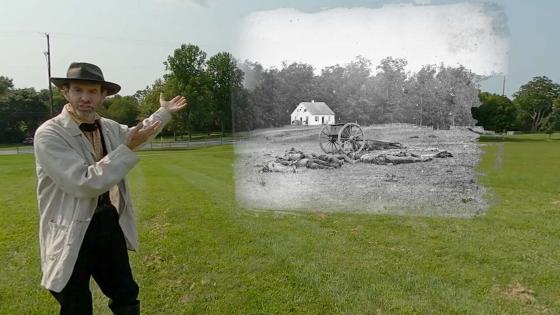 These new interactive technologies build on the Trust's already popular Civil War Battle Maps App and video series to allow users a more interactive experience with the lands and history its members help us to preserve. Users gain a new appreciation for the soldier experience in the very setting where battle was endured and watch the scene of iconic Civil War images come to life on their screen. 
The Trust has again partnered with Wide Awake Films, a Kansas City, Mo.–based creative media group focused on innovative, efficient execution of historical, commercial and corporate films, to masterfully produce this new video series. In the first three installments, Trust Chief Historian Garry Adelman steps into famous Alexander Gardner photos taken at Antietam after the September 17, 1862, battle, which remains America's bloodiest day. These captivating videos — also available in 360º virtual reality — combine contemporary video and animation methods, enabling viewers to accompany Adelman as he strolls through historical pictures and divulges the stories behind the scenes immortalized on film. The first three videos in this series are now available for viewing on the American Battlefield Trust YouTube Channel. Future Step Into History videos will feature iconic images at Gettysburg and on other properties our members have helped us save.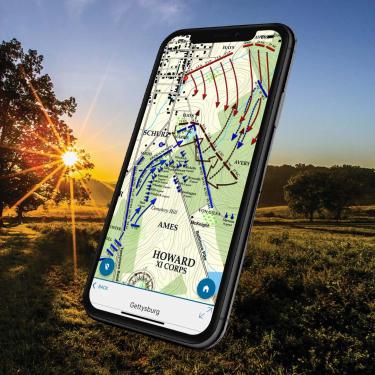 The Trust's updated Civil War Battle Maps app is available for free in the Apple App Store and for Android on Google Play. Built in partnership with app developer Neotreks of Castle Rock, Colo., the Civil War Battle Maps app allows users to explore the battlefields of the American Civil War using the American Battlefield Trust's extensive collection of battle maps. Examine these crucial conflicts in remarkable detail—all in the palm of your hand. Users can place themself in the center of the action on maps that depict the historic lines of battle and the new GPS-enabled maps allow users to locate their position on the maps with incredible accuracy!
The Civil War Battle Maps App also allows easy access to historic information, battle summaries, map overlays and other valuable information to help explore the rich, complicated history of the Civil War. The new release includes over 100+ updated maps and allows users to toggle between historic maps and modern-day landscapes to see how the land has transformed since the battles. Users can also create an optional account to check-in when they visit a battlefield and keep track of battlefield visits. 
The American Battlefield Trust is dedicated to preserving America's hallowed battlegrounds and educating the public about what happened there and why it matters today. The nonprofit, nonpartisan organization has protected more than 56,000 acres associated with the Revolutionary War, War of 1812 and Civil War across 155 sites in 25 states. Learn more at www.battlefields.org.  
###