American Battlefield Trust Honors Valor of African American Soldiers at New Market Heights
Retired Marine Corps Lieutenant General Ron Coleman walks this too-often forgotten battlefield to reflect on the shared "Warrior Legacy" present across generations of American military
(Washington, D.C.) — American history is filled with stories of exceptional valor, too many of which remain largely untold. Among those powerful examples of bravery and sacrifice is the experience of United States Colored Troops (USCT) at the Battle of New Market Heights, near Richmond, Va. For their actions during that September 28, 1864, engagement, 14 black Union soldiers units received the Medal of Honor, this nation's highest award for valor.
The American Battlefield Trust, the nation's premier battlefield preservation organization, as part of its commitment to telling the remarkable stories that unfolded on these sites, has debuted a new video in which retired Marine Corps lieutenant general Ron Coleman brings viewers to New Market Heights to following in the footsteps of that remarkable USCT assault. In the film, Coleman walks portions of the New Market Heights battlefield protected by the Trust, following in the footseps of those soldiers that came before him.
"Here at New Market Heights, the U.S. Colored Troops proved themselves beyond a shadow of a doubt," said Coleman. "If not for the USCT I would never have been able to get where I got. They had to show the mettle to be accepted, and then that got passed on from generation to generation."
Coleman, only the second African American to attain the rank of three-star general within the Marine Corps, acknowledges a powerful debt owed to the black men who volunteered to fight for the Union during the Civil War. Some were born into slavery and risked being returned to bondage if they were captured; none were recognized as U.S. citizens until the 13th Amendment was ratified in December 1865 . And yet they willingly fought with tremendous sense of purpose. Their legacy was continued by later generations of black soldiers and sailors, including the Harlem Hellfighters of World War I and Tuskegee Airmen of World War II, up until the career of Coleman himself
"Without them, I wouldn't be here — I'm standing on a lot of shoulders," the general said while walking a battlefield from an era when black men were not allowed to be commissioned officers. Several of the New Market Heights Medal of Honor recipients, despite their status as enlisted men, were forced to take command of their units after the fierce fighting saw all officers fall as casualties.
New Market Heights was the sixth major action involving USCTs in Virginia, following previous engagements at Spotsylvania Court House, Wilson's Wharf, June assaults on Petersburg, the Crater and Second Deep Bottom. The fourteen Medals of Honor awarded for New Market Heights were the first issued to black soldiers; awards were subsequently issued for actions that predated New Market Heights, but there was often a delay of years or decades, as opposed to a handful of months. The awards for New Market Heights amounted to more than half of the 25 Medals of Honor given to black soldiers during the entire Civil War. Two white officers of USCT units that fought at New Market Heights also received the Medal of Honor.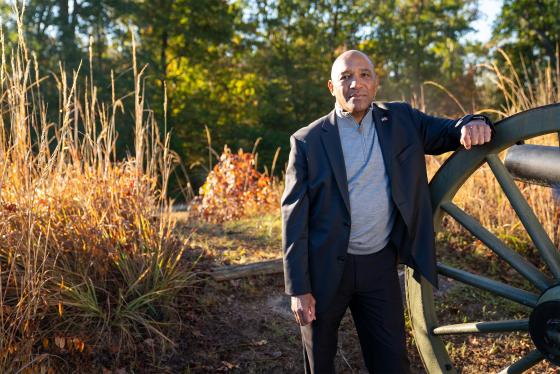 The film is part of the Trust's Warrior Legacy project, which showcases the deep connections that today's veterans and active duty military retain to their historic counterparts, and how the landscapes of historic battlefields can be used to bridge those eras. It builds upon the Trust's 2019 "Brothers in Valor" video series that saw three living Medal of Honor recipients who travel to Civil War battlefields to walk in the footsteps of Civil War awardees. The Trust is committed to creating powerful content that bridges the gap between modern servicemen and women and their forebearers in uniform, and showcasing the dedication with which its many veteran members support the protection of battlefields as monuments to those who have answered the call to our country's service.
The American Battlefield Trust proudly counts 65 acres at New Market Heights among the 52,000 acres it has saved nationally. This total includes the recently completed acquisition of 33 acres via a project supported financially by matching grants from the American Battlefield Protection Program, administered by the National Park Service, the Virginia Battlefield Preservation Fund, and a landowner donation.
However, there is much work to be done to protect this important battlefield and to tell the remarkable stories of bravery and sacrifice that unfolded there. The Trust is actively raising funds to secure an additional 22 acres adjacent to protected lands. Learn more about the brave men who fought at New Market Heights and how we can honor their legacy through preservation at www.battlefields.org/NewMarketHeights.
The Medal of Honor was presented to the following African American soldiers for their valor at New Market Heights: Pvt. William Barnes, Company C, 38th USCT; 1st Sgt. Powhatan Beaty, Company G, 5th USCT; 1st Sgt. James Bronson, Company D, 5th USCT; Sgt. Maj. Christian Fleetwood, 4th USCT; Pvt. James Gardiner, Company I, 36th USCT; Sgt. James H. Harris, Company B, 38th USCT; Sgt. Maj. Thomas R. Hawkins, 6th USCT; Sgt. Alfred Hilton, Co. H, 4th USCT; Sgt. Maj. Milton Holland, 5th USCT; Cpl. Miles James, Company B, 36th USCT; 1st Sgt. Alexander Kelly, Company F, 6th USCT; 1st Sgt. Robert Penn, Company I, 5th USCT; 1st Sgt. Edward Ratcliff, Company C, 38th USCT; and  Pvt. Robert Veal, Company D, 4th USCT. Two white officers leading USCT units, 1st Lt. William Appleton (Company H, 4th USCT) and  Lt. Nathan Edgerton (Adjutant, 6th USCT) were also recognized with that honor.
The American Battlefield Trust is dedicated to preserving America's hallowed battlegrounds and educating the public about what happened there and why it matters today. The nonprofit, nonpartisan organization has protected more than 52,000 acres associated with the Revolutionary War, War of 1812 and Civil War.  Learn more at www.battlefields.org.
###