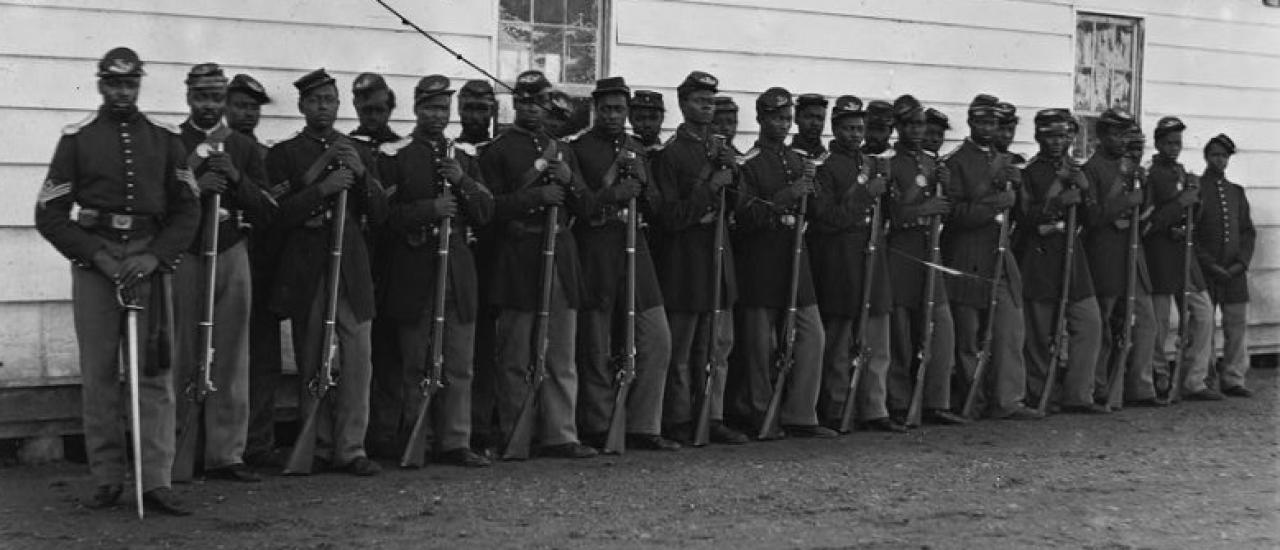 Library of Congress
Road to Freedom
Explore the Southern Civil War-era African American experience
The Road to Freedom highlights the Southern Civil War-era African American experience, encouraging explorers to uncover these little-known stories of strife, growth, community, and more.
Road to Freedom
The American Battlefield Trust's Road to Freedom unleashes the power of both perspective and place and introduces historical figures that have been given little voice until now. This application allows you to interact with these stories in various ways. You can explore the Road to Freedom sites at large, and investigate the state's history through tour collections for particular Virginia cities and themes, and read the illuminating narratives of key events and locations.
The Road to Freedom features historic places ranging from museums to battlefields to schools to cemeteries pertaining to key topics in African American history, such as slavery, emancipation, the United States Colored Troops, and Reconstruction — and the proactive role that those men and women took in forging their own narratives. While the first Road to Freedom release focused on Virginia sites and stories, plans are underway to expand the project into Tennessee and North Carolina, as well as other potential locations.
 
 
Road to Freedom Sites
Click any point on the Road to Freedom below to learn what happened there.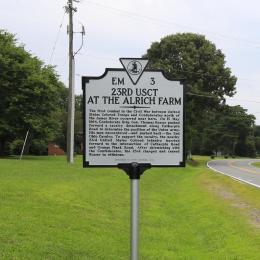 23rd USCT At The Alrich Farm
The first combat in the Civil War between United States Colored Troops and Confederates north of the James River occurred near here.
During the Civil War, Elizabeth Van Lew led a Union espionage operation. African Americans, such as Van Lew's associate Mary Jane Richards, served in Richmond's Unionist underground.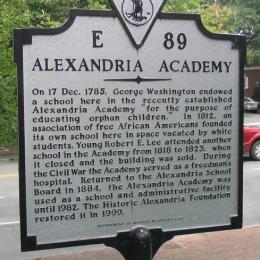 Alexandria Academy
On 17 Dec. 1785, George Washington endowed a school here in the recently established Alexandria Academy "for the purpose of educating orphan children." In 1812, an association of free African Americans founded its own school here in space vacated by white...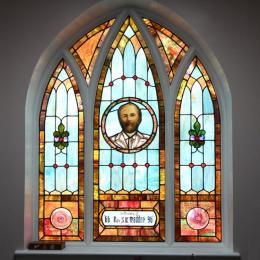 Alfred Street Baptist Church
The Alfred Street Baptist Church is home to the oldest African American congregation in Alexandria, dating to the early 19th century.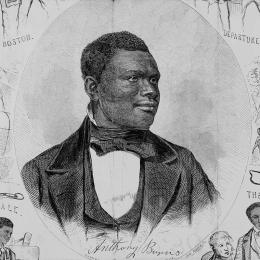 Anthony Burns
Anthony Burns (1834-1862) was born into slavery near this location.
Battle of Big Bethel
Dozens of slaves fled to "Freedom's Fortress" daily from rural areas such as Big Bethel.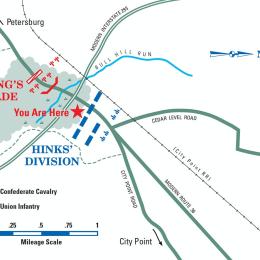 Baylor's Farm
The skirmish at Baylor's Farm proved African American soldiers' willingness and ability to fight, qualities the Union army would rely on throughout the Petersburg campaign.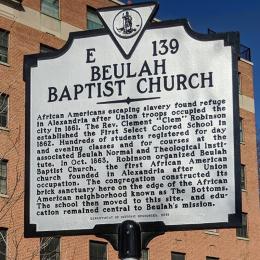 Beulah Baptist Church
 In Oct. 1863, Robinson organized Beulah Baptist Church, the first African American church founded in Alexandria after Union occupation.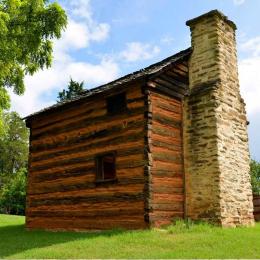 Booker T. Washington
Booker T. Washington was born a slave on the nearby Burroughs plantation on April 5, 1856. He was graduated from Hampton Institute in 1875 where he became an instructor.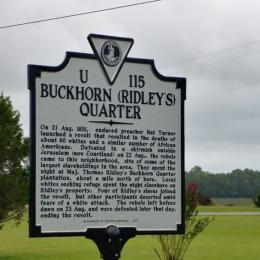 Buckhorn (Ridley's) Quarter
-77.142394
When enslaved preacher Nat Turner launched a revolt that resulted in many deaths, the rebels came to this neighborhood, site of some of the largest slaveholdings in the area, and spent the night at Maj. Thomas Ridley's Buckhorn Quarter plantation.
During the Civil War, African American laborers chopped wood and conveyed it to Burke's Station, a major Federal timber transportation station located here on the Orange & Alexandria Railroad.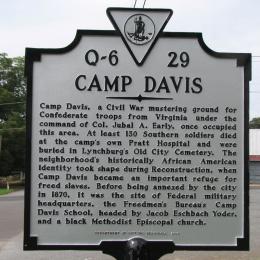 Camp Davis
Camp Davis, a Civil War mustering ground for Confederate troops from Virginia under the command of Col. Jubal A. Early, once occupied this area.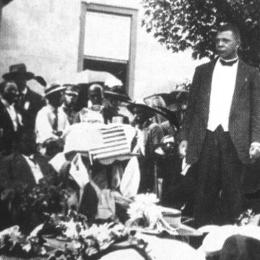 Christiansburg Industrial Institute
In 1866, Captain Charles S. Schaeffer, a Freedmen's Bureau agent, organized a school for blacks on the hill just to the southeast of this location.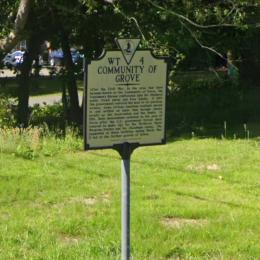 Community of Grove
After the Civil War, in the area that later became known as the Community of Grove, the Freedmen's Bureau confiscated land for displaced newly freed slaves and free blacks.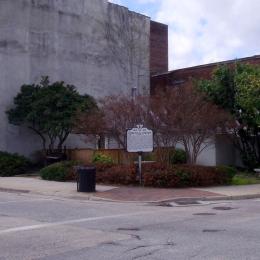 Corling's Corner
At this highly visible downtown intersection known as Corling's Corner, local manufacturers, railroad companies, building contractors, and private individuals inspected and rented enslaved people to work for one-year terms in their businesses and homes.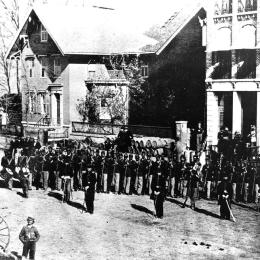 The Cuffeytown Thirteen
Thirteen African American veterans of the Civil War are interred nearby at the Cuffeytown Historic Cemetery.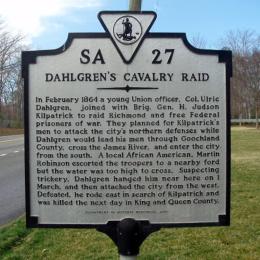 Dahlgren's Cavalry Raid
In February 1864 a young Union officer, Col. Ulric Dahlgren intended to help raid Richmond and free Federal prisoners of war. A local African American, Martin Robinson escorted his troopers, but was hanged on 1 March when Dahlgren suspected trickery.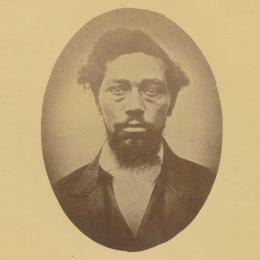 Dangerfield Newby
Dangerfield Newby (ca. 1820–1859), a free mulatto for whose family this crossroads is named, was the first of John Brown's raiders killed during the attack on Harpers Ferry on October 16, 1859.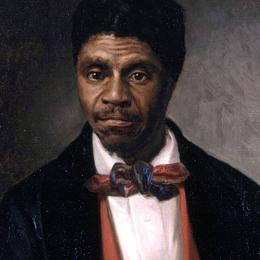 Dred Scott and the Blow Family
Dred Scott, a slave, lived as a child northeast of here on the Peter Blow plantation early in the 1800s.
Ebenezer Baptist Church
Free blacks and slaves living west of Second St. and north of Broad St. founded the Third African Baptist Church in 1857. In 1858, it was dedicated on this site as Ebenezer Baptist Church.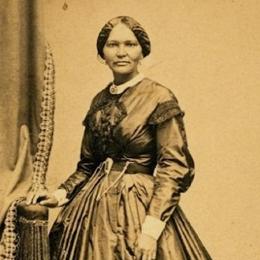 Elizabeth Hobbes Keckley
Born near here in Dinwiddie County in 1818, Elizabeth Hobbs Keckley was a dressmaker and abolitionist. She became the seamstress, personal maid, and confidante to Mary Todd Lincoln, President Abraham Lincoln's wife.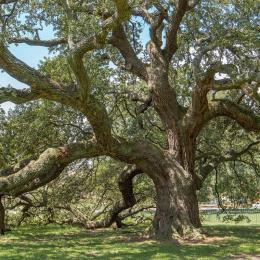 Emancipation Oak
Over 150 years ago, Emancipation Oak served as a classroom for African Americans who fled to nearby Fort Monroe to escape bondage during the Civil War. Today, it endures on the campus of Hampton University as a testament to the students and teachers who...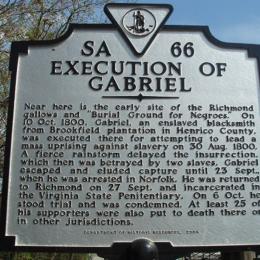 Execution of Gabriel
Near here is the early site of the Richmond gallows and "Burial Ground for Negroes." On 10 Oct. 1800, Gabriel, an enslaved blacksmith from Brookfield plantation in Henrico County, was executed there for attempting to lead a mass uprising against slavery...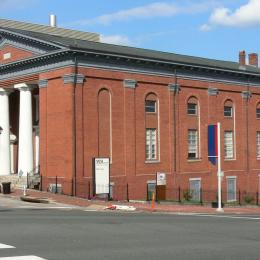 First African Baptist Church
The Charlottesville African Church congregation was organized in 1864. Four years later it bought the Delevan building, built in 1828 by Gen. John H. Cocke, and at one time used as a temperance hotel for University of Virginia students.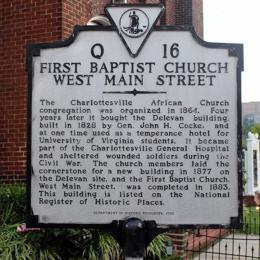 First Baptist Church
The Charlottesville African Church congregation was organized here in 1864. Four years later it bought the Delevan building, built in 1828 by Gen. John H. Cocke, and at one time used as a temperance hotel for University of Virginia students.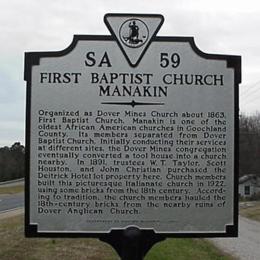 First Baptist Church - Manakin
Organized as Dover Mines Church about 1863, First Baptist Church, Manakin is one of the oldest African American churches in Goochland County.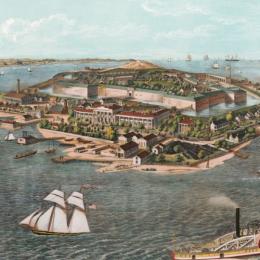 Fort Monroe
Fort Monroe is the largest stone fortification ever built in the United States. Construction began in 1819 and continued for 15 years. Second Lt. Robert E. Lee served as an engineer at Fort Monroe from 1831 to 1834.
Fort Pocahontas
South of here, on a bluff overlooking the James River, stands the half-mile-long Fort Pocahontas, built in the spring of 1864 by Union soldiers during the Civil War.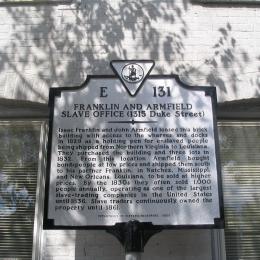 Franklin and Armfield Slave Office
Isaac Franklin and John Armfield leased this brick building with access to the wharves and docks as a holding pen for enslaved people being shipped from Northern Virginia to Louisiana.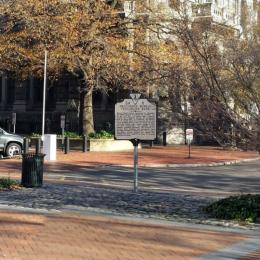 Freedman's Bureau - Freedman's Bank
Slavery denied African Americans the education and skills required to exercise the freedom won by the Civil War. To redress that, Congress created the Freedmen's Bureau and Freedman's Bank in March 1865.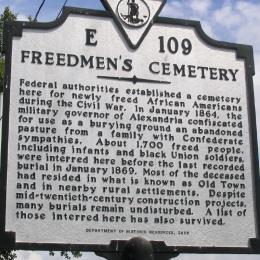 Freedman's Cemetery
Federal authorities established a cemetery here for newly freed African Americans during the Civil War. In January 1864, the military governor of Alexandria confiscated for use as a burying ground an abandoned pasture from a family with Confederate...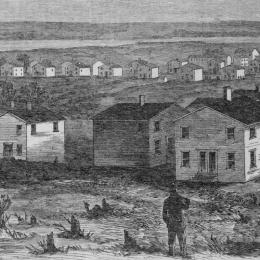 Freedman's Village
This land – now part of Arlington National Cemetery – was once the site of a community known as Freedman's Village. Amongst the houses, churches, schools, and other structures that stood here, formerly enslaved Black men and women built new lives and...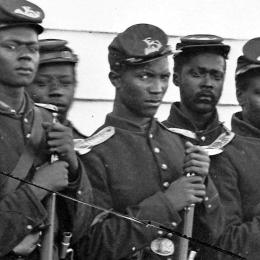 Freedom Fighters
By November 1864, several thousand African American soldiers, designated as United States Colored Troops or USCT, held Fort Harrison and the nearby earthworks.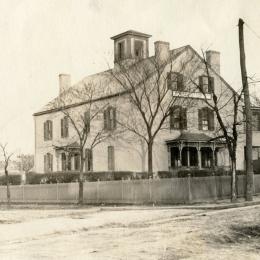 Friends Asylum For Colored Orphans
Friends Asylum for Colored Orphans was founded by Lucy Goode Brooks and the Ladies Sewing Circle for Charitable Work, all formerly enslaved, founded it in 1871.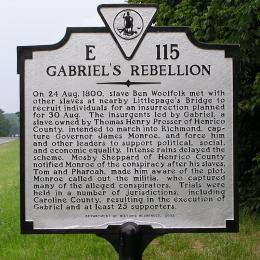 Gabriel's Rebellion (1)
On 24 Aug. 1800, slave Ben Woolfolk met with other slaves at nearby Littlepage's Bridge to recruit individuals for an insurrection planned for 30 Aug.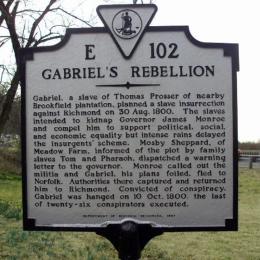 Gabriel's Rebellion (2)
Gabriel, a slave of Thomas Prosser at nearby Brookfield plantation, planned a slave insurrection against Richmond on 30 Aug. 1800. Later convicted of conspiracy, Gabriel was hanged last of the twenty-six conspirators executed.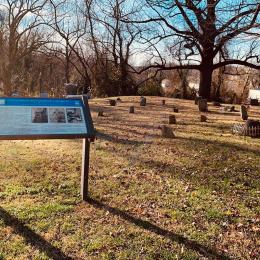 Galloway Methodist Church
African-Americans built Galloway United Methodist Church and established the historic cemetery in 1867.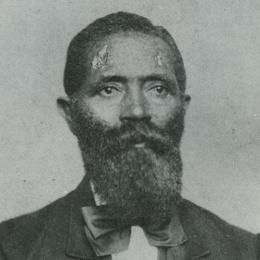 George Teamoh
A member of the Constitutional Convention of 1867 and the Senate of Virginia from 1869 until 1871, George Teamoh was born enslaved in Portsmouth where he spent most of his early life.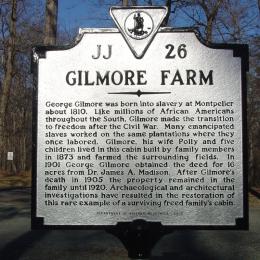 Gilmore Farm
George Gilmore was born into slavery at Montpelier around 1810 and, like millions of African Americans throughout the South, made the transition to freedom after the Civil War.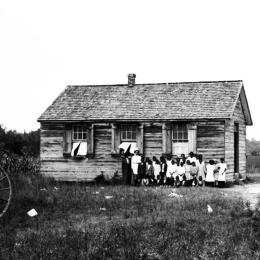 Gravel Hill
When the slaves of John Pleasants were freed according to the dictates of his 1771 will his son then gave former slaves 350 acres of his plantation. Here a community known as "Gravelly Hill" developed.
Henry Box Brown
Born near here, Henry Brown was noted for later in life mailing himself from Richmond to Philadelphia, and freedom, on 23 Mar. 1849 inside a three-foot-long box.  He became a spokesperson for the abolitionist movement and symbol of the Underground...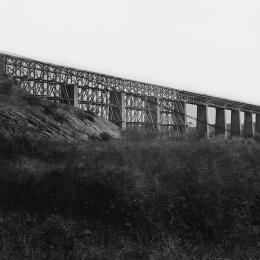 High Bridge
Fortifications to the original 1854 High Bridge were built, in part, with the help of area free men of color who were conscripted for Confederate service.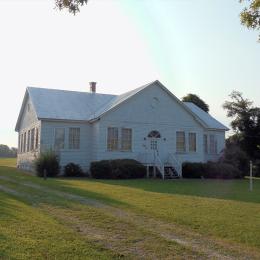 Holley Graded School
In 1868, Caroline Putnam (1826-1917) established a school for the children of former slaves at this site.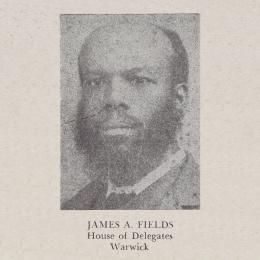 James A. Fields House
James A. Fields was born into slavery in Hanover County, Virginia in 1844. During the Civil War, Fields and his brother George escaped to Hampton, where in 1862 they found refuge as "contrabands of war" at Fort Monroe.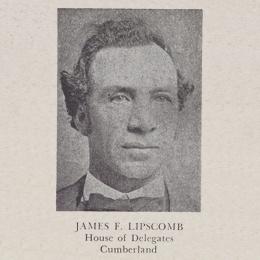 James F. Lipscomb
James F. Lipscomb was born a free black on 4 December 1830 in Cumberland County. He served in the House of Delegates between 1869 and 1877, one of 87 African-Americans elected to the General Assembly in the late 19th century.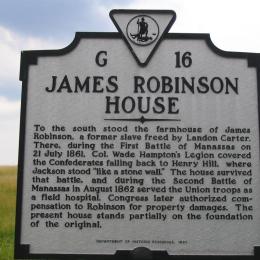 James Robinson House
To the south stood the farmhouse of James Robinson, a former slave freed by Landon Carter. There, during the First Battle of Manassas on 21 July 1861, Col. Wade Hampton's Legion covered the Confederates falling back to Henry Hill, where Jackson stood...
Jefferson School
The name Jefferson School has a long association with African American education in Charlottesville. It was first used in the 1860s in a Freedmen's Bureau school and then for a public grade school by 1894.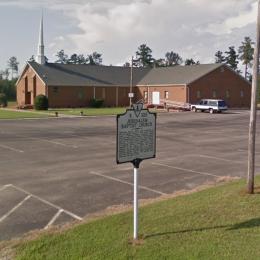 Jerusalem Baptist Church
Jerusalem Baptist Church was organized as Mt. Joy Baptist Church in 1867 at the nearby home of Mondoza Bailey, community leader and carpenter. Amelia "Mother" Howard assisted in the organization of this and six other churches.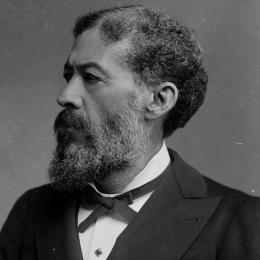 John Mercer Langston Birthplace
John Mercer Langston – first black congressman elected from Virginia – was born 5.5 miles N.W. of here on 14 Dec. 1829, son of plantation owner Ralph Quarles and his former slave Lucy Langston.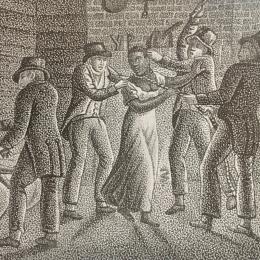 Kitty Payne
In the years before the Civil War, Virginia's laws restricted free blacks and also tightened the legal grip on slaves. Some blacks, however, struggled through the system to freedom, just as many slaves wended their way to Union lines during the war...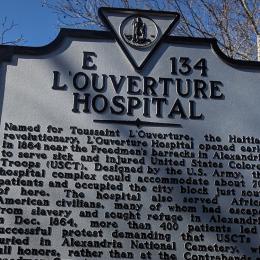 L'Ouverture Hospital And Barracks
The U.S. Army opened L'Ouverture Hospital near this site during the Civil War to treat sick and wounded United States Colored Troops (USCTs). While patients at L'Ouverture, Black soldiers fought for equal treatment and for proper recognition of their...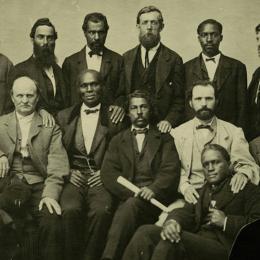 Landon Boyd
Landon Boyd, an African American brick mason born into slavery, who served on the petit jury for the U.S. District Court in Richmond empanelled to try former Confederate President Jefferson Davis for treason.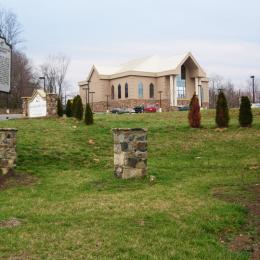 Loudoun County Emancipation Association Grounds
The association was organized by African Americans in nearby Hamilton in 1890 to commemorate the preliminary Emancipation Proclamation issued by President Abraham Lincoln on 22 Sept. 1862 and "to cultivate good fellowship, to work for the betterment of...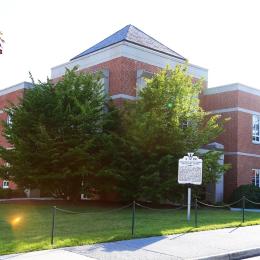 Lovely Mount Baptist Church
On 13 Nov. 1869, the Rev. Capt. Charles S. Schaeffer of the Bureau of Refugees, Freedmen, and Abandoned Lands met with the people of Lovely Mount (later Radford) and organized the Lovely Mount Baptist Church.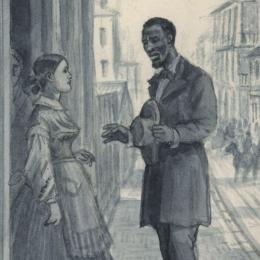 Loyal Quaker And Brave Slave
In September 1864, U.S. Gen. Philip H. Sheridan heard rumors that Confederate forces had left the Shenandoah Valley to rejoin Gen. Robert E. Lee's army at Petersburg. Wanting to confirm this information before attacking Gen. Jubal A. Early's army...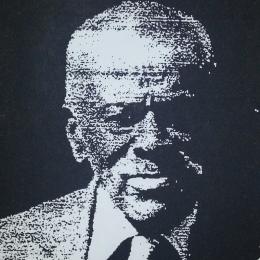 Martin Buchanan, USCT
After the Emancipation Proclamation was issued in 1863, the U.S. Army began recruiting both free blacks and slaves in occupied areas. Among the 250 from Loudoun County was 19-year-old Martin Van Buren Buchanan, born of a free mother and a father enslaved...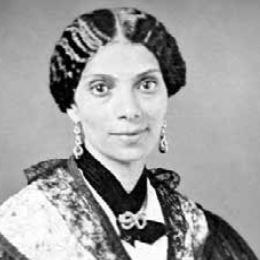 Mary Peake
Mary Smith Kelsey Peake (1823-1862) was a pioneering educator and humanitarian who dedicated her life to empowering Black men, women, and children with access to an education before and during the Civil War.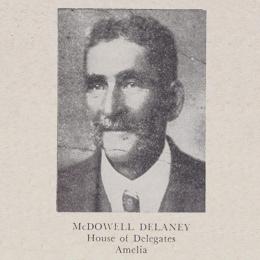 McDowell Delaney
McDowell Delaney (1844-1926) was born to free African American parents in Amelia County. During the Civil War he worked as a cook and teamster for the 14th Virginia Infantry Regiment.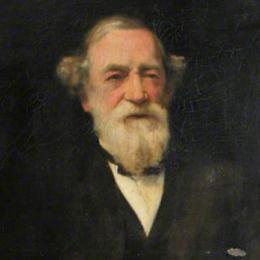 Moncure Conway
Nearby this location is the childhood home of renowned abolitionist, writer, and lecturer Moncure Daniel Conway (1832-1907).
Mount Zion Community Cemetery
Four African American Civil War veterans are buried in this cemetery: James Gaskins (39th U.S. Colored Infantry), Joseph Waters (5th Massachusetts Colored Cavalry), William Taylor (1st U.S. Colored Infantry), and John W. Langford (U.S. Navy).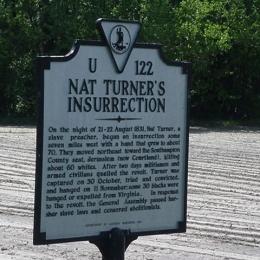 Nat Turner's Insurrection
On the night of 21-22 August 1831, Nat Turner, a slave preacher, began an insurrection some seven miles west with a band that grew to about 70.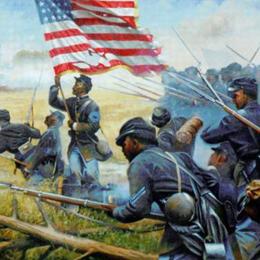 New Market Heights
On the Civil War battlefield before you, U. S. Colored Troops (USCTs) in Maj. Gen. David Birney's X Corps risked their lives to fight for freedom and citizenship. 14 Black soldiers earned Medals of Honor for their actions in the Union victory at the...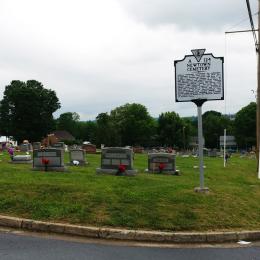 Newtown Cemetery
African Americans established the community of Newtown in this area after the Civil War. In 1869 five trustees purchased land here for a cemetery open to "all persons of color." By 1920 the cemetery had expanded three times to accommodate Harrisonburg's...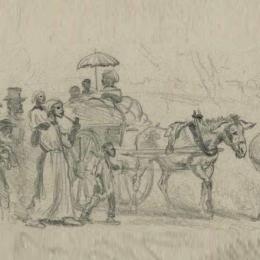 Oatlands
By the eve of the Civil War, 133 men, women, and children were enslaved at Oatlands. Their labor sustained the farm, enabled owner Elizabeth O. Carter to enjoy a high standard of living, and helped create the grand estate you see today.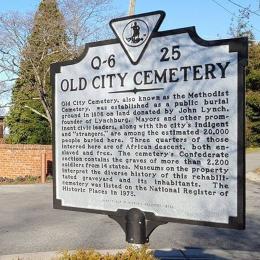 Old City Cemetery
Old City Cemetery, also known as the Methodist Cemetery, was established as a public burial ground in 1806 on land donated by John Lynch, founder of Lynchburg.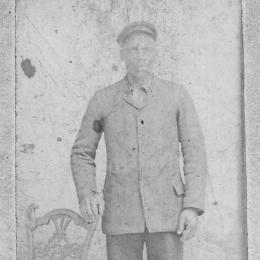 Patrick Robert "Parker" Sydnor
Born enslaved on one of William Sydnor's plantations in Halifax County, Patrick Robert "Parker" Sydnor (1854-1950) became literate at a freedmen's school after the Civil War.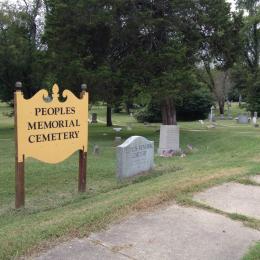 People's Memorial Cemetery
Twenty-eight members of Petersburg's large community of free African Americans purchased a one-acre tract to serve as a burial ground in 1840. Subsequent acquisitions of adjacent land created a cemetery complex later known as People's Memorial.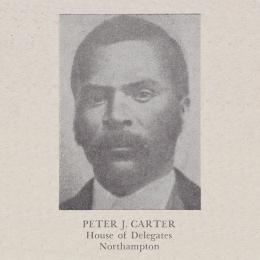 Peter Jacob Carter
Born enslaved on 29 May 1845 near Eastville, Northampton County, Peter Jacob Carter served in the 10th United States Colored Troops during the Civil War and afterward attended Hampton Institute.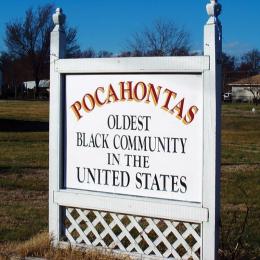 Pocahontas Island
The town of Pocahontas, established in 1752, became part of Petersburg in 1784. By 1860, more members of the city's large free African American community lived here than in any other neighborhood.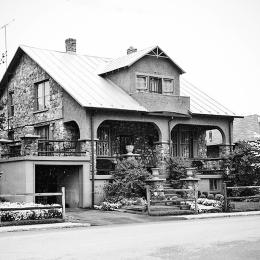 Port Republic Road Historic District
This is Waynesboro's oldest intact neighborhood. It coalesced as a community about 1870, just after the Civil War, when formerly enslaved individuals moved here to work in nearby industries and on railroads.
Seven Patriot Heroes
Nearby were the homes of three Afro-Virginians who served in the United States Colored Troops (USCT) during the Civil War.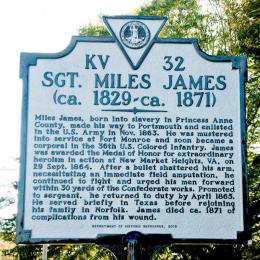 Sgt. Miles James
Miles James was awarded the Medal of Honor for extraordinary heroism in action at New Market Heights, VA, on 29 Sept. 1864.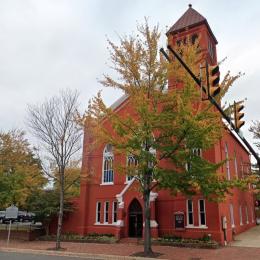 Shiloh Baptist Church
Alexandria, occupied by Union troops during the Civil War, became a refuge for African Americans escaping slavery. Before the war ended, about 50 former slaves founded the Shiloh Society, later known as Shiloh Baptist Church.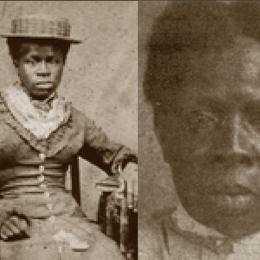 Sister Caroline
Caroline Terry, known locally as "Sis-tah Cahline" (1833-1941) was born a slave, perhaps in Southampton County, but spent most of her life in Rappahannock County. She later took the surname Terry.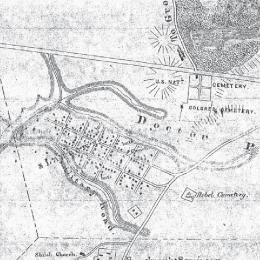 Slabtown
In July 1863, when Brig. Gen. Isaac J. Wistar was assigned command at Yorktown, he reported over 12,000 contraband were living off subsistence from his commissary. To provide them with shelter and an opportunity for self-sufficiency, he established...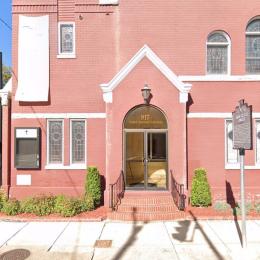 Third Baptist Church
Alexandria, occupied by Union troops in 1861, attracted many African Americans escaping slavery. In Jan. 1864, a group of formerly enslaved people organized Third Freedmen's Baptist Church (later Third Baptist Church).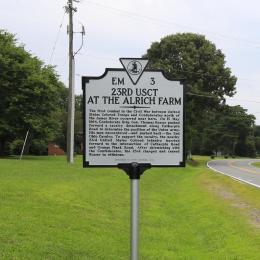 23rd USCT at the Alrich Farm
The first combat in the Civil War between United States Colored Troops and Confederates north of the James River occurred near here.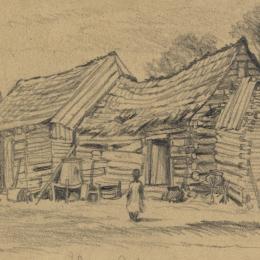 Twilight of Slavery
The three brick cabins here are tangible connections to the enslaved people of Rappahannock County before and during the Civil War. Many slaves escaped to Union lines here and elsewhere, and some former bondsmen served in the U.S. Army as United States...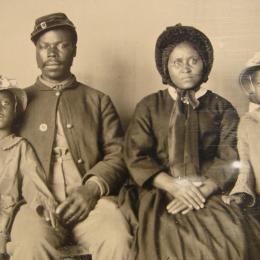 Two USCT Heroes
Two African American Civil War veterans, Pvt. Edward Diggs and Sgt. Anthony W. Poole, are buried here. Each enlisted in Co. G, 36th U.S. Colored Troops, in Yorktown.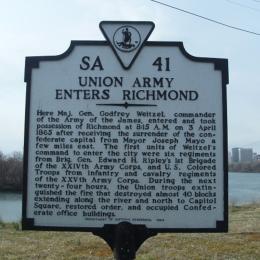 Union Army Enters Richmond
Here Maj. Gen. Godfrey Weitzel, commander of the Army of the James, entered and took possession of Richmond at 8:15 A.M. on 3 April 1865 after receiving the surrender of the confederate capital from Mayor Joseph Mayo a few miles east.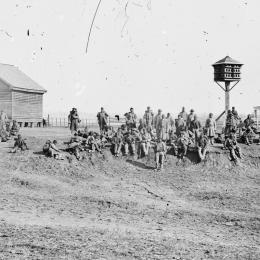 USCT In the Army of the James
Maj. Gen. Benjamin F. Butler was a strong proponent of the use of African-American troops and had more USCT regiments under his command than any other general. These USCT regiments were served by one of the hospital wards at Point of Rocks.
USCT's at Dutch Gap
In August 1864, Gen. Benjamin F. Butler, commander of the Army of the James, ordered that a ditch or canal be dug across the narrow neck of land here to enable Union gunboats to evade Confederate batteries on the James River.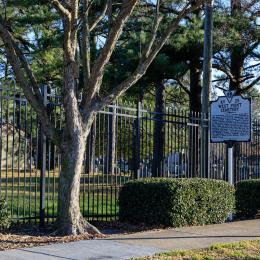 West Point Cemetery
This historically African American burial place, first known as Potter's Field, was established as Calvary Cemetery in 1873 and renamed West Point Cemetery in 1885.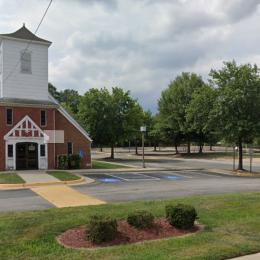 Woodlawn Methodist Church
African Americans in Woodlawn, four miles southwest of here, established Woodlawn Methodist Episcopal Church ca. 1866.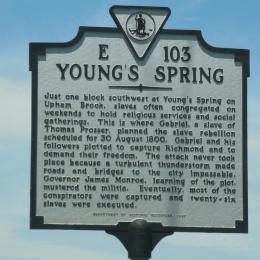 Young's Spring
Just one block southwest at Young's Spring on Upham Brook, slaves often congregated on weekends to hold religious services and social gatherings. This is where Gabriel, a slave of William Prosser, planned the slave rebellion scheduled for 30 August 1800.
...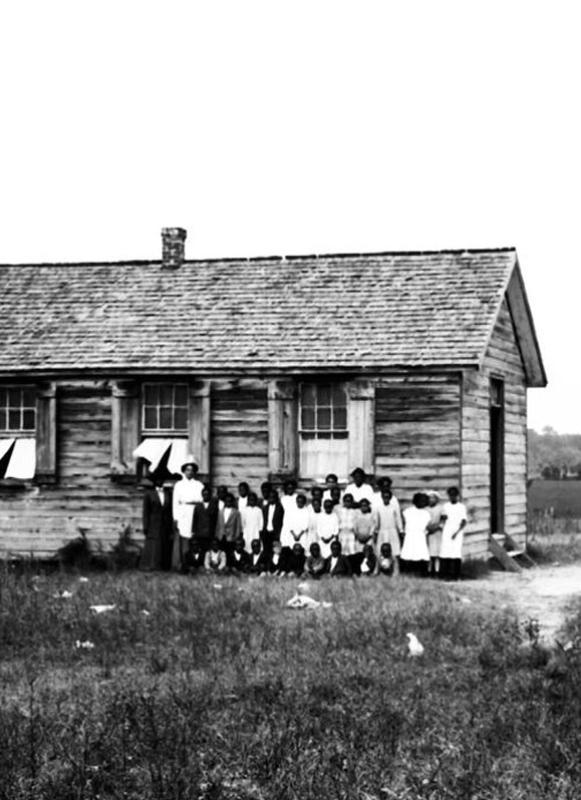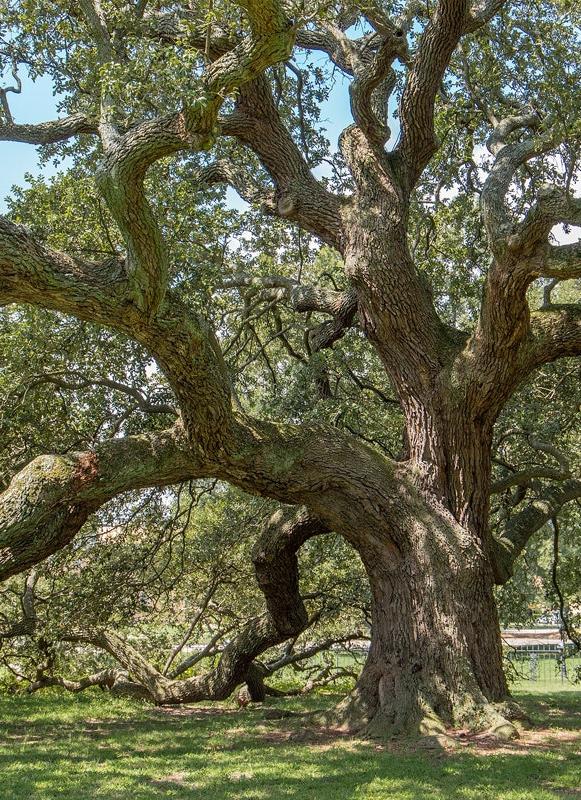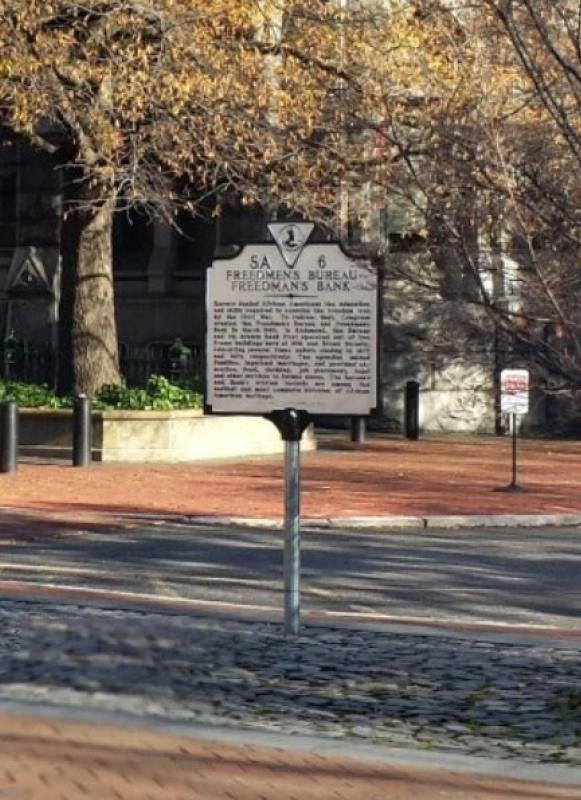 Connecting the Road to Freedom
The American Battlefield Trust is committed to the power of place. The contributions and experiences of African Americans during our nation's first century have traditionally gone under-told, but programs like this allow us to elevate them and demonstrate their true impact. Road to Freedom offers insights into the African American experience during the Civil War-era by bringing together the stories of war and the fight for emancipation through battlefields, churches, cemeteries, highway makers and other historic places.
Road to Freedom highlights scores of locales across Virginia, a key Civil War battleground state and an important passageway in the Underground Railroad. Sites stretch from Alexandria, just outside Washington, D.C., to Abingdon, near the Tennessee border, and tell stories of soldiers, slaves, educators, politicians and others, marking the places where they staged rebellions, fought for freedom, educated their children, were born and were buried.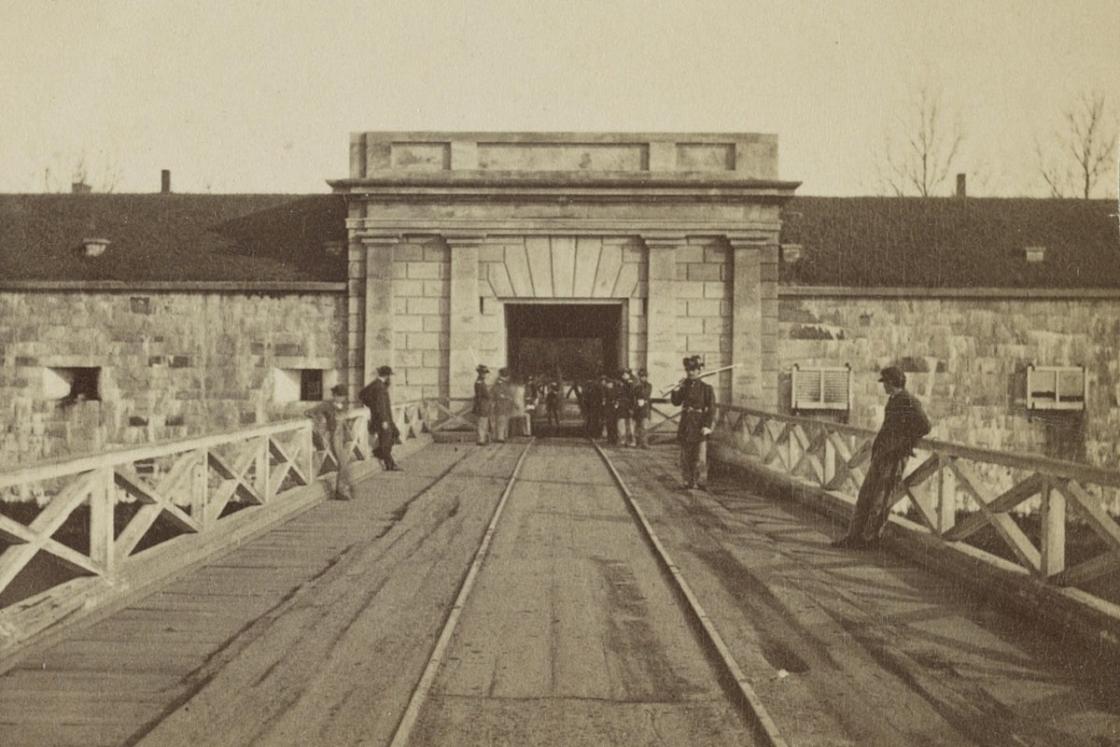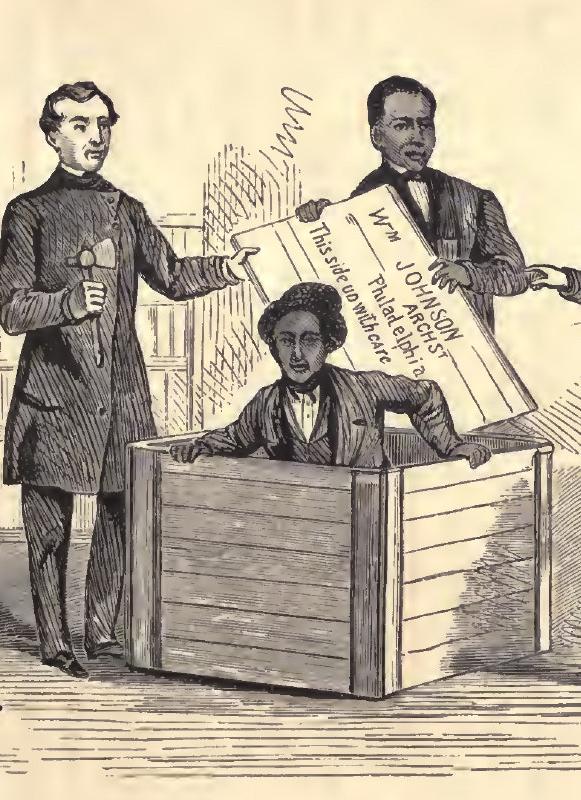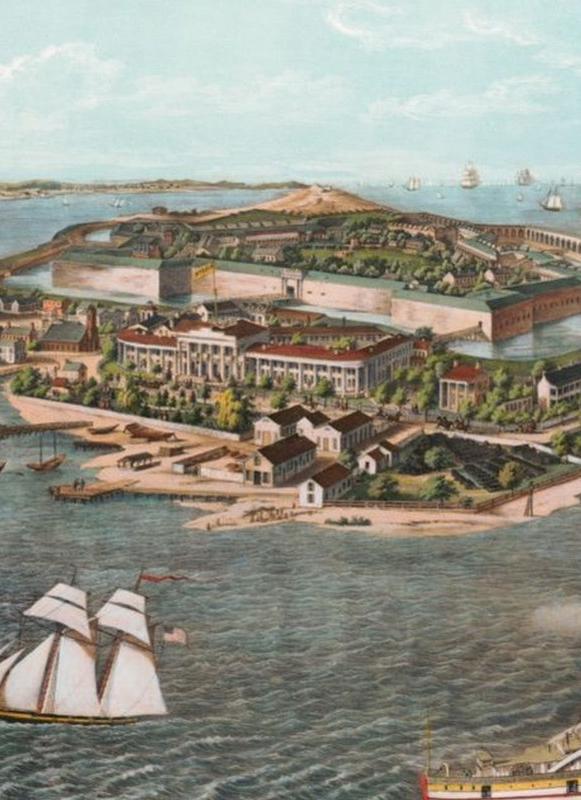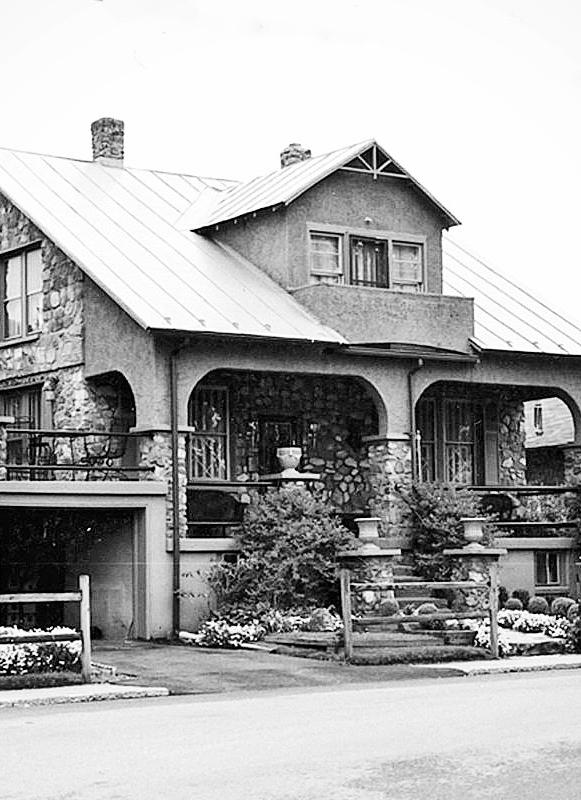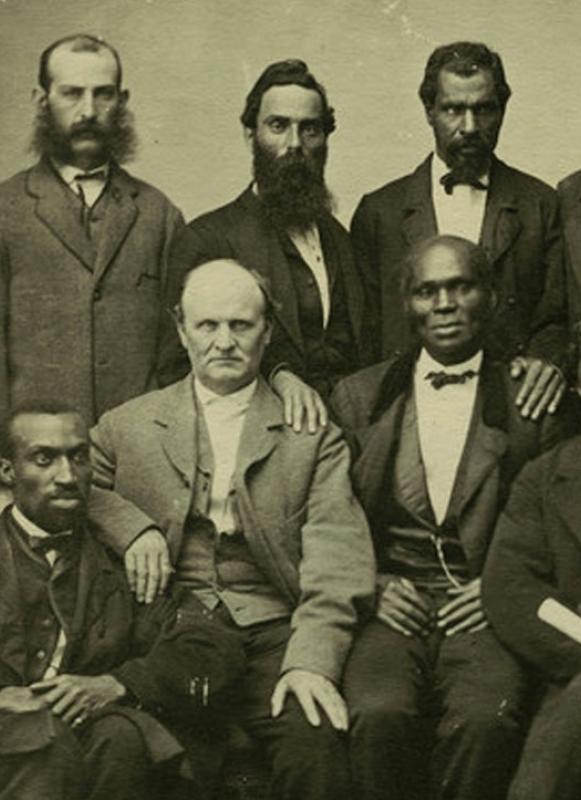 Our Valued Partners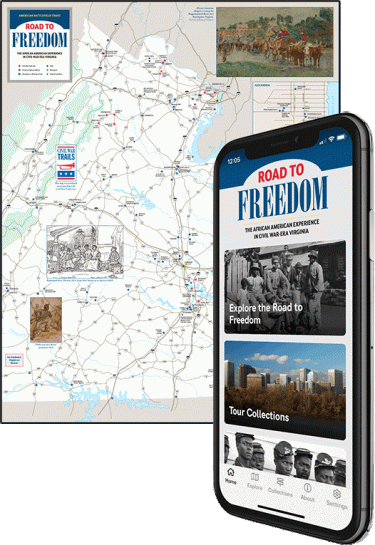 Civil War Trails
Developed through a partnership with Civil War Trails, the first iteration of the Road to Freedom explores Virginia's rich African-American history and culture. The free Road to Freedom Tour Guide app is available for iOS and Android devices and is also available online as a web app. It supplements a printed Road to Freedom map and brochure, available in visitor centers across the Commonwealth of Virginia.
African American Heritage Preservation Foundation
An ongoing research partnership with the African American Heritage Preservation Foundation has resulted in added context to the Road to Freedom by allowing Black voices to delve into the artistic, architectural and cultural significance of included sites.
Since 1994, the African American Heritage Preservation Foundation, Inc. has been engaged in activities that include the preservation, maintenance, and awareness of endangered or little-known African American historical sites primarily in the Mid-Atlantic and Southeast Regions. In addition, the Foundation acts as a resource center for community groups, preservationists, genealogical and historical societies, not-for-profit organizations and government entities, nationwide, needing assistance in the preservation of African American historical sites and history.
Additional Thanks
Road to Freedom would not be possible without numerous valued partners at the federal, state, and local levels.
Virginia Department of Historic Resources
American Battlefield Protection Program
The Historical Marker Database