'Road to Freedom' Tour Highlights Civil War-Era Black Experience
Self-guided map and app unites stories of African American heroes, historic places and events
(Washington, D.C.) — A new curated tour offers insights into the African American experience during the Civil War-era by bringing together the stories of war and the fight for emancipation through battlefields, churches, cemeteries, highway makers and other historic places.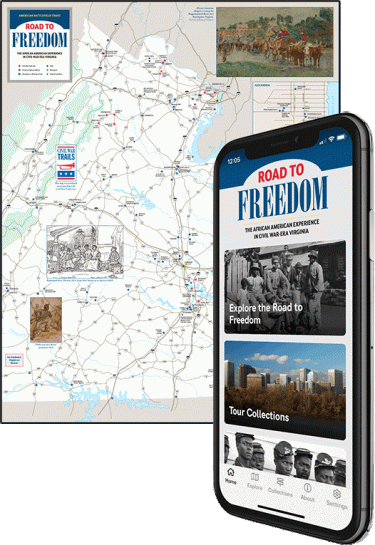 The "Road to Freedom" program, created through a partnership between the American Battlefield Trust and Civil War Trails, Inc., offers free physical and digital manifestations — a map guide available in visitor centers and distribution sites across the state and a web app with downloadable versions for Android and iOS devices. The trail highlights 88 spots across Virginia, a key Civil War battleground state and an important passageway in the Underground Railroad. Sites stretch from Alexandria, just outside Washington, D.C., to Abingdon, near the Tennessee border, and tell stories of soldiers, slaves, educators, politicians and others, marking the places where they staged rebellions, fought for freedom, educated their children, were born and were buried.
"The contributions and experiences of African Americans during our nation's first century have traditionally gone under-told," said Trust President David Duncan. "Through preservation opportunities and outreach initiatives, we have the ability to elevate these stories for this and future generations."
The program is designed to be flexible. Travelers can seek out a single stop, find a destination along an existing journey, or plan an adventure exploring several sites grouped by theme or proximity. The eight sites in the city of Alexandria or seven in Richmond could all be visited in one day, while finding the six included historic cemeteries would cover 434 miles and clock nearly eight hours of drive-time.
Content and maps for the Road to Freedom were created in collaboration with the Civil War Trails Inc., a nonprofit that encourages heritage tourism across Maryland, North Carolina, Pennsylvania, Tennessee, Virginia and West Virginia.
"Historic sites across the Commonwealth constitute an open-air museum," said Civil War Trails Executive Director Drew Gruber. "The more and the wider variety of them that one explores, the richer the understanding of our shared history that emerges."
Virginia Tourism Corporation CEO Rita McClenny agreed, adding, "The 'Road to Freedom network provides a powerful opportunity for visitors and Virginians alike to explore these poignant and often under-told stories of resilience, strength and community. These stories helped to shape our history, and allow visitors to connect with the past through a new lens of authentic storytelling."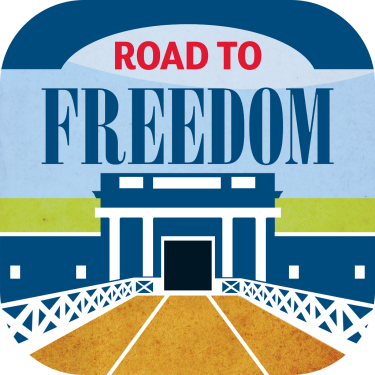 The Road to Freedom app is GPS-enabled, but images and historical content can be accessed from anywhere on the globe. The free app is now available for download via the App Store and Google Play, or online as a web app, available through any browser. Learn more at www.battlefields.org/RoadtoFreedom.
An ongoing research partnership with the African American Heritage Preservation Foundation will result in adding further context to existing entries by allowing Black voices to delve into the artistic, architectural and cultural significance of included sites. The addition of new sites and curated "collections" will further enhance the experience.
"Since 1994, the African American Heritage Preservation Foundation has worked toward the preservation, maintenance, and awareness of endangered or little-known historical sites, especially in the mid-Atlantic," said president and founder E. Renée Ingram. "We are excited to join this dynamic project and look forward to showcasing the history and legacy of important places across Virginia."
Between the map guide and free app, the Road to Freedom features scores of sites from museums to battlefields to historic cemeteries pertaining to key topics in African American history, such as slavery, emancipation, the United States Colored Troops, and Reconstruction — and the proactive role that those men and women took in forging their own narratives. One highlight of the network is the New Market Heights Battlefield, where, in September 1864, 14 members of the U.S. Colored Troops exhibited exceptional valor for which they were awarded the Medal of Honor. The Trust recently announced the preservation of an additional 22 acres at New Market Heights. Learn more about this work at www.battlefields.org/fighting-for-freedom.
The American Battlefield Trust is dedicated to preserving America's hallowed battlegrounds and educating the public about what happened there and why it matters today. The nonprofit, nonpartisan organization has protected more than 53,000 acres associated with the Revolutionary War, War of 1812 and Civil War. Learn more at www.battlefields.org.
###