William Flora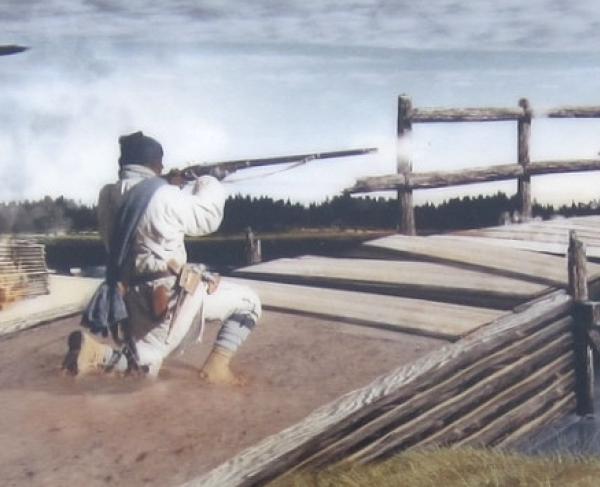 TitlePrivate
War & AffiliationRevolutionary War / Patriot
Date of Birth - Death1755-1820
Born in 1755 to free black parents in Portsmouth, Virginia, William Flora found himself drawn to the patriot cause when revolutionary fervor flooded the Virginia colony in the wake of aggression delivered by royal governor John Murray, widely known as Lord Dunmore. In 1775, he joined a militia unit and bravely fought alongside Col. William Woodford's 2nd Virginia Regiment at the Battle of Great Bridge near Norfolk, Virginia.
At Great Bridge, Flora stood as one of several sentries on the narrow bridge — that divided the British and patriot positions — and was charged with alerting his comrades upon a British attack. When the British launched an offensive on the morning of December 9, 1775, Flora and his fellow sentries delivered. Upon the British Grenadiers advance toward the patriot breastwork, Flora fired eight times on the enemy and engaged a whole platoon. Only then did he make his escape over the causeway and into the patriot works — he was the last sentry to leave the bridge. There is even one account that claims Flora removed the last board of the bridge, thus preventing the British from attacking the retreating patriot forces at the rear. Regardless of that particular account, Flora is commonly credited with slowing the British advance and providing patriot forces ample time to man their defenses. His valiant actions were lauded by his comrades and even by a newspaper of the time.
Later, Flora enlisted as a private in Capt. William Grimes' 15th Virginia Continental Regiment and served with this unit for three years until he was honorably discharged. Sources also indicate his service in the 2nd, 5th, 11th, and 16th Virginia Regiments throughout the Revolutionary War — and his participation in the decisive Battle of Yorktown. Flora's former commanding officer once said of the dutiful private that he "was held in high esteem as a soldier."
Upon the war's conclusion, Flora found success as the owner of a livery stable in Portsmouth. He was even one of the first free black men in Virginia to buy town property, a substantial estate that he would pass on to his son and grandson. And 31 years following his heroic deeds at Great Bridge, Flora's Revolutionary War service was recognized with a 100-acre bounty land warrant.
Yet, his military service was not complete. Following an 1807 attack on the USS Chesapeake by the British HMS Leopard off the Virginia Capes, he enlisted, determined to fend off the British threat once again. While his service was short, he spent time on a gun boat as a marine under Commodore Stephen Decatur.
He spent the remainder of his life in Norfolk County and passed in 1820. On Great Bridge's preserved battleground, there is a historical marker detailing his actions at the defining battle, as well as his later life.
Support Outdoor Classrooms at Seven Key Battlefields
We're launching interpretation of African American history at 7 key battlefields, located in 5 states, spanning 3 wars.
Related Battles
Battle Facts
Virginia | December 9, 1775
Result: American Victory
Battle Facts
York County and Newport News, VA | April 5, 1862
Result: Inconclusive