William Babcock Hazen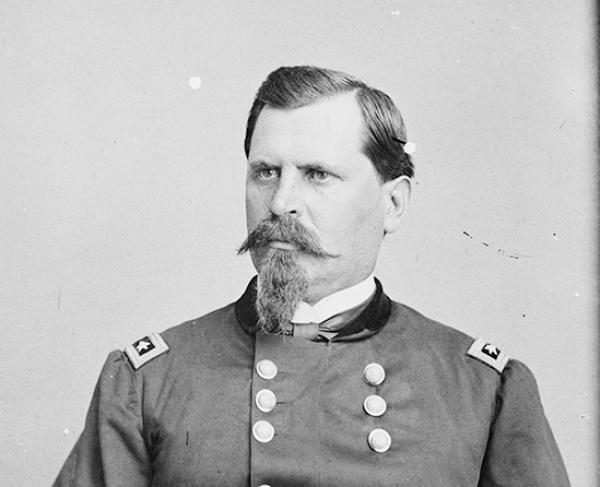 TitleMajor General
War & AffiliationCivil War / Union
Date of Birth - DeathSeptember 27, 1830 - January 16, 1887
William Babcock Hazen was an accomplished professional soldier and played a significant role in almost every major battle of the Western theater.  Born in 1830 in West Hartford, Vermont, he moved with his family at the age of three to Hiram, Ohio, where he met and befriended future comrade-in-arms and President of the United States James A. Garfield.  Hazen attended the United States Military Academy at West Point and graduated 28th out of a class of 34 in 1855.  It was an inauspicious start to a distinguished military career.  Initially assigned to the infantry, Hazen served in the Oregon Territory and western Texas, where he was seriously wounded fighting Comanche Indians in 1859.
When the Civil War broke out in 1861, Hazen was made colonel of the 41st Ohio, which was comprised primarily of raw recruits from -- like Hazen himself -- the northeastern part of the state.  Hazen drilled them into a fine fighting unit.  In early 1862, he was placed in command of a brigade in Gen. Don Carlos Buell's Army of the Ohio, and led his men decisively when they arrived on the second day at Shiloh, turning the tide of battle in favor of the Union.  At year's end, Hazen and his men made a determined stand on what became known as "Hell's Half-Acre" at the Battle of Stones River.  Hazen was wounded in defense of the Union salient at the 'Round Forest', and the first Union monument was placed there in his honor a few months later. 
Hazen led his men to further glory around Chattanooga in 1863.  At Chickamauga, they participated in Thomas' celebrated defense of Snodgrass Hill and were among those troops who breached the imposing Confederate lines on Missionary Ridge.  In August, 1864, during the Atlanta campaign, Hazen was promoted to command the 2nd division of the XV Corps, Army of the Tennessee, and led it with distinction during Sherman's March to the Sea and until the end of the war.  Hazen received especial praise for his capture of Fort McAllister, which guarded the city of Savannah, in December 1864.  After Joseph E. Johnston's surrender, Hazen led the XV corps at the grand review in Washington.
Hazen continued to serve the Army after 1865, at various posts on the western frontier and as a foreign observer of the Franco-Prussian War.  In 1880, President Hayes appointed Hazen chief signal officer, with the staff rank of brigadier general, a position he held until his death.  His post-war career was largely defined by his acrimonious relationships with many colleagues, particularly Philip Sheridan.  The qualities that had made him such a success on the battlefield – the New York Times characterized him as "aggressive and disputatious" in his obituary – rather worked against him in peacetime.  Hazen died in 1887, and is buried in Arlington National Cemetery.