Truman Seymour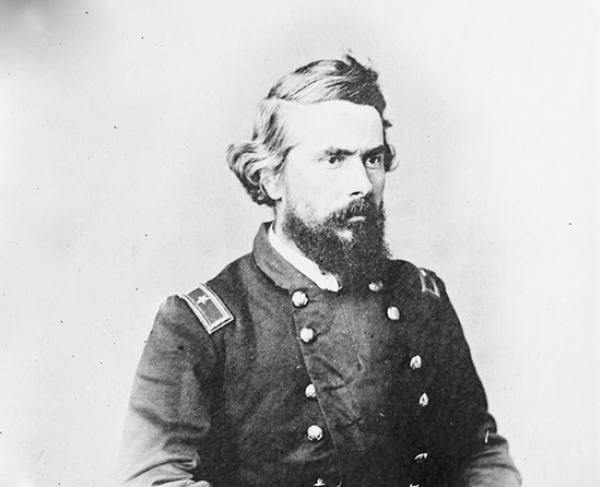 TitleBrigadier General
War & AffiliationCivil War / Union
Date of Birth - DeathSeptember 24, 1824 – October 30, 1891
Truman Seymour began his military career after attending Norwich University for two years before enrolling in the United States Military Academy in 1842.  He graduated from West Point in 1846, and was assigned to the 1st Artillery during the outbreak of the Mexican-American War.  He was promoted to first lieutenant for his conduct during the battles of Contreras and Churubusco.  After the war, he returned to West Point and taught for three years, and then served during the Seminole War in Florida from 1856 to 1858.
When the Civil War broke out, Seymour was stationed in Fort Sumter, and was brevetted a major for his actions during the Confederate attack.  His first service came early in the war within the defenses of Washington, and was promoted to brigadier general of volunteers on April 28, 1862.  Seymour was assigned to a brigade within McCall's division of the V Corps, commanded by John Porter.  He commanded his soldiers during the battle of Mechanicsville, and then commanded the division during the battle of Malvern Hill as a result of McCall being captured by Confederates at the battle of Frayser's Farm.  He led troops during the battles of Second Manassas, South Mountain, and Antietam, resulting in two brevet promotions in the regular army up to colonel.  In November of 1862, he was reassigned to Charleston Harbor and led a failed attack on Battery Wagner in July of 1863, where he was severely wounded.
When Seymour returned to duty in December of 1863, he was placed in charge of the District of Florida by General Quincy A. Gillmore.  In February of 1864, Seymour and his division made an expedition to Florida capturing the city of Jacksonville.  On February 20, Seymour and his division left the city and met approximately 5,000 Confederate troops under the command of Joseph Finegan at the battle of Olustee.  The battle would be the largest battle fought in Florida during the Civil War, and ultimately a Confederate victory.  Seymour's defeat resulted in his retreat back to Jacksonville.  Following the battle he was relieved of command of the division in Florida, and sent to Virginia where he was placed within the Army of the Potomac. 
He served during the battle of the Wilderness, and was captured by Confederate forces under John B. Gordon.  He was exchanged after the battle, and was placed in charge of the third division of the VI Corps.  He commanded through Union campaigns in the Shenandoah Valley, during the siege of Petersburg, and finally during the Appomattox campaign.  He was present when Robert E. Lee surrendered to Ulysses S. Grant, and received brevet promotions of major general of volunteers and brigadier general in the regular army for his actions during the final campaigns of the war.