Samuel Francis Du Pont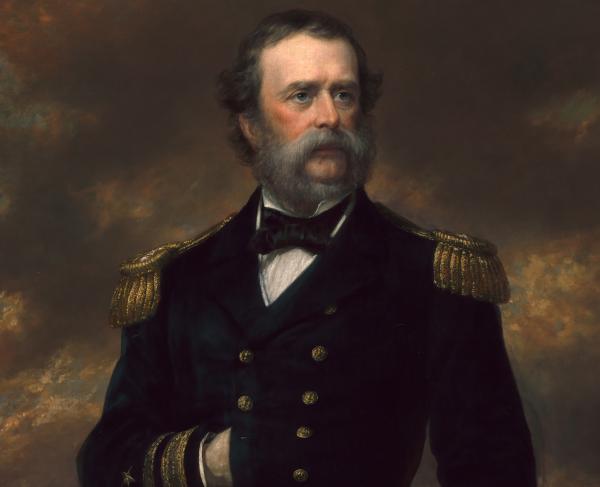 TitleRear Admiral
War & AffiliationCivil War / American
Date of Birth - DeathSeptember 27, 1804 - June 23, 1865
Samuel Francis Du Pont was born on September 27, 1803, in Bayonne, New Jersey. One of seven children, Du Pont's uncle was Eleuthere Irenee du Pont, founder of the E.I. du Pont Nemours Company, modern-day chemical company Dupont. As a young child, Du Pont's family was unable to fund his education. As a close family friend of Thomas Jefferson, Du Pont's father asked Thomas Jefferson to ask then-President James Madison to appoint him in the United States Navy as a midshipman at the age of 12. In December of 1815, his request was successful, and Du Pont sailed on the USS Franklin, a 74-gun ship of the line at the age of 12. Between 1815 and 1821, Du Pont sailed on the USS Franklin, USS Constitution, and USS Congress. In 1825, Du Pont was promoted to sailing master aboard the USS North Carolina. In 1826, Du Pont was promoted to Lieutenant and ordered aboard the USS Porpoise. In 1827, however, Du Pont's father passed away, which Du Pont returned home to help care for his family. In June of 1833, Du Pont married his cousin Sophie Madeleine du Pont. From 1835 to 1838, Du Pont went on numerous voyages throughout the world, including the Hawaiian Islands (then called the Sandwich Islands), to the Gulf of Mexico, the Mediterranean Sea, and almost sailed to China until severe illness prevented him from continuing the voyage and caused him to resign. In 1845, however, Du Pont reenlisted in time for the Mexican American War.
In 1846, Du Pont was given command of the USS Cyane. Eager to prove his skills as a naval commander, Du Pont commandeered and captured a total of thirty enemy ships in the Gulf of California. Du Pont was also tasked with transporting John Fremont's soldiers to San Diego, where Fremont successfully captured the town. On February 15, 1848, Du Pont successfully led an amphibious assault on San José del Cabo. After his impressive naval victories, Du Pont was given command of the entire California naval blockade. Just before the end of the Mexican American War, Du Pont was relieved of duty and returned home.
Between the Civil War and Mexican American War, Du Pont was largely in charge of modernizing the United States Navy. He was appointed superintendent of the United States Naval Academy and established new curricula emphasizing mathematics and engineering. In 1855, Du Pont became a part of the Naval Efficiency Board, which resulted in the removal of 201 officers. However, under further consideration and backlash of Du Pont's decision to remove the officers, many of the officers were reinstated. That same year Du Pont was promoted to captain and ordered to sail the United States Minister to China to Beijing aboard the steamboat USS Minnesota. The following year in May 1859, Du Pont helped receive the Japanese ambassador to the United States and helped open trade opportunities with the two nations. In 1860, Du Pont was placed in command of the Philadelphia Naval Shipyard. Many expected him to retire after receiving the position, however, when the first shots were fired on Fort Sumter in April 1861, Du Pont returned to active duty.
In June of 1861, Du Pont was placed in charge of formulating a plan to successfully subdue Confederate naval operations. Du Pont was placed in command of the USS Wabash along with the command of the South Atlantic Blockading Squadron, the largest fleet ever commanded by an American officer. On November 7, 1861, Du Pont led a successful attack at Port Royal, South Carolina, establishing an effective blockade in the area. Soon after, a blockade was established in Georgia and Florida. On July 16, 1862, Du Pont was promoted to Rear Admiral for his success in establishing a blockade. On April 7, 1863, Du Pont led an attack on Charleston, South Carolina with an all-ironclad fleet of nine ironclad ships. Du Pont had his own personal reservations about the attack and thought that Charleston could only be taken with a combination of naval and ground forces. Despite his own personal disagreements with the attack, Du Pont continued with the attack on Charleston. The attack ultimately failed, five ironclads were disabled, and one sank. With only three capable ships, Du Pont sailed back to Washington empty-handed. Following the failure at Charleston, Secretary of the Navy Gideon Welles blamed Du Pont for the failure. He was relieved of command on July 5, 1863, at Du Pont's own request. Du Pont returned home to Delaware following the embarrassment. On June 23, 1865, while on a trip to Philadelphia, Samuel Francis Du Pont passed away at the age of 61.
Du Pont's legacy lives on today, most notably Dupont Circle in Washington, D.C. In 1884, his statue was placed in Dupont Circle. In 1920 at the behest of his family, the statue was removed and placed in Rockford Park in Wilmington, Delaware. A fountain stands today where his statue stood. Three United States Navy ships were named after Du Pont, TB-7 in 1897, DD-152 in 1918, and DD-941 in 1954 all carried the name, USS Du Pont. In Du Pont's lifetime, however, Du Pont made a lasting impression on American naval education and served his country with honor.