Samuel D. Sturgis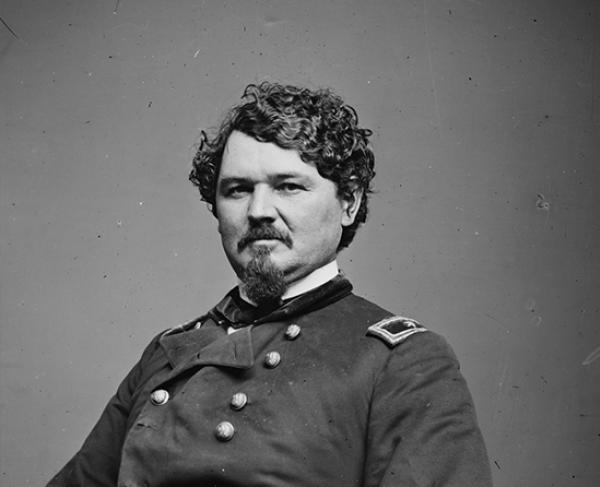 TitleBrigadier General
War & AffiliationCivil War / Union
Date of Birth - DeathJune 11, 1822 – September 28, 1889
Samuel Davis Sturgis began his military career after graduating from the United States Military Academy in 1842.  He served during the Mexican-American War with the dragoons.  During the war, Sturgis was captured while performing reconnaissance near Buena Vista and held for eight days.  After the war, he served in various outposts in the West, served in several Indian campaigns, and was eventually promoted to captain.
At the outbreak of the Civil War, Sturgis was in command of the 1st Cavalry in Fort Smith, Arkansas.  Although many under his command left the army in order to join Confederate ranks, he was able to escape with most of his men and their equipment to Fort Leavenworth.  He was promoted to major for his actions, and saw combat at the battle of Wilson's Creek.  During the battle, he succeeded to command the Federal forces after the death of Nathaniel Lyon.  In March of 1862, he was promoted to brigadier general for his actions during the battle.  After his promotion, Sturgis served within the defenses of Washington DC, and was ordered to support the army commanded by general John Pope shortly before the Second Battle of Manassas.  Sturgis was then placed in charge of a division of the XI Corps, and led the division through the battles of South Mountain, Antietam, and Fredericksburg.  He and the IX Corps were then sent west, where he served briefly in commands in Mississippi and Tennessee.  In June of 1864, Sturgis effectively ended his command career after he was defeated by Confederate general Nathan Bedford Forrest at the battle of Brice's Cross Roads.  He was brevetted to major general in March of 1865.
After the war, Sturgis returned to serving with the cavalry, and served with the 7th Cavalry in forts throughout the West.