Robert Anderson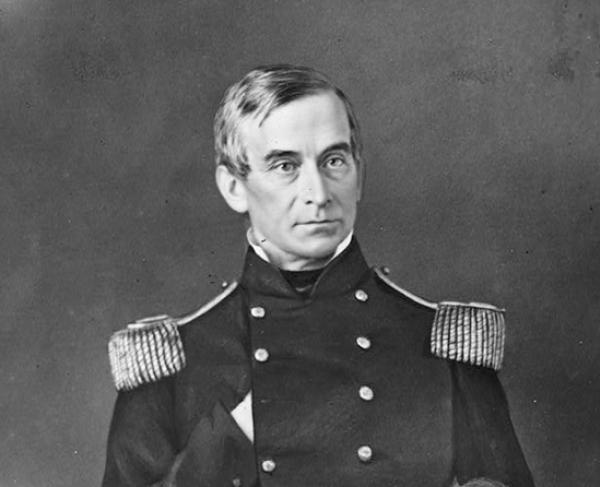 TitleMajor
War & AffiliationCivil War / Union
Date of Birth - DeathJune 14, 1805 – October 26, 1871
The man most synonymous with the embattled federal position at Fort Sumter and the first Union loss of the Civil War, Maj. Robert Anderson, was born in the slaveholding state of Kentucky on June 14, 1805. He graduated from the U.S. Military Academy in 1825, receiving a commission in the 2nd U.S. Artillery. During the Black Hawk War of 1832, he served as a colonel of Illinois volunteers and had the distinction of mustering a young Abraham Lincoln in and out of military service. During the Second Seminole War in 1837, he was an assistant adjutant general on the staff of Winfield Scott and by 1839 he had published the manual Instruction for Field Artillery, Horse and Foot. Severely wounded at the Battle of Molino del Rey in September 1847, he received a brevet promotion to major.
As tensions continued to rise following the election of 1860, officials in the Army and the Buchanan administration wisely investigated the situations at military installations throughout the South. What they found in Charleston was hardly reassuring— Fort Moultrie was vulnerable to shore attack, Fort Sumter was unfinished and Castle Pickney was manned by a single ordinance officer. In an attempt to rectify the situation, Anderson was dispatched to replace the garrison's elderly commander, Bvt. Col. John L. Gardner.
In addition to being regarded as an eminently competent and discreet officer, it was believed that putting a Southerner in command of the forts would be perceived as a diplomatic gesture of nonhostility. Although staunchly pro-Union, it was widely known that Anderson had no quarrel with the institution of slavery.
Throughout the crisis in Charleston Harbor during the winter and spring of 1861, Anderson acquitted himself with dignity and resolve. Immediately upon emerging from Fort Sumter, Anderson found himself a national hero. Less than one week later, an estimated 100,000 people gathered in Manhattan's Union Square Park to fete Anderson and salute the 33-star flag he had rescued from the fort after its surrender. The man and the flag then went on tour across the North, recruiting military volunteers and raising funds for the war effort. On April 14, 1865, Anderson and the now-legendary Fort Sumter Flag returned to Charleston for a ceremony to celebrate the war's end and the reunification of the nation. Precisely four years after it was lowered, the banner was raised over the now ruined fort. Later that night, in Washington, Abraham Lincoln was struck down by an assassin.