Philip Kearny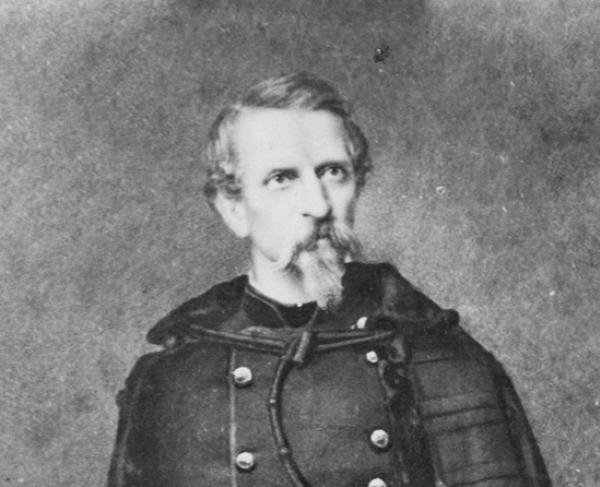 TitleMajor General
War & AffiliationCivil War / Union
Date of Birth - DeathJune 2, 1815 – September 1, 1862
By the outbreak of the Civil War, Philip Kearny had already established an interesting military record. Although Kearny was quite wealthy as a result of inheriting money from his grandparents, he chose to join the military and was commissioned a second lieutenant in the 1st Dragoons, his uncle's regiment, in 1837. Shortly after joining the unit, Kearny traveled to France where he attended the French Cavalry School in Saumur, and participated in battles with the French cavalry in the Algiers in 1840.
He returned to the United States, and became the aide-de-camp for Generals Alexander Macomb and Winfield Scott. He served during the Mexican-American War, first in an escort company for General Scott, but he then participated in the battles of Contreras and Churubusco. During the battle of Churubusco, Kearny received an injury to his left arm which resulted in its amputation. Nevertheless, Kearny continued to serve until after the war. After his service was completed, Kearny resigned from the United States army and moved to France. While there, he served in the Imperial Guard of Napoleon III and fought in the battles of Magenta and Solferino.
Once the American Civil War broke out, Kearny returned home and was among some of the first to be commissioned a brigadier general. Although some questioned how well he could lead with his injury, the need for experienced commanders was far more important. He was placed in charge of the First New Jersey Brigade.
On July 4, 1862, he was promoted to major general and was put in command of a division in General Samuel P. Heintzelman's III Corps. While in command of the corps, Kearny was credited with developing the concept of corps badges, which would go on to be adopted by the entire army. He led the division at the battles of Williamsburg, Fair Oaks, and throughout the Peninsula Campaign.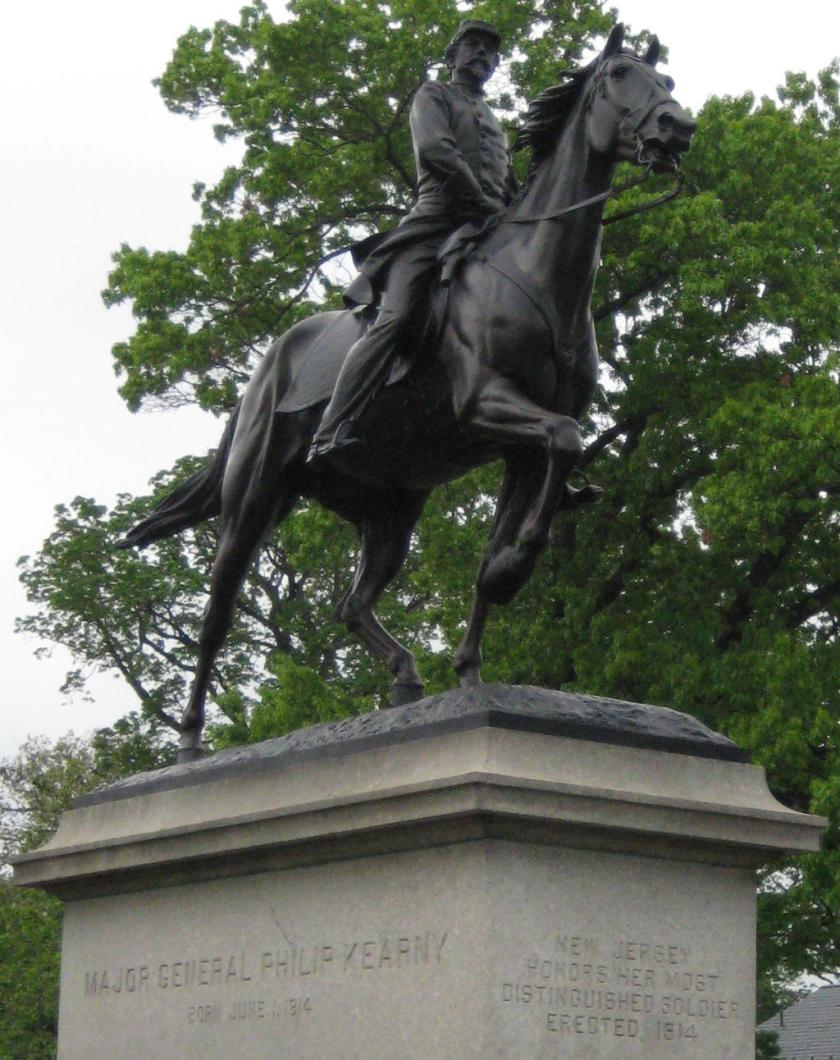 After the Union defeat at the battle of Second Manassas, Kearny led his men during the retreat and engaged Confederate forces at the battle of Chantilly. While scouting positions near his men, Kearny inadvertently rode near Confederate forces, and was killed while attempting to escape. General Robert E. Lee, who held great respect for General Kearny along with many other Confederate officers and men, forwarded his remains under a flag of truce to Union lines in order to ensure that the general received a proper burial.
Kearny was buried at Trinity Churchyard in New York near his New Jersey home, but, his remains were exhumed and re-interred at Arlington National Cemetery in 1912, where there is a statue in his honor.