Nicholas Herkimer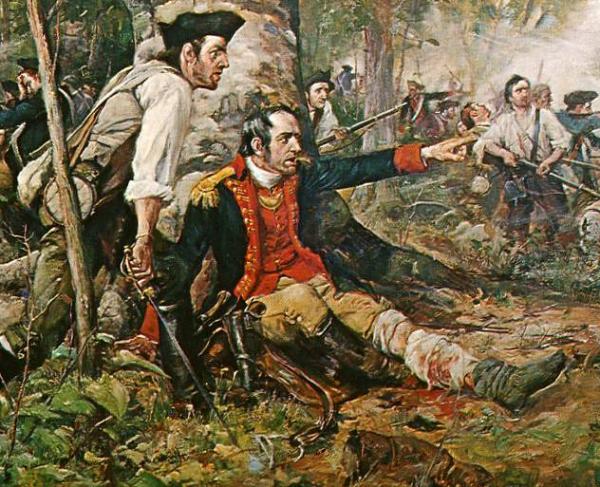 TitleBrigadier General
War & AffiliationRevolutionary War / Patriot
Date of Birth - Deathc. 1728 - August 16, 1777
The eldest son of German immigrants Johann Jost Herchheimer and Catherine Petrie, Nicholas Herkimer was born in the Mohawk Valley of New York. He was said to have known German, English, and tidbits of the Iroquois languages. His knowledge of such language may be attributed to his surroundings growing up. The Mohawk Valley was home to many Iroquois.
His first military endeavor was during the French and Indian War as he defended his town of German Flatts on two accounts. He attained the rank of captain in the militia on January 5th, 1758 and was a lieutenant by the end of the war.
During the summer of 1775 Herkimer was head of the Tryon County Committee of Safety and attained the rank of colonel within the district militia. With the coming of the Revolution, the district militia was split when Loyalist members withdrew to Canada. Herkimer's home of Mohawk Valley became fiercely divided between Loyalists and Patriots. Following the withdrawal of Loyalist militiamen, New York's Provincial Congress made Herkimer a brigadier general. In June of 1776, Herkimer led approximately 380 militiamen to meet with Mohawk leader Joseph Brant. During this encounter Herkimer asked that the Iroquois take a stance of neutrality but Brant insisted that their loyalty was to the British King in the Revolution, explaining the string of Native American attacks on Mohawk Valley Patriots that followed.
After the Siege of Fort Stanwix in July of 1777, Herkimer was prompted to assemble his militia at Fort Dayton and proceed westward toward Fort Stanwix. Little did he know, his militia would be ambushed by a combination of British regulars, Tory militia, and Mohawk Indians on August 6th, 1777. This assault, better known as the Battle of Oriskany, was one of the bloodiest of the war. Herkimer was not spared from the bloodshed and received a severe wound to this leg. Legend has it that the injured Herkimer commanded his troops under the shade of a tree while smoking his pipe! Initially avoiding retreating, his forces withdrew and carried the wounded Herkimer home. 10 days later, Herkimer passed away after a poorly performed amputation of his leg.
His legacy lives on as Herkimer County, New York is named after him!
Related Battles
Battle Facts
Oriskany, NY | August 6, 1777
Result: British Victory