Jorge Farragut
Also known as Jordi Ferragut Mesquida and George Farragut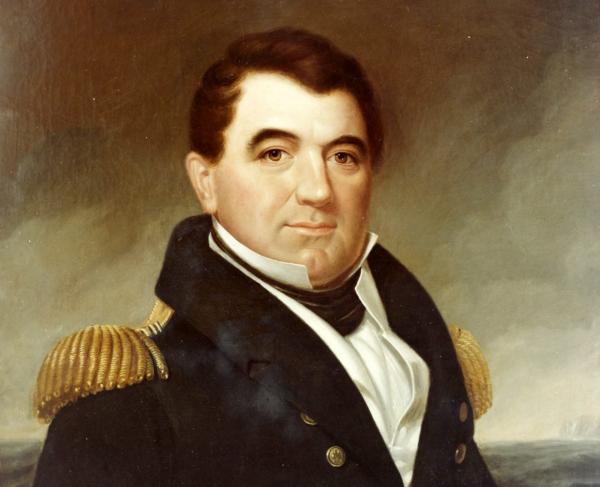 TitleMajor
War & AffiliationRevolutionary War / Patriot
Date of Birth - DeathSeptember 29, 1755 - June 4, 1817
Born on September 29, 1755, Jordi Ferragut Mesquida, better known as Jorge Farragut, was the only known Spanish volunteer who fought under the American flag in the Revolutionary War. Farragut was born and raised in Ciudadela— a port city on the Balearic Islands in Menorca, Spain. In 1772, Farragut emigrated from Spain to become a merchant marine in North America. One year later, Farragut commanded a Spanish cargo ship that facilitated trade between Havana, Veracruz, and New Orleans. 
Farragut first stepped foot in New Orleans in 1775, and it was here that Farragut learned of the imminent American Revolution. Farragut was moved by the plights of colonials and their struggle in achieving independence from Great Britain, and he soon declared his allegiance to the patriot cause. To show his dedication, Farragut anglicized his name from Jordi Ferragut Mesquida to George Farragut. 
At the beginning of the Revolutionary War, Farragut utilized his experience on the seas as a first lieutenant of the Vixen war vessel in the South Carolina navy. Farragut conducted an exchange of his cargo for cannons, firearms, gun powder, and cannonballs in Port-au-Prince, Saint Domingue. He delivered these war supplies to Charleston, South Carolina, effectively arming Southern colonial armies for conflicts at the Battle of Sullivan's Island and the Capture of Savannah.
It was not until 1780 that Farragut made the switch from naval officer to a foot soldier. At the Battle of Charleston, Farragut commanded a battery in an effort to protect Charleston from British occupation. Despite putting up a valiant effort, Farragut was captured by the British and transported to Philadelphia, while Charleston fell under British rule. 
One year later, Farragut was released in a prisoner exchange, and he immediately returned to the forefront of Revolutionary War engagements at Cowpens and Wilmington. Farragut notably raised a volunteer company of cavalry at Wilmington in order to capture stragglers from General Charles Cornwallis' army as they pushed north towards Virginia. His valiant efforts earned him the promotion to a major in the cavalry by the Revolutionary War's end. 
After the war, Farragut settled in Tennessee, where he captained a ferry boat and served as a cavalry officer in the Tennessee militia. In 1793, Tennessee governor William Blount appointed Farragut major of the local militia in order to conduct defense against the Cherokee Nation. Farragut remained in service for the rest of his life, as he captained a gunboat in New Orleans in 1807, and he fought against the British once again as a volunteer companion to General Andrew Jackson's troops during the War of 1812. 
All the while Farragut devoted the rest of his life towards military service, he settled down and started a family in the Tennessee territory. In 1795, Farragut married Elizabeth Shine, and the two raised five children together until Shine's death in 1808. Farragut died of yellow fever on June 4, 1817, in Pascagoula, Mississippi. Farragut's legacy, however, lived on in his son, David Glasgow Farragut. David Glasgow Farragut served as a flag officer of the United States Navy during the American Civil War, and he famously stated, "Damn the torpedoes, full speed ahead!" at the Battle of Mobile Bay.