John Grubb Parke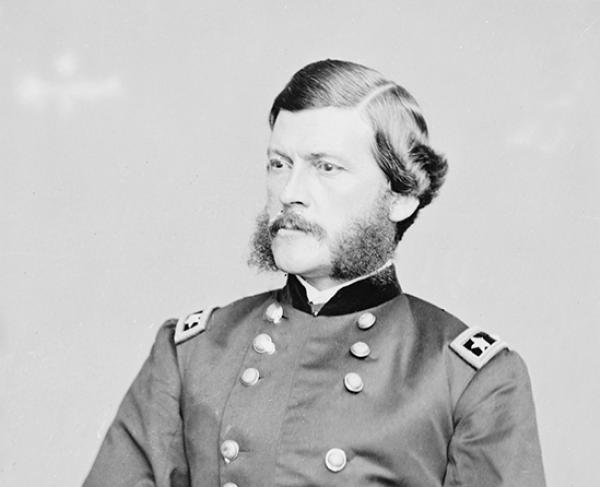 TitleMajor General
War & AffiliationCivil War / Union
Date of Birth - DeathSeptember 22, 1827-December 16, 1900
John Grubb Parke was born in Pennsylvania on September 22, 1827 and at the age of eight, moved to Philadelphia with his family. Parke graduated second in his class at West Point in 1849 following which, he received a commission in the Topographical Engineers. Parke became the chief surveyor on many projects west of the Mississippi, including a survey of the boundary between the United States and Canada.
With the start of the Civil War in 1861, Parke returned east to take the position of brigadier general of volunteers. Parke was assigned to the command of General Ambrose Burnside, with whom he took part in the North Carolina campaign in early 1862, participating in the capture of Roanoke Island and New Bern, as well as the siege of Fort Macon.
In the spring of 1862, Parke was promoted to major general of volunteers and appointed as Burnside's chief of staff. During this time he served at the battles of South Mountain, Antietam, and Fredericksburg.
When Burnside was appointed commander of the Department of Ohio in March of 1863, Parke was transferred with him, and assumed the command of the IX Corps in the department. As corps commander, Parke participated in the final stages of the siege of Vicksburg, and fought in the Jackson, Mississippi and Knoxville, Tennessee campaigns.
In early 1864, the army underwent reorganization in anticipation of General U.S. Grant's upcoming Overland Campaign. Burnside and the IX Corps were sent to the Army of the Potomac and Parke was once again appointed Burnside's chief of staff. Due to illness, Parke did not see service with the corps until after the start of the Battle of the Wilderness. He served in that capacity until the Battle of the Crater at Petersburg on July 30, 1864, after which Burnside was removed from his command. Parke assumed command of the IX Corps upon Burnside's departure, and fought at Hatcher's Run in October of 1864.
On March 25, 1865, while General George Meade was in a conference, Parke assumed command of the entire Army of the Potomac during which the battle at Fort Stedman, part of the siege lines of Petersburg was fought. During the battle, Parke drove back Confederate troops under General John B. Gordon, stopping the last serious attempt to break the siege of Petersburg. For his efforts, Parke was appointed brevet major general in the regular army.
Parke continued to command the IX Corps until the Confederate surrender at Appomattox Court House on April 9, 1865. In 1866, he returned to the Corps of Engineers, eventually achieving the rank of colonel in 1884. In 1887 Parke became the superintendent at West Point, retiring from that position, and the U.S. Army, in 1889.
John Parke died on December 16, 1900 in Washington, DC and was buried in Philadelphia.