John B. Gordon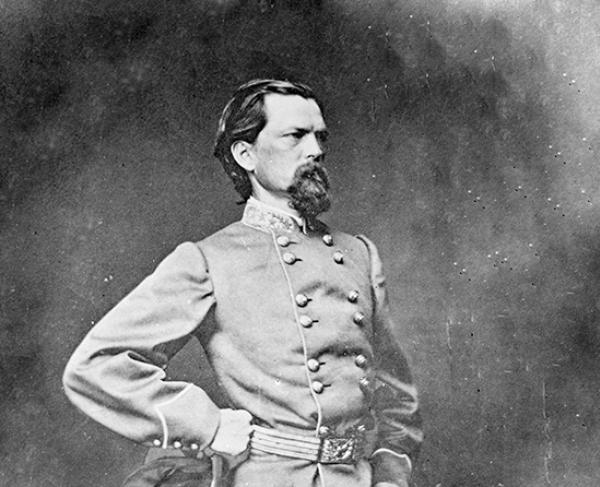 TitleMajor General
War & AffiliationCivil War / Confederate
Date of Birth - DeathFebruary 6, 1832 – January 9, 1904
John Brown Gordon would become one of the most successful commanders in General Robert E. Lee 's army, and would do so without any prior military training.  The son of a prominent minister in Upson County, Georgia, Gordon went to school at the University of Georgia, but dropped out before graduating to study law.  He invested in coal mines in Georgia and Tennessee before the war but at the outbreak of the war was elected captain of a mountaineer company known as the "Raccoon Roughs."  Gordon's company was eventually incorporated into the 6th Alabama Regiment, and Gordon named as its colonel.   
Colonel Gordon led his regiment during the Peninsula Campaign and the subsequent Seven Days Battles.  During the Battle of Antietam, he received the order to hold a vital portion of a sunken road, now known as the "Bloody Lane."  When questioned by General Lee whether he could hold his ground, Gordon replied that his men could do so "until the sun goes down or victory is won."  Though Gordon managed to hold the line against repeated attacks, victory came at a high personal cost for Gordon who was wounded four times but remained in command until a fifth wound--a minie ball to the face--rendered him unconscious.  Falling face first into the road, only a bullet hole in his cap prevented him from drowning in his own blood. 

After recuperating from his wound, Gordon was promoted to Brigadier General and given command of a brigade of Georgia regiments.  His brigade would play an important roll during the Battle of Gettysburg, during which he and his men attacked Barlow's Knoll on the first day of the battle. 

Gordon commanded his troops with great success during the Overland Campaign. At the Battle of the Wilderness, Gordon's brigade counterattacked and pushed back a Federal breakthrough at Saunders Field. The next day, although darkness and confusion brought an end to the fighting, Gordon launched a highly successful flank attack in which hundreds of Union soldiers and two Union generals were taken prisoner. On another "bloody" battlefield a few days later at Spotsylvania Court House, the timely arrival of Gordon's men helped to secure the otherwise shattered Confederate line.  In 1864, Gordon, now a major general, assumed command of a division and led it through General Jubal Early's Shenandoah Valley Campaign.

In 1865, commanding a portion of the Confederate lines during the Siege of Petersburg, Gordon planned and led the assault on Fort Stedman, General Lee's forlorn hope to break the stalemate south of the Confederate capital.  Though initially successful, Yankee counterattacks eventually forced Gordon to withdraw his forces back to their own trenches.  Within a week the Confederate lines broke and Gordon, now commanding a corps, took part in critical actions during Lee's retreat toward Appomattox.  After the surrender at Appomattox Court House, Gordon led the Army of Northern Virginia to surrender their arms.  When Union General Joshua L. Chamberlain ordered his men to salute Gordon's column, the Confederate General, touched by the gesture, ordered his men to return the favor and acknowledge their former adversaries.
 
After the war, Gordon returned to his home state of Georgia, where he was elected a United States Senator as well as Governor.  He was also the first commander-in-chief of the United Confederate Veterans, a remained so until his death at the age of 71.  John B. Gordon is buried in Atlanta.