Frederick Hall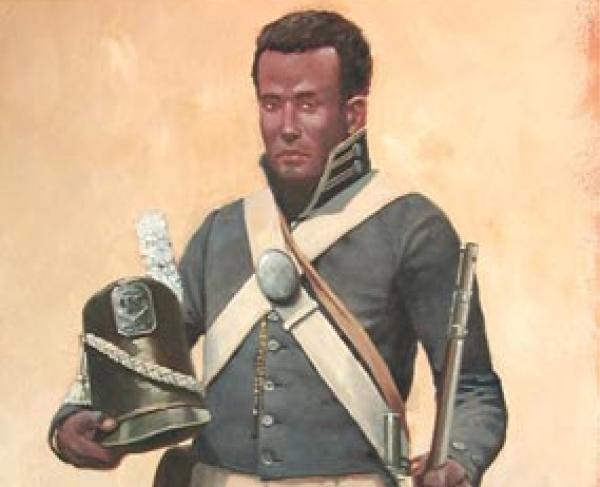 TitleSoldier
War & AffiliationWar of 1812 / American
Date of Birth - Death1793 - 1814
Frederick Hall, also known as William Williams, was born in 1793 on Bellefields Plantation in Croom, a small town in Prince George's County, Maryland. Growing up enslaved, Hall ran away from Bellefields Plantation in early 1814. Hall decided, instead of escaping into British lines (who promised to free all slaves that entered the service of the British Army or Navy), Hall decided to enlist in the United States Army in the spring of 1814. Hall was assigned to the 38th United States Infantry Regiment stationed in Baltimore. Hall received an enlistment bonus of $50 (the equivalent of about $800 today) and a monthly wage of $8 (about $130 today) a month. When enlisting, the officer who enlisted Hall did not question him about his status as an enslaved person, and Hall took up the alias William Williams to hide his true identity.
By September of 1814, Hall, now Williams, was ordered to defend the coastal Baltimore Fort McHenry from the British invasion of Baltimore. Having already razed the new nation's capital, the British hoped to do the same to Baltimore and cripple one of the new nation's robust shipping ports. Williams, along with about one thousand other soldiers, prepared to halt the British and push them out of the Chesapeake Bay.
On the evening of September 13, Williams and the American defenders succumbed to British cannon fire. For 27 hours, in the pouring rain, the British fired shot after shot, hoping to break the American's resolve. Sometime in those 27 hours, Williams was wounded, with his leg blown off by a cannonball. On the morning of September 14, the American's resolve did not break, and the garrison flag was flown over Fort McHenry. The Americans had done it. Meanwhile, Williams was transported to a local Baltimore hospital. Two months later, in November of 1814, Frederick Hall, known then as William Williams, passed away from his wounds received defending his country.
The story of Frederick Hall is one of valor. While he was raised as a part of the institution of slavery, despite having the option to leave his country and become free, Hall decided to take his chances of recapture and enlisted in the United States Army. The young 21-year-old from Prince George's County, Maryland made the ultimate sacrifice for his country. For Hall, enlisting in service to the country that wanted to keep him and millions more in bondage was his first and last act as a freed person. While Hall's true intentions for enlisting will never be known, he helped defend the United States in its darkest hour and paid the ultimate sacrifice.
Support Outdoor Classrooms at Seven Key Battlefields
We're launching interpretation of African American history at 7 key battlefields, located in 5 states, spanning 3 wars.
Related Battles
Battle Facts
Maryland | September 13, 1814
Result: United States Victory