David Hunter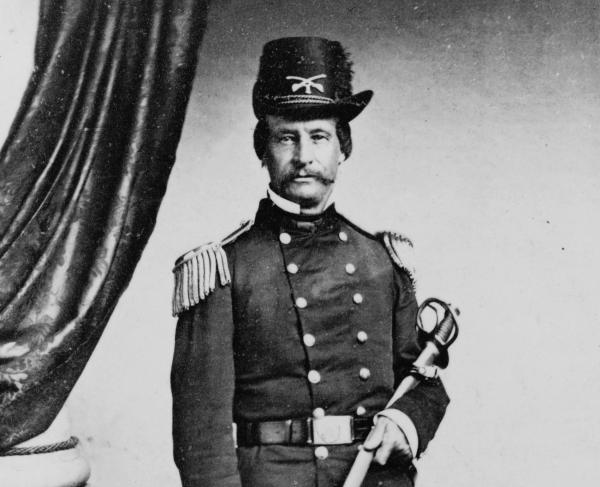 TitleMajor General
War & AffiliationCivil War / Union
Date of Birth - DeathJuly 21, 1802 - February 2, 1886
David Hunter was born on July 21, 1802, in Troy, New York. Hunter attended West Point and graduated in 1822. He was commissioned as a second lieutenant in the 5th U.S. Infantry Regiment. From 1828-1831, Hunter was stationed at Fort Dearborn in Chicago, Illinois. He met and subsequently married Maria Kinzie while stationed at Fort Dearborn. In 1833, he was promoted to captain of the 1st U.S. Dragoons. In 1836, Hunter resigned from the army and worked as a real estate agent. In 1841, Hunter rejoined the army and was promoted to Major in 1842. By 1860, Hunter was stationed in Fort Leavenworth, Kansas. When President Abraham Lincoln was elected President in 1860, the two engaged in correspondence emphasizing their own anti-slavery opinions. Lincoln invited him on his inaugural train ride from Springfield, Illinois to Washington, D.C. However, once the train arrived in Buffalo, New York, Hunter, and the train were crowded by onlookers. In the struggle, Hunter's collarbone was broken.
On May 17, 1861, Hunter was promoted to colonel of the 6th U.S. Cavalry. Lincoln soon appointed Hunter to a brigade that operated in Washington, D.C. On July 21, 1861, the new Colonel was wounded in the cheek and neck at the Battle of First Bull Run. Soon after, in August 1861, Hunter was appointed to major general. On November 2, 1861, he was appointed commander of the Western Department until March of 1862. Within four months, Hunter was transferred to the Department of the South with the X Corps.
As commander of the Department of the South, Hunter began to enlist enslaved peoples, forming the 1st South Carolina (African Descent). He also issued General Order No. 11 on May 9, 1862, which stated that all enslaved peoples in Georgia, Florida, and South Carolina were permanently free. General Order No. 11 upset those in the border states, who were slaveholding states in the Union. By the end of summer in September 1862, Lincoln issued the Emancipation Proclamation, freeing all slaves in the Confederacy. Confederate President Jefferson Davis in response to Hunter's General Order ordered that if Hunter were to be captured, that he should be executed. In 1863, Hunter personally wrote to Confederate President Jefferson Davis. In his letter, he attacked the Confederacy and the reasons as to why they were fighting a civil war. He explained, "You say you are fighting for liberty. Yes you are fighting for liberty: liberty to keep four millions of your fellow-beings in ignorance and degradation;-liberty to separate parents and children, husband and wife, brother and sister;- liberty to steal the products of their labor, exacted with many a cruel lash and bitter tear…This is the kind of liberty-the liberty to do wrong- which Satan, Chief of the fallen Angels, was contending for when he was cast into Hell."
Hunter was appointed as commander of the Army of the Shenandoah on May 21, 1864, after Major General Franz Sigel performed poorly in the Shenandoah Valley at the Battle of New Market. Upon his appointment as commander, General-in-Chief Ulysses S. Grant ordered Hunter to institute "scorched earth" tactics on the people and Confederate forces in and around the Shenandoah Valley. On June 5, 1864, Hunter successfully defeated Major General William Jones in the Battle of Piedmont in Augusta County, Virginia. Following the Battle of Piedmont, Hunter moved further up the Valley towards the south to Lexington, Virginia. In Lexington, Hunter burned the local military university, Virginia Military Institute, in an act of retaliation for the Battle of New Market on June 11, 1864. Dormitories were burned, lecture halls were shelled, and a statue of George Washington was confiscated by Union forces. Hunter also wreaked havoc on nearby Washington College (later named Washington and Lee University). Following the destruction in Lexington, Hunter moved further up the Valley at Lynchburg. On June 17-18, 1864, Hunter fought against Lieutenant General Jubal Early, who was sent to push Hunter back down the Valley. Early was successful, and on June 19, Hunter was demoted and replaced by Major General Philip Sheridan two months later.
Following his demotion, Hunter was made a brevet major general in the Regular Army on March 13, 1865. Following the Civil War, Hunter served in the honor guard at the funeral of President Abraham Lincoln and accompanied his body back to Springfield, Illinois. Hunter, who accompanied the President on his inaugural train ride, now helped return him to his home to be buried. Following Lincoln's funeral, Hunter eagerly returned to Washington, D.C. to lead the military commission against the conspirators of Lincoln's assassination. In July of 1866, Hunter retired from the Army, but stayed in Washington. In his remaining years, Hunter wrote the Report of the Military Services of Gen. David Hunter, U.S.A., during the War of the Rebellion, which was published in 1873. On February 2, 1886, at the age of 83, David "Black Dave" Hunter passed away in his Washington, D.C. home. His body was transported to Princeton, New Jersey where he was buried in the Princeton Cemetery.