What Might Have Been: Chancellorsville, Virginia
Reflections on the American Battlefield Trust's stories of land saved which could have been lost forever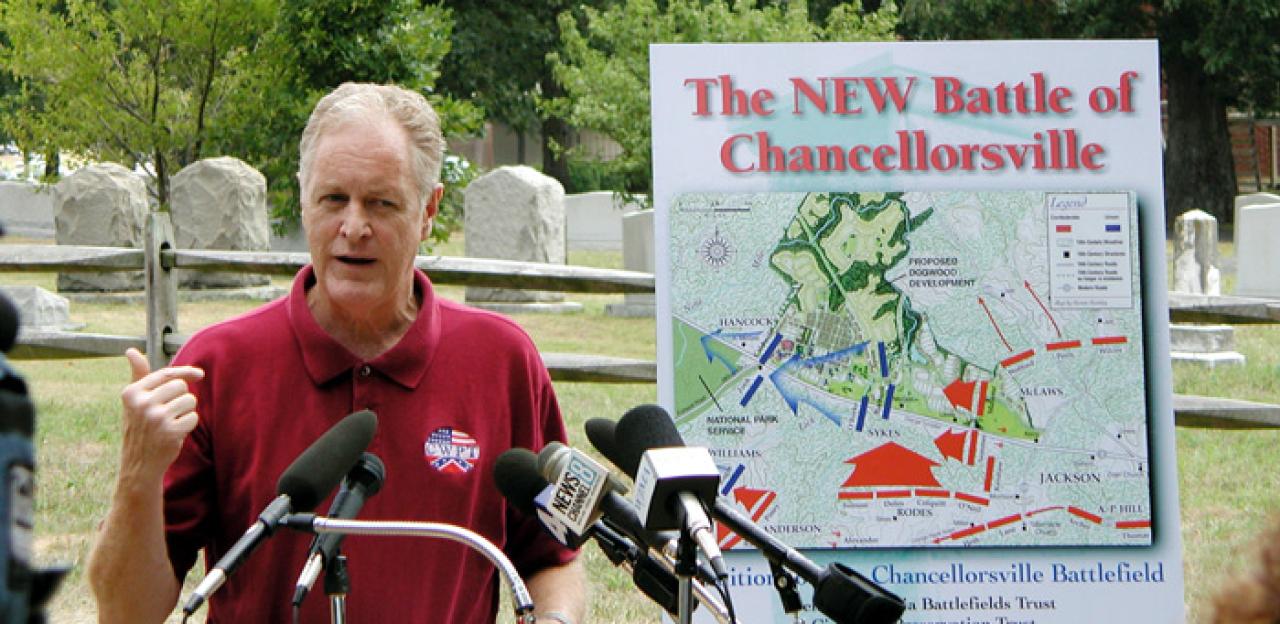 There is no better way to get an accurate sense of what the Trust has accomplished in the last 30 years than by examining sites that could have been lost but that are now saved forever.
Today, the American Battlefield Trust's 214-acre First Day at Chancellorsville property — complete with walking trails and interpretive signage explaining the significance of fighting there on May 1, 1863 — is one of the organization's greatest successes, a triumph of public-private partnerships and the search for win-win solutions. But, just over a decade ago, the situation for this incredible piece of hallowed ground looked remarkably different and grim.
In 2002, the Dogwood Development Group proposed a "town" of 2,350 residential units and 2.4 million square feet of commercial and office space on a 790-acre former farm and nursery along State Route 3, west of Fredericksburg. Appalled by such large-scale development in this historic area, a group of seven national and local nonprofits — including the Central Virginia Battlefields Trust, American Battlefield Trust, National Parks Conservation Association and National Trust for Historic Preservation — came together to form the Coalition to Save the Chancellorsville Battlefield.
The plan drew vigorous opposition and public outcry over the threat that the development posed to this once-rural, but now rapidly growing, community, as well as the loss of a historic landscape. A candlelight vigil by 200 preservationists held amid gently falling snow during a Spotsylvania County Board of Supervisors meeting was dubbed "the prettiest protest I ever saw," by one Fredericksburg Free Lance-Star columnist.  Ultimately, county officials denied the rezoning request that would have made the project possible. 
Following defeat of the Dogwood plan, the American Battlefield Trust began working behind the scenes to permanently protect this beautiful battlefield. Working with local development firm Tricord Homes, the Trust was able to purchase 140 acres of the battlefield, but a large portion of land still remained under threat of development. In 2005, the organization began discussions with Toll Brothers, a national residential development firm, to purchase the remaining 74 acres of critical battlefield land. With public support, a solution was struck that would allow for preservation of the remaining battlefield, thanks to an increase in allowable housing density on the less historically significant land. This win-win solution was solidified through a rezoning application approved by the Board of Supervisors on November 14, 2006.  The measure passed with a unanimous 7-0 vote and was greeted with a standing ovation from local residents.
Thanks to the hard work of preservationists and the dedication of local citizens, what seemed impossible 10 years ago has become a reality: the scene of the first day's fighting at the Battle of Chancellorsville will be studied and enjoyed for generations to come.
More in "What Might Have Been" series: Fredericksburg, Virginia | Harpers Ferry, West Virginia | Spring Hill, Tennessee
We URGENTLY need your help at Chancellorsville!
We didn't get the $450,000 in government grants that we were counting on and these 42 battlefield acres are now at URGENT risk!
Related Battles
Battle Facts
Spotsylvania County, VA | April 30, 1863
Result: Confederate Victory
Estimated Casualties
30,764