Ancestry and Fold3 have been helping people understand their ancestors and why they fought for causes large and small for decades. Now, Ancestry and Fold3 have joined forces with the American Battlefield Trust, so that you can find the veterans in your family's past and understand their stories and the impact on the generations that followed. You can learn more at https: www.fold3.com/projectregiment.
In addition to this recurring Hallowed Ground column, this partnership has resulted in an exclusive discount for Trust members to subscribe to Ancestry and Fold3! Check your email for this exclusive offer.
---
With ancestor veterans dating back to America's Revolutionary beginnings, Jim Sheaffer often looks at battlefield preservation through a personal lens, imagining what his family members of years' past felt as they walked upon the blood-soaked soil of battle. His interest in family history is only natural, as Sheaffer's parents took him on several visits to Gettysburg. There, the family would finish their trips at the Pennsylvania State Memorial, to see the name "G W Thompson" listed under the 53rd Pennsylvania Infantry Regiment, Company F.
"G W Thompson" stood for George Washington Thompson — Sheaffer's maternal great-great grandfather and one of the approximately 85,000 Union soldiers engaged at Gettysburg.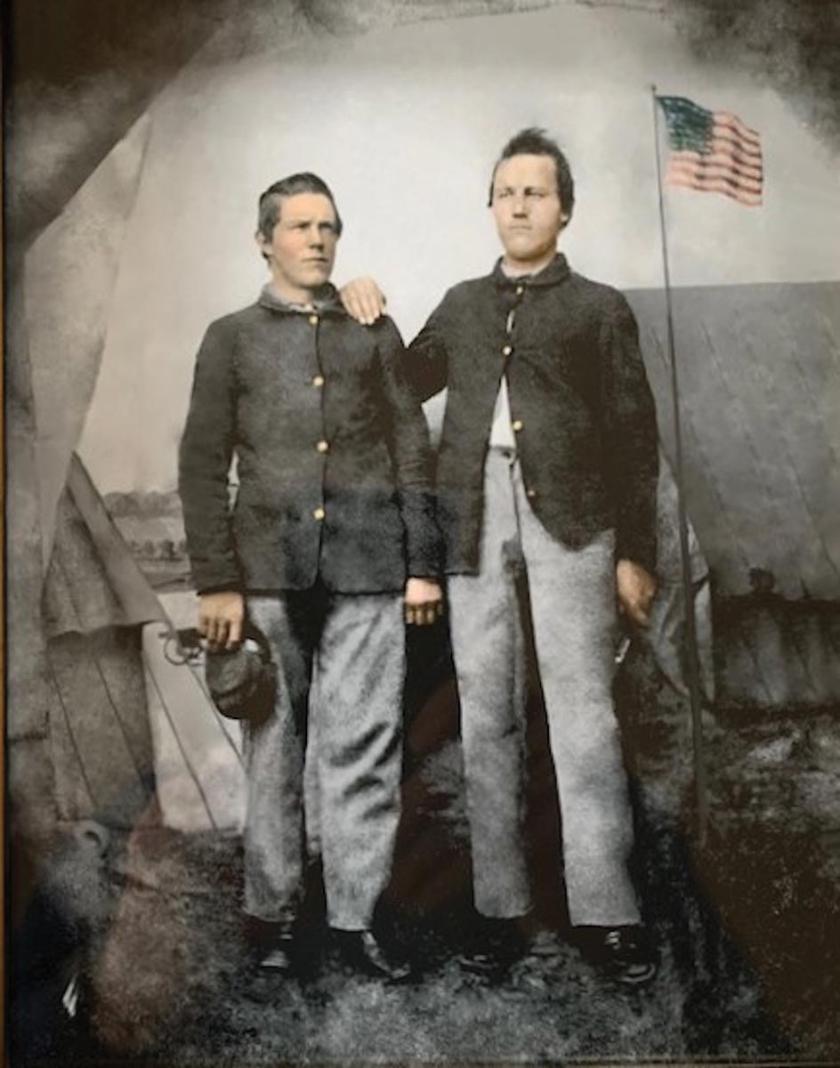 Luckily for Sheaffer, his family history is well-documented, including writings from George himself. But, with the help of the Trust's friends at Ancestry, we were able to find even more details from the life of the Gettysburg veteran from various sources on Newspapers.com, an Ancestry affiliate. Ultimately, George W. Thompson carved out a life that demonstrated strength, perseverance and a patriotic legacy.
On March 3, 1841, George Washington Thompson was born and provided with a name that predicted his military destiny. One may also presume that he drew inspiration from his maternal grandfather, Jacob Scouten, who served in both the Revolutionary War and War of 1812. On October 16, 1861, 20-year-old George enlisted with Company F of the 53rd Pennsylvania Infantry Regiment. The enlistment even notes that the young private stood at 5' 6", with blue eyes and light hair.
George first saw action the following spring in the Battle of Fair Oaks, during the Seven Days Battles of the Peninsula Campaign. His obituary in The Times Leader — out of Wilkes-Barre, Pennsylvania. — from November 11, 1925, particularly outlines George's Civil War service:
Fair Oaks, June 1, 1862; Gaines' Mill, June 27, 1862; Peach Orchard, June 28, 1862; 2nd Bull Run, August 30, 1862; South Mt., September 14, 1862; Antietam, September 17, 1862; Fredericksburg, December 13, 1862; Chancellorsville, May 1–4, 1863; Gettysburg, July 1–3, 1863, where he was wounded, by gunshot in right thigh, also below knee. He was sent to Summit Hill Hospital for three months. He rejoined regiment at Brandy Station. Reenlisted December 27, 1863, as a veteran, engaged at Wilderness, May 5–7, 1864; Spotsylvania, May 8, 1864, where he was again wounded, confined to hospital for four months. Rejoined regiment at Petersburg, Boydton Td., March 31, 1865; Five Forks, April 1, 1865; Appomattox, April 9, 1865. Promoted to Sergeant, April 17, 1865, and second lieutenant, June 1, 1865, for meritorious conduct. He was honorably discharged June 30, 1865, near Washington, D.C.
As for his service at Gettysburg, on July 2, 1863, Private Thompson followed the orders of then Col. John R. Brooke to advance — charging through the Wheatfield, into the Rose Woods and to the crest of the wooded hill where the 53rd Pennsylvania's monument stands today. Exposed and without further ammunition, the 53rd retraced its path back through the Wheatfield. But at some point, the young private was hit.
George's writings note that he crawled off the field after being twice wounded in the leg. The 53rd Pennsylvania lost 81 out of the 135 men who entered the fight that day. But George would live on, first being treated at a hospital outside of Philadelphia and later transported to Camp Convalescent in Alexandria, Virginia. Sheaffer's family narrative also makes note of George's eventual return to the regiment at Brandy Station in November 1863, and his reenlistment as a "veteran volunteer" in December 1863 — for which he received a $100 bounty.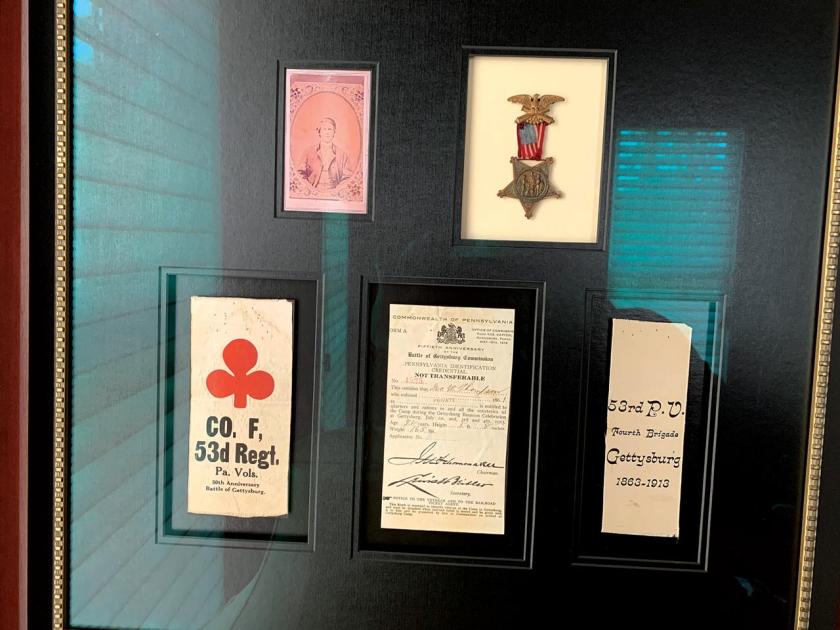 When he was discharged on June 30, 1865, George returned home. In addition to becoming a husband, father and owner of a lumberyard and machine shop, he became a dedicated veteran. The Wilkes-Barre Semi-Weekly Record noted his participation in the 30th reunion of Company F at the Dallas (Pa.) fairgrounds in September 1891. On August 30, 1912, the same paper recorded him as a surviving member of Company F when announcing the 51st reunion in Fernbrook (Pa.). While newspapers don't confirm his presence at Company's F's 51st reunion in 1912, the family narrative and an accompanying photo — taken in the Wheatfield — places George at the Gettysburg 50th anniversary reunion in July 1913.
Over the years, Sheaffer has continued to visit the renowned Pennsylvania battlefield and pass on George's story to his children, nieces and nephews. He even enlisted the help of a Gettysburg licensed battlefield guide to provide an in-depth tour of the Wheatfield, where George himself fought and later revisited. Getting this close to an ancestor's military past is rare, and Sheaffer certainly doesn't take it for granted.
Help Preserve 29 Acres at Gettysburg & Second Deep Bottom
We have the opportunity to permanently preserve 20 new acres at Gettysburg, plus another nine acres at Second Deep Bottom that are adjacent to lands...
Related Battles
Battle Facts
Adams County, PA | July 1, 1863
Result: Union Victory
Estimated Casualties
51,112