Cliff Oram Photography
Ancestry and Fold3 have been helping people understand their ancestors and why they fought for causes large and small for decades. Now, Ancestry and Fold3 have joined forces with the American Battlefield Trust, so that you can find the veterans in your family's past and understand their stories and the impact on the generations that followed. You can learn more at https: www.fold3.com/projectregiment.
In addition to this recurring Hallowed Ground column, this partnership has resulted in an exclusive discount for Trust members to subscribe to Ancestry and Fold3! Check your email for this exclusive offer.
 
---
Sometimes it is exhilarating to think of who we descend from. For U.S. Representative Andrew S. Clyde, family stories steered him toward an awareness that an ancestor of his very same surname stood as a soldier in the conflict that forged the United States of America. And even with a centuries age difference, Clyde very likely experienced many of the same emotions faced by his "Revolutionary" ancestor, as he too served — an officer in the U.S. Navy for 28 years, including combat in Iraq and Kuwait. Today, his service looks different, as he represents Georgia's 9th Congressional District upon Capitol Hill.
But who was this brave Patriot ancestor of Clyde's?
To unveil that, one must sift through generations of Clydes — six generations beyond Representative Clyde, to be exact. In doing so, we find his four-times great grandfather Huge Clyde, born ca. 1724 in Ireland to Esther [of Tyrone, Ireland] and Daniel Clyde [of Clydesdale, Scotland]. Between 1730 and 1732, the young family moved to the American colonies and settled in New Hampshire. It was there that Hugh Clyde's brother — Representative Clyde's four-times great granduncle — Samuel Clyde was born in 1732.
During the French and Indian War, Samuel Clyde served with the British while in New Hampshire. D. Hamilton Hurd's 1878 "History of Otsego County, New York" claims that Clyde was appointed captain in a company led by General James Abercrombie in 1758, and was involved in the taking of Fort Frontenac and the 1759 Battle of Ticonderoga (Fort Carillon later renamed Fort Ticonderoga). Before ending his service in 1761, he became familiar with Dr. Matthew Thornton, the uncle of Catharine Wasson and later signer of the Declaration of Independence. Clyde went on to marry Catharine and, together, they moved to the Mohawk Valley region of New York.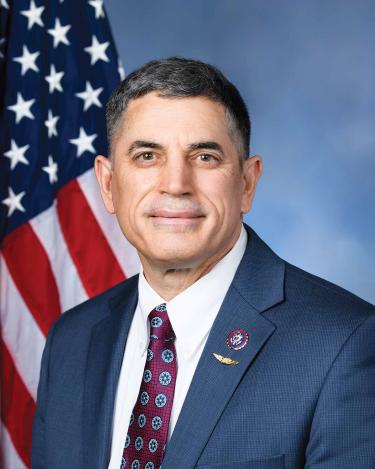 But the Mohawk Valley quickly turned into a battlefield in the fight for American independence, and Samuel Clyde answered the call to serve. Looking toward the National Archives and Records Administration's compiled service records for Patriot forces confirms this. Accounting for the service of regular soldiers, militia and volunteers, these files differ from soldier to soldier — some have brilliant detail while others provide just a hint!
The Fold3-housed military service records for Samuel Clyde consist of two sets of index cards — one noting his service as a lieutenant colonel-turned-colonel in "Clyde's New York Regiment" while the other documents his time as a colonel in "Harper's Regiment New York," which accounts for his service in 1780. The file for "Clyde's Regiment" draws particular attention, as his surname is front and center. The record provides clarity to the curiosity, explaining that "Colonel Campbell's Regt. Of Tryon County Militia in the Service of the United States of America, [was] now Commanded by Lt. Colonel Samuel Clyde, being on duty different times from the 15th day of June, 1779, until the 1st Jany., 1783." So, not only did this ancestor serve — he LED.
While these records account for the years 1779 – 1783, the aforementioned "History of Otsego County, New York" notes Clyde's early involvement in the Mohawk Valley's resistance against the Crown, having been part of Tryon County's committee of safety from the beginning of the war. He is also said to have fought at the Battle of Oriskany in August 1777, where his superior, General Herkimer, was killed and he, himself, was knocked down by a British musket, and later saved by a man named John Flock. By March 1778, he was one of a party of three who met with General Lafayette to request assistance in building a fort and manning it. Following, General Washington sent orders to proceed with the request.
But tragedy struck on November 11, 1778, when a combined force of Loyalists and Natives struck Patriot forces in today's Otsego County. Snow-covered grounds were turned red, with more than 40 Patriots killed and approximately 70 taken prisoner. Through it, Clyde took up a defensive position, while his wife and kids fled to the woods for protection.
General Washington visited the Mohawk Valley in 1783, where he found Colonel Clyde in command of Fort Plain. According to the "History of the Mohawk Valley, Gateway to the West, 1614-1925," this meeting went very well for Clyde. Governor George Clinton apparently said, "General Washington, this is Colonel Clyde, a true Whig and a brave officer who has made great sacrifices for his country" — to which Washington answered, "Then, sir, you should remember him in your appointments." Clinton certainly did, later appointing Clyde sheriff of Tryon County and sheriff of Montgomery County.