Sarah Nell Blackwell
Just below the surface of one of the most popular parks in Charleston lies a significant archaeological and historical treasure that demonstrates the resilience of early Charlestonians in defending their country from the invasion attempts of the British. In early February 2019, graduate students working on behalf of The Liberty Trail, a joint project of the American Battlefield Trust and the South Carolina Battleground Protection Trust (SCBPT), began the process of leveraging modern technology to document the exact footprint of this important fortification in Marion Square for the first time.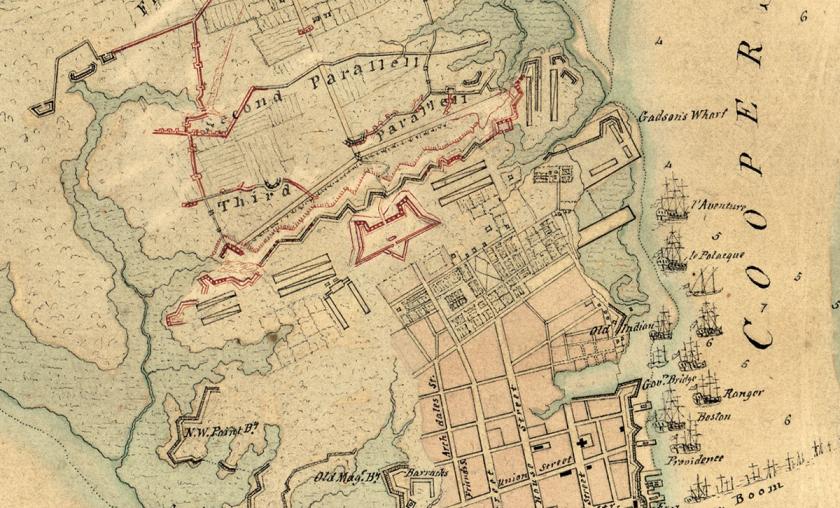 The Hornwork was a large fortification built in 1758 that created an intimidating defensive line in the protection of Charleston. Constructed of tabby, a mixture of shells, sand and lime, the structure was a massive 30-foot-tall fortification spanning three city blocks. The Hornwork and its surrounding ditch, or moat, occupied a space measuring approximately six to eight acres. The tabby walls, which extended to the east and west of King Street, measured between six and seven hundred feet across. The elevation of the front (north) wall was between 10 and 20 feet high. While a remnant of the Hornwork remains visible in Marion Square today and archaeologists know its approximate outline, this project is the first to completely document its exact footprint and to provide educational resources to explain its significance.
"South Carolina is rich with Revolutionary War stories yet to be told," commented Doug Bostick, SCBPT executive director. "This research is just the first step in sharing the story of the defense of Charleston." 
Jim Lighthizer, president of the American Battlefield Trust, noted that, ultimately, this work will yield a gateway experience for The Liberty Trail, a statewide network of Revolutionary War sites proposed by the partners. "We envision a state-of-the-art augmented reality program to allow Marion Square visitors to see the Hornwork and where it fits on the modern landscape. Traditional interpretive signage will further educate visitors."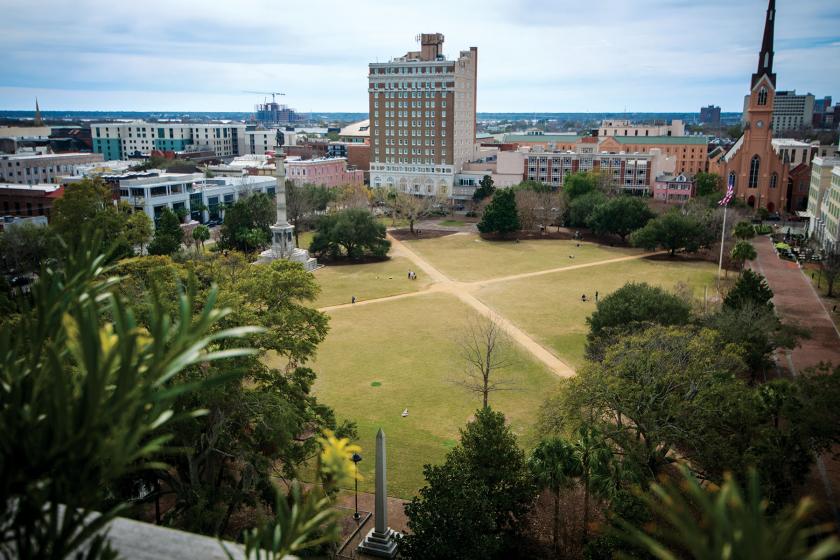 Clemson/College of Charleston Historic Preservation graduate students employed ground penetrating radar to map the precise footprint. "This is exactly the kind of project we love for our students," noted Jon Marcoux, Ph.D., director Clemson/College of Charleston graduate program in historic preservation. "They get a hands-on learning experience within the context of a real-world preservation project. It is also great to see the results of their work employed in such a forward-looking initiative."
A number of other state and local organizations are participants in the project, including the Charleston County Library, the Charleston Museum, the South Carolina Institute of Archaeology and Anthropology and the Washington Light Infantry and Sumter Guards.
For more information on The Liberty Trail initiative, including historical background and a list of those sites that are part of the Initial Phase of the project, visit www.thelibertytrail.org.
Related Battles
Battle Facts
South Carolina | February 11, 1780
Result: British Victory
Estimated Casualties
5,764