Monocacy
The Battle That Saved Washington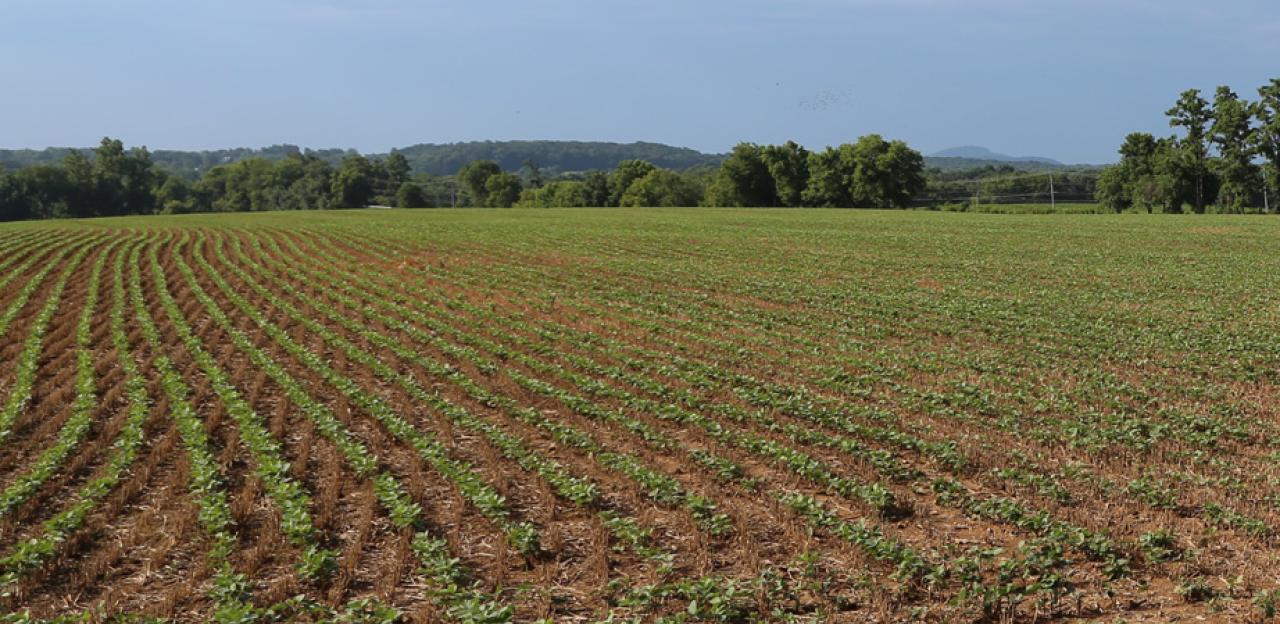 B. Franklin Cooling
NATIONAL PARK SERVICE ACQUISITION OF THE ARABY FARM IN THE FALL OF 2002 (with the help of the Civil War Preservation Trust), guaranteed the integrity of the Monocacy National Battlefield.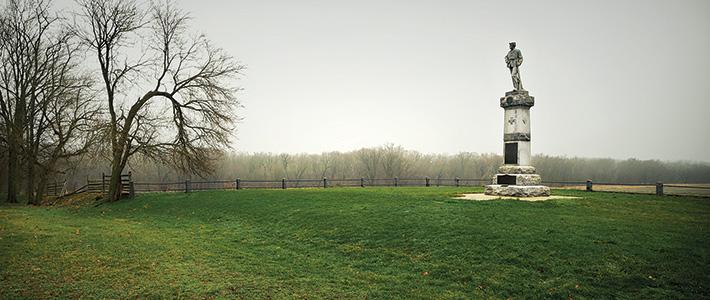 Here, on July 9, 1864, where the turnpike from Frederick to Washington and the Baltimore and Ohio Railroad both crossed the Monocacy River three miles south of Frederick, Maryland, occurred one of the most important actions of the Civil War. Little known to many Americans, the bloody combat that took place here determined the fate of the nation's capital in a presidential election year. Colorful leaders of lesser rank — not Great Captains — played out the single day's drama. This Confederate tactical victory turned into a strategic defeat because of a single twist of fate — time. The day's delay occasioned by this battle disrupted Confederate general Jubal Early's schedule for capturing the nation's capital and possibly President Abraham Lincoln himself while affecting the election year's summer politicking and lessening the Union's ever-tightening grip on Robert E. Lee's army at Richmond and Petersburg. Monocacy was a classic example of a little battle having importance far beyond territorial extent or size of forces engaged.
The battle itself was a bare-knuckles soldiers' fight. Human will and firepower, not fancy maneuvers or brilliant generalship, determined the outcome. Two Medals of Honor were later awarded for gallantry and valor under fire to soldiers from Vermont. Artillery may have proved the deciding edge for the Southern side although basic infantry action carried the day. Cavalry provided its customary elusive role. A "lost brigade" of Federals provided an element of mystery to the story while technology was involved in the strategic use of railroad and telegraph. In fact, it was a railroad president, more than either the Richmond or Washington governments, who figured decisively in bringing on this battle in the first place. The senior Confederate general dallied over collecting ransom of $200,000 from the wealthy burghers of the city of Frederick. His Union counterpart (then in disgrace among the high command for earlier battlefield transgressions at Shiloh, as well as for being a politically appointed general instead of a West Point professional) performed a "Horatius at the bridge."
The story of Monocacy and Early's famous raid actually begins earlier that summer. In mid-June, Lee sent Early's corps to relieve the Federal threat to his supply bases at Lynchburg and in the Shenandoah Valley. Lee's orders then directed Early to move north, cross the Potomac and, repeat previous invasions of Maryland by exploiting resources and threatening Washington. In theory, a war-weary north would reject the Lincoln administration for a second term in the autumn. Peace would follow as surely as the winter snows. Thus, Early and his army became pawns of political as well as military purpose. As it turned out, the Battle of Monocacy, coupled with a subsequent confrontation just inside Washington's city limits before Fort Stevens on July 11 and 12, comprised an important moment in time The Confederates would be denied nearly all of their strategic goals although the true meaning of the two pivotal engagements remained unclear for months.
"These men died to save the National
capital, and they did save it."

 

— Lewis Wallace
Early's march down the Shenandoah Valley and crossing of the Potomac by the Fourth of July, was uneventful, though he bypassed Union garrisons at Martinsburg and Harpers Ferry. Authorities in Washington and at Grant's headquarters near Petersburg actually doubted reports of a massive Confederate force once more invading Maryland. Surely they were simply partisans or cavalry raiders. In reality, the "enemy" was a lean fighting force of perhaps 12,000 - 15,000 men with over forty cannon and little by way of baggage train to hobble its progress. Only President John Garrett of the Baltimore and Ohio railroad suspected something more — prompted by telegraph reports of renewed widespread depredations against his line in western Maryland that meant loss of revenue and infrastructure. At his urging, Major General Lewis "Lew" Wallace, local departmental commander at Baltimore, went personally to the boundary of his jurisdiction — the Monocacy River at Frederick — to investigate and immediately began collecting any and all troops he could muster for protection of Garrett's invaluable railroad bridge at the stream. Garrett's own political pull in Washington also prompted eventual dispatch of a veteran division of the Sixth Army Corps (belatedly sent from the Army of the Potomac to bolster the Harpers Ferry garrison.) As Early's force crossed South and Catoctin Mountains, levying tribute on towns as well as foraging livestock and produce and spawning wild rumors about the size and nature of the incursion, an uneasy Wallace (fearing War Department censure for unauthorized actions) nevertheless set up his defense line covering the point where the turnpike to Baltimore crossed the Monocacy at the famous Jug Bridge east of Frederick as well as the downstream railroad-bridge and covered-bridge Washington Turnpike crossings south of town. He persuaded the Sixth Corps people (transiting the railroad), as well as free-floating cavalry units in the area, to join his defense. Then, with hardly more than 4,000 - 5,000 men, one six-gun field battery and several random pieces emplaced in railroad blockhouses, he awaited the enemy's advance, still unsure if the Confederate focus was Baltimore or Washington.
The battle began early in the morning on ground now occupied by an office complex, shopping center and lumberyard. Early, having ransomed Hagerstown and Middletown during his passage, now concentrated on a similar ploy at Frederick and spent most of the morning enjoying the hospitality of the few local secessionists while his logistical officers negotiated a settlement with town fathers. The previous night, he had received new orders from Lee to send a major part of his cavalry on a raid toward Baltimore to disrupt communications and railroad lines and to spread havoc before making a one-hundred-mile hike all the way to the confluence of the Potomac River and the Chesapeake Bay where the Yankees had a major prisoner- of-war camp at Point Lookout. The Confederate government intended a joint army-navy expedition to rescue what they anticipated was a corps-sized POW population — desperately needed to replenish Lee's dwindling ranks The liberation was supposed to be carried off to convey the prisoners up to Washington in time to join Early's main command. Crusty and profane "Old Jube" must have uttered some mighty oaths upon receipt of such dubious directives. Still, on the morning of July 9, he sent local Frederick native Bradley Johnson's horsemen off on the Point Lookout junket while Robert Rodes' division moved out the Baltimore Turnpike to demonstrate against reported militia defending the Jug Bridge. Early's main force (under his second-in-command, former U.S. Vice President John C. Breckinridge), headed south on the Washington Turnpike.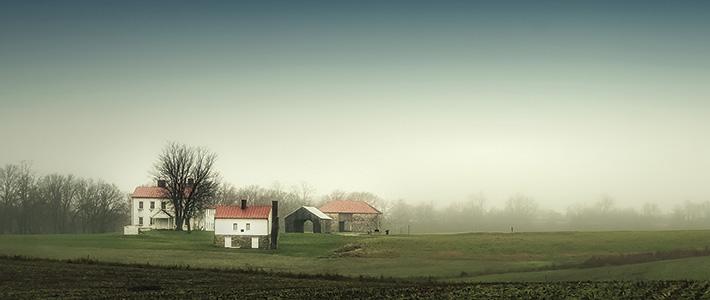 This was the contingent that quickly ran into Wallace's pickets and skirmishers north of the river. A brisk all-day firefight soon engulfed the farm and fields of C. E Best (where two years before, Union soldiers had discovered a copy of Lee's famous Special Order 191 during the Antietam Campaign), and spread to the neighboring Frederick rail junction where the city's branch line departed the main track just before the Monocacy crossing. As of the noon hour, Wallace resolutely defended three bridge crossings while Breckinridge (as Early's stand-in) valiantly attempted to push across and regain control of the highway to Washington.
At some point, "Old Jube" himself arrived on the scene, noticed the impasse and called for John McCausland's cavalry brigade to find a farm ford to outflank what he still regarded as home guard defenders. McCausland's column took the Buckeystown road. (Ironically, the Confederates might have avoided a major battle in the first place if they had taken this route, which rejoined the Washington road further south at Urbana.) They meandered across the Monocacy and onto the farm of John Worthington where, dismounted, they passed onto the adjacent farm of John Thomas, a place he called "Araby." All the civilians in the neighborhood, anticipating fighting, had left or taken shelter and driven their livestock off to Sugarloaf Mountain for safety. McCausland's 350 - 400 cocky troopers dashed forward in the afternoon heat, hoping to catch the defenders off guard. Instead, they ran straight into concentrated musketry from James Rickett's veteran Sixth Corps fellows sporting their Greek cross emblems of honor. Bloodily repulsed twice, the chastened "buttermilk rangers" (as Early always derisively referred to cavalrymen) scampered back across the Monocacy. Clearly there was more there than inexperienced militia and so Early, through Breckinridge, ordered John B. Gordon's crack infantry division, supported by various batteries of artillery, to accomplish what should have been an easy task. Gordon, later a U.S. Senator from Georgia, referred to the ensuing combat as a "short, decisive and bloody" fight.
It was that, and more. Gordon, clad in his familiar red shirt, urged his command forward. They surged across Worthington's ford and onto the same ground where McCausland's men had been badly mauled. Breckinridge joined Worthington on his front porch to view the proceedings as adjacent Araby quickly became engulfed in smoke and fire. Ricketts and Gordon then slugged it out for the remainder of the afternoon until the weight of the Confederate numbers and superiority of artillery fire from across the river on the Best farm finally cracked Federal resistance. Meanwhile, those intrepid Vermont skirmishers north of the river had retired under heavy fire as Wallace finally burned the covered wooden bridge. Lieutenant (later Captain) George Davis subsequently received one Medal of Honor for leading the survivors back across the untouched railroad bridge amidst a hail of bullets. Fellow Vermonter, Corporal Alexander Scott won the second medal as he rescued state and national colors caught up in Ricketts' disintegrating battle-line.
Casualties proved heavy on both sides in this standup, toe-to-toe firefight. Secretary of State William Henry Seward's younger son and namesake, commanding the 9th New York Heavy Artillery, went down, barely escaping capture. Maine transplant and subsequent Louisiana brigadier Zebulon York recalled Monocacy as one of the "fiercest and bloodiest that my command has ever been engaged in, considering the numbers." He cited losses exceeding 25 percent. Finally, by early evening, it ended. Wallace's defenses crumpled everywhere and his battered command stumbled rearward past John Gambrill's mill, up over the railroad (that at the height of the' action had failed to convey forward a whole brigade of reinforcements inexplicably left waiting several miles to the east at Monrovia), and took back country lanes seeking escape to the turnpike to Baltimore. The Jug Bridge defenders held on just long enough for Wallace to elude the victorious Confederates although 600 or 700 other straggling Federals could not. Early now had the way wide open to Washington.
Monocacy, however, had taken its toll. Wallace had lost between 1,300 and 1,500 killed, wounded and captured, and Early's army suffered comparable casualties. Gordon's and McCausland's commands were for all intents and purposes hors de combat. Moreover, the day now being late, any continued march to the capital had to wait until the morrow — another day in which 90- degree heat, dust and lack of water would add to discomfort and would preclude getting to the city in time to capture the place. When Early's army arrived on July 11 and 12, they discovered that an alerted Lincoln and Grant had scrambled enough defenders to man the city's fortifications. Lincoln personally went out both days to view the fighting at Fort Stevens and came under enemy fire — one of only two times in history that a sitting president of the United States has done so (the other being at Bladensburg during the War of 1812). One may speculate on the result if the Chief Executive had been hit by a mine ball. Elsewhere, Bradley Johnson failed to reach Point Lookout (although he wreaked havoc outside Baltimore) and Early's 8,000 - 10,000 remaining troops (so many others had straggled badly that a full head-count has never been possible) soon retired to Virginia. They may have failed in their ultimate objectives, but they carried back 2,000 head of cattle, 1,000 horses, prisoners and other booty — plus the $200,000 in Frederick City currency! Indeed, Early's army remained a threat to Maryland and Washington well into the fall by continued presence in the lower Shenandoah Valley. But, that summer, "Old Jube" had not captured Washington or Lincoln or caused the fall of the United States government. The day's loss in time at Monocacy was the margin of Union victory. One battlefield monument today pays tribute to Lew Wallace's ersatz defenders with the line; "These men stubbornly opposed the Confederate troops as to assure the safety of the national capital." Wallace, subsequent author of the renowned novel Ben Hur, proclaimed unabashedly, "These men died to save the National capital, and they did save it."
Related Battles
Battle Facts
Frederick County, MD | July 9, 1864
Result: Confederate Victory
Estimated Casualties
2,194