The American Battlefield Trust's biographies of notable children during the Civil War including Johnny Clem, Edwin Jemison, John Cook, Charlie King, Orion P Howe, Joseph Evan Davis, and Susie King Taylor.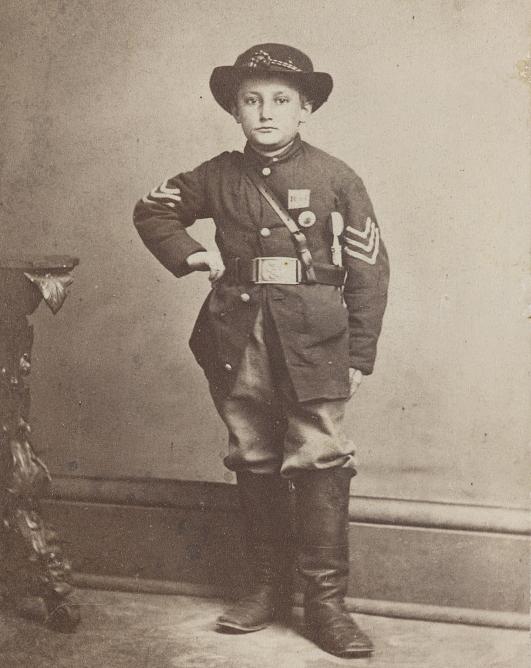 Johnny Clem
John Clem tried to enlist in the Union army in 1861, but was refused on account of being not yet even 10 years old. Undeterred, Clem joined the 22nd Michigan, who let him follow the regiment, adopting him as a mascot and unofficial drummer boy before he officially enlisted in 1863. He became a national celebrity for his actions at Chickamauga. Armed with his drum and a sawed down musket, he fought with the 22nd Michigan at Horseshoe Ridge on September 20th, 1863. When cornered by a Confederate colonel who demanded his surrender, Clem shot the officer and returned to his unit. The "Drummer Boy of Chickamauga" was promoted to sergeant for his actions, the youngest soldier ever to become a noncommissioned officer in the United States Army.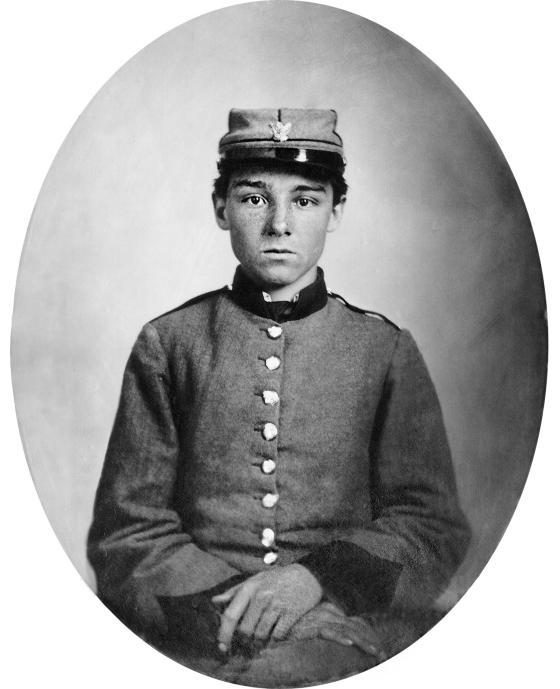 Edwin Jemison
Edwin Jemison of Monroe, Louisiana enlisted in the Confederate Army at the age of 16 in 1861. He served in the 2nd Louisiana Volunteer Infantry Regiment and participated in the Peninsula Campaign and the Seven Days Battles in 1862. During the Battle of Malvern Hill, Jemison was one of the many Confederate soldiers that charged up the slope into Union artillery fire. He was found dead on the field of battle by his comrades, decapitated by a direct hit from a Federal cannon.  His photograph has become one of the most famous portraits of Civil War and a monument in his honor stands at Memory Hill Cemetery in Georgia.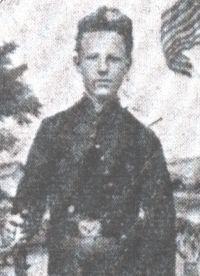 John Cook
John Cook enlisted in the Union Army in Cincinnati, Ohio as a bugler for the 4th U.S Artillery at the age of 14. During the Battle of Antietam on September 17, 1862, the Union battery came under fire from Confederate infantrymen in the West Woods. After carrying a wounded officer to the rear, Cook returned to his unit find most of the gunners dead and cannons unmanned. Grabbing an ammunition pouch from a fallen comrade, he began to service the cannons and held his ground throughout the attack even when Confederate troops advanced to within five yards of his position. He also served at the Battle of Gettysburg, where he carried messages amidst heavy fire and destroyed a damaged caisson to prevent it from falling into enemy hands. For his courageous actions at Antietam, Cook was awarded the Medal of Honor.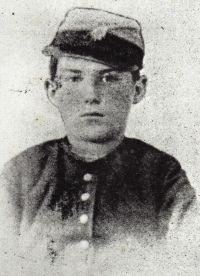 Charlie King
Charlie King was enlisted into the 49th Pennsylvania at age 12 after a company captain heard him practicing his drum near the military camp. He participated in the Peninsula Campaign and was promoted to Drum Major of the Field Music for the regiment. During the Battle of Antietam on September 17th, 1862, the 49th Pennsylvania suffered a direct hit from Confederate artillery fire in the East Woods, wounding several soldiers including King. He died three days later in a field hospital, the youngest known casualty of the Civil War on either side of the conflict.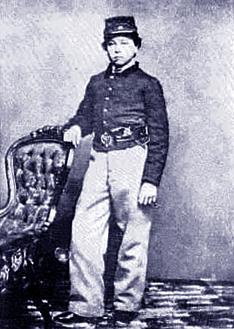 Orion P. Howe
Orion P Howe enlisted at the age of 12 in the 55th Illinois Volunteer Infantry as a musician along with his brother, Lyston. During the Battle of Vicksburg on May 19th, 1863, Howe, severely wounded, limped his way through heavy enemy fire, reaching Gen. William Tecumseh Sherman to report the critical need for more .54 caliber cartridges. Despite the serious wound, Howe recovered, reenlisted in the same regiment in 1863, rose to the rank of corporal by age 15, and was awarded the Medal of Honor for his actions at Vicksburg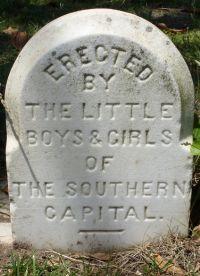 Joseph Evan Davis
Joseph Davis was born in April of 1859 while his father, Jefferson Davis, was serving as a senator for Mississippi. Bright and well behaved, he was a favorite of his father. On April 30th, 1864, five year old Joseph fell 15 feet from the east portico of the Confederate White House in Richmond. He was found with a severely fractured skull by a servant and lived until just about the time his parents returned home. Rumors spread in the press that Davis's older son, Jefferson Davis Jr., might have pushed the child, but nothing was ever proven and Davis had the east portico removed. Thousands of children attended the funeral, and in 1866, the children of the city of Richmond raised $40 for a monument to Joseph that still stands in Hollywood Cemetery.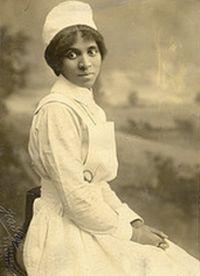 Susie King Taylor
Susie King Taylor was born on a plantation in Georgia in 1848 and allowed to go to Savannah to live with her grandmother in 1855. Despite the harsh laws against the formal education of African Americans, she attended secret schools taught by black women and was tutored by two white youths. In April 1862, she fled to Union occupied St. Simons Island. Quickly noted for her advanced education, she became the first black teacher to openly educate African Americans in Georgia at the age of 14. She married Edward King, a black officer in the 33rd United States Colored Infantry Regiment, and served as a nurse, laundress, and taught reading and writing to soldiers in his regiment until the end of the war. In 1902, she privately published a book of her experiences as a nurse entitled Reminiscences.
Save Five Battlefields in Four States
A massive new campaign to save 343 additional acres spanning five battlefields in four states across the Western Theater. Double Bonus! Your gift will...
Related Battles
Battle Facts
Catoosa County and Walker County, GA | September 18, 1863
Result: Confederate Victory
Estimated Casualties
34,624
Explore the Children of the Civil War