Centennial Reflections: Saratoga National Historical Park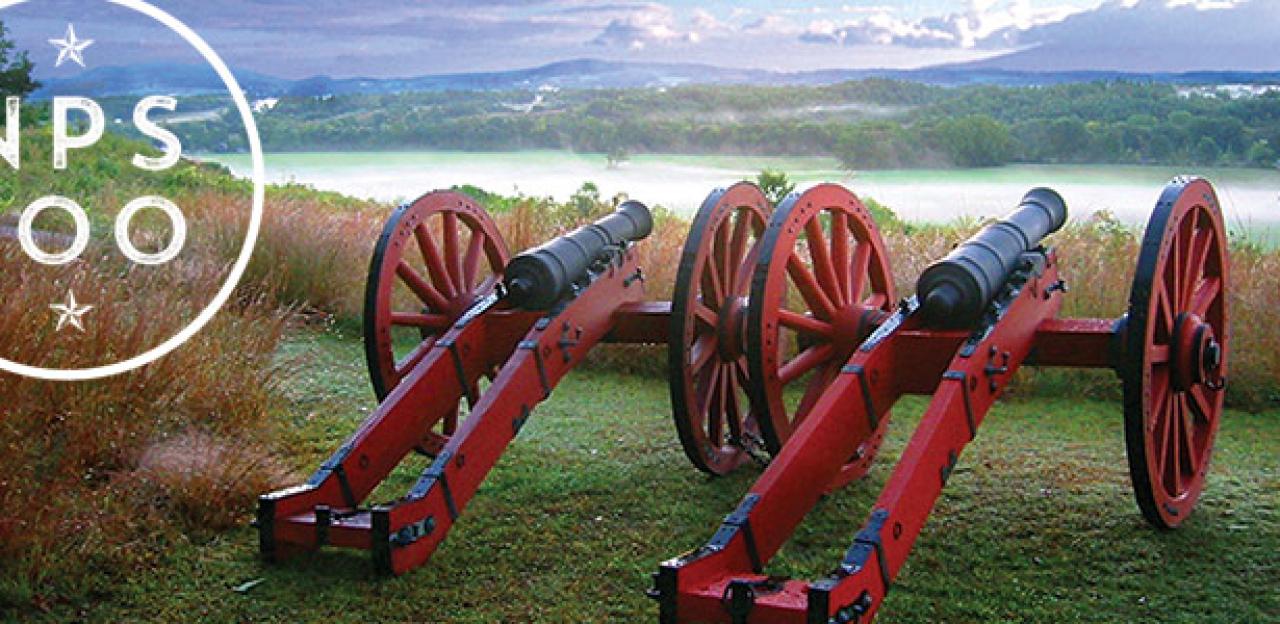 Amy Bracewell, Saratoga National Historical Park Superintendent, reflects on this Revolutionary War battlefield in celebration of 100 years of the National Park Service.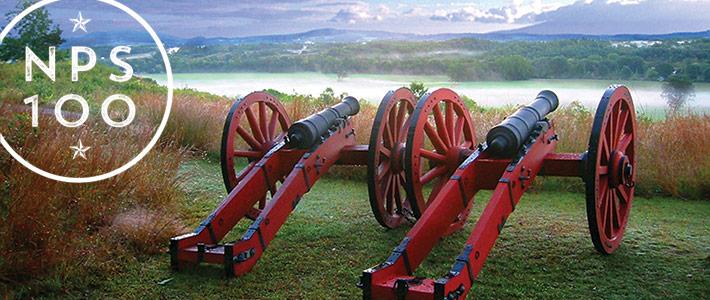 Revolutionary War | Stillwater, N.Y. | September 19 and October 7, 1777 | Federal Battlefield Park Since 1938 | 2,911 Acres

Standing on a bluff above the Hudson River, it is easy to see why the terrain inspired confidence in the American troops in the fall of 1777. Knowing that British General John Burgoyne and his soldiers were heading toward Albany, N.Y., the Northern Army fortified its high position overlooking the key bottleneck of both the river and road. Except for the now-larger forests and the modern cars zipping down U.S. Route 4, little of the landscape that encompasses Saratoga National Historical Park has changed in almost 240 years.
Understanding the terrain and using it to their advantage, the soldiers under General Horatio Gates secured a resounding American victory at Saratoga — and began a chain reaction that ensured the country's independence for good. America's victory gave rise to international support, showcased the strength of a diverse army, instigated the complex dichotomy of hero and traitor and gave the country physical evidence of a successful revolution. The multiplicity of lessons that can be understood at Saratoga guarantees a personal connection to not only America's history, but to the impact that social revolutions have had on this nation.
Included among the cacophony of battle sounds at Saratoga were a diversity of languages and cultures. Standing side by side, the Northern Army was comprised of continental and militia soldiers from multiple states, including freemen and those still enslaved. Also serving were Stockbridge, Oneida and Tuscarora scouts, and a Polish volunteer, Colonel Thaddeus Kosciuszko, who used his engineering training to support the efforts of America. Adding to this mix of people were Brunswick and Hessian Germans, Americans loyal to the crown, French Canadians and indigenous tribes supporting the efforts of the British Army. Being so victorious at Saratoga, America's strength convinced France to publicly become an ally of the United States in 1778. To face the realities of subsequent international war with France, Spain and the Netherlands, Britain expanded its fight to Central America, the Caribbean Sea, the Mediterranean Sea, North Africa and India, among other places. A battle of many faces and voices at Saratoga propelled the American Revolution into an international war of world powers.
As strongly as Saratoga speaks to the importance of solidarity by all of America's allies to secure liberty for the new nation, this battlefield also highlights the complexity of loyalty. What can turn a devoted patriot into a nation's despised enemy? Benedict Arnold's valiant efforts at Saratoga are a prime source for this question. While Arnold's relationship with General Gates quickly deteriorated, he was determined to "continue with the Army at this critical juncture when my country needs every support." The Northern Army's victory in the Second Battle of Saratoga can be attributed to Arnold's sharp thinking and quick movement. Standing on the spot of his heroic actions, one can't help but ponder what brought him to change his loyalty just three years later. Did the realities of life not measure up to the promises and ideals of the new nation? Did the philosophical pillars of America — freedom, democracy, liberty and justice for all — not permeate the lives of the people?
When I first stepped onto the battlefield at Saratoga, my mind immediately connected this sacred place to the United States of today. We have come a long way since 1777, but our debates and struggles still include similar themes. Does every citizen have equal freedoms and rights? How do we embrace our diversity to make us stronger? What can we do if we disagree? America's battlefields are the perfect place to explore these questions. By learning about our collective history, and walking in the footsteps of our ancestors, we are able to add new perspectives to aid in our own journey.
As I have explored America's history on our battlefields, I am reminded that this country is still evolving. We continue to change based on our votes, our debates and our continued fight for personal rights and freedom. Just like our Revolutionary War ancestors, we sometimes have to revolt and fight for what we believe in. Our society may struggle with modern marches, protests and passionate debates on equality or human rights, but these exercises in discourse have been a part of our fabric since the very beginning. Battlefields remind us to continue to champion our ideals. They ask us — what can we do to protect freedoms and independence in this country? They give us pause and encourage us to contemplate how we can honor and respect one another's liberty. American battlefields command us to be active citizens of this country and to continue to carry the torch of freedom from those who sacrificed everything to ensure its perpetual flame.