Centennial Reflections: Gettysburg National Military Park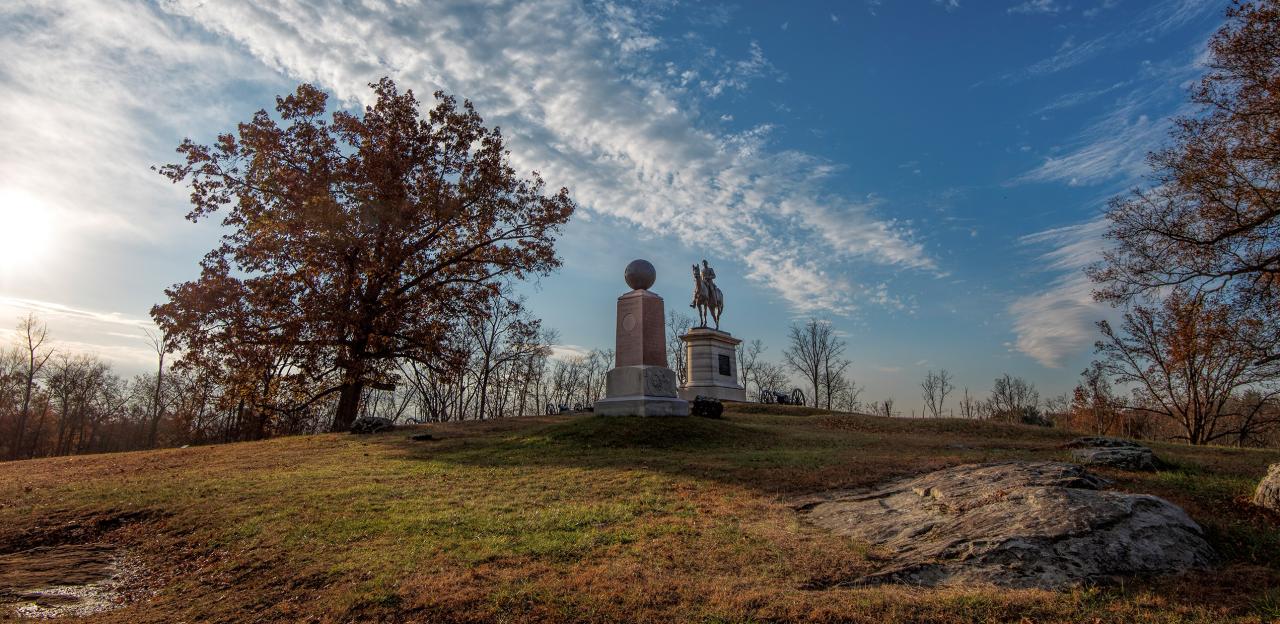 Ed Clark, Gettysburg National Military Park and Eisenhower National Historic Site Superintendent, reflects on this Civil War battlefield in celebration of 100 years of the National Park Service.
 
---

Gettysburg, Pa. | July 1-3, 1863 | Federal Battlefield Park since 1895 | 5,085 Acres
Why celebrate 100 years of national parks? It's simple: We want people to discover their parks because these places matter. America's national parks are beautiful, emotional places. Places like Gettysburg National Military Park, Flight 93 National Memorial and the Selma to Montgomery National Historic Trail tell us more about who we are and help us understand history. But they do more than provide information and context about our past — they are natural wonders that offer scenic getaways, wildlife viewing and other adventures. The centennial is about celebration, discovery and making new connections.
Centennial programs and special events will center on the theme of "Find Your Park" — a public awareness and education campaign celebrating this milestone and setting the stage for a new century of service.
In 2015, Gettysburg joined more than 50 national parks in hosting an artists-in-residence program. New and expanded arts programming is helping park staff find ways to connect with new audiences in our communities and across the country. Our vision at Gettysburg is to provide memorable experiences for our visitors so that when they leave, they tell others to come here, and tell their sons and daughters how important these places are. We can't preserve these parks for future generations all on our own. We encourage visitors to Gettysburg to meet the current artist-in-residence during our monthly First Friday event, "Inspired by Gettysburg," at the Gettysburg Lincoln Railroad Station, with light refreshments served.
By focusing on arts programs, we can find new expressions of the park experience and fresh perspectives that showcase the meaning of the parks. Art is a fundamental way that people connect with the parks.  The lessons of leadership, bravery, conduct, recovery and resilience that can be learned on the battlefield at Gettysburg, in the cemetery and at the Eisenhower Farm are lessons that have value in our lives, from the first grade right on through. We're overflowing with inspiring stories — our challenge is always to continue to work on making connections to our audiences.  Arts programming helps us make those connections.
I can personally vouch for the power of Gettysburg's artistic landscape to provide transformational moments. I can remember standing in tall grass near the beautiful Virginia Monument in my youth, staring out past the Emmitsburg Road and listening to my father muse about General Lee's fateful decision to launch the frontal assault of July 3, 1863. Through the fences and expansive fields, I could picture what my ancestors must have seen at the copse of trees. As I crossed that field, I was walking in their footsteps. That moment, rooted right at the base of one of Gettysburg's most beautiful sculptures, helped form a deep appreciation of history and its modern connections and importance.