Accessibility on Your Battlefield Visit
Before you embark on your next battlefield visit, it's a good idea to investigate the available accessibility resources and amenities. Whether it be running water or paved trails, it is crucial to get a lay of the land beforehand to maximize your time on the battlefield. Continue reading for some tips, tricks, and resources on how to plan for the best possible battlefield experience. 
Research the battlefield beforehand
Before you hit the battlefield, make sure to research its terrain and amenities beforehand. Whether it be planning your route, setting your pace, or creating a sightseeing checklist, planning ahead will ensure you have the best experience possible. Here are a couple of points to research before you make the trek. 
Find a map to plan your route 
Look into the surface, grade, and elevation of the battlefield 
Research access to restrooms
Pinpoint benches and designated resting points 
Locate or contact visitor centers beforehand to ask about any needed amenities (ex. Braille and audio descriptions)
 
Example: Gettysburg National Military Park and Visitor Center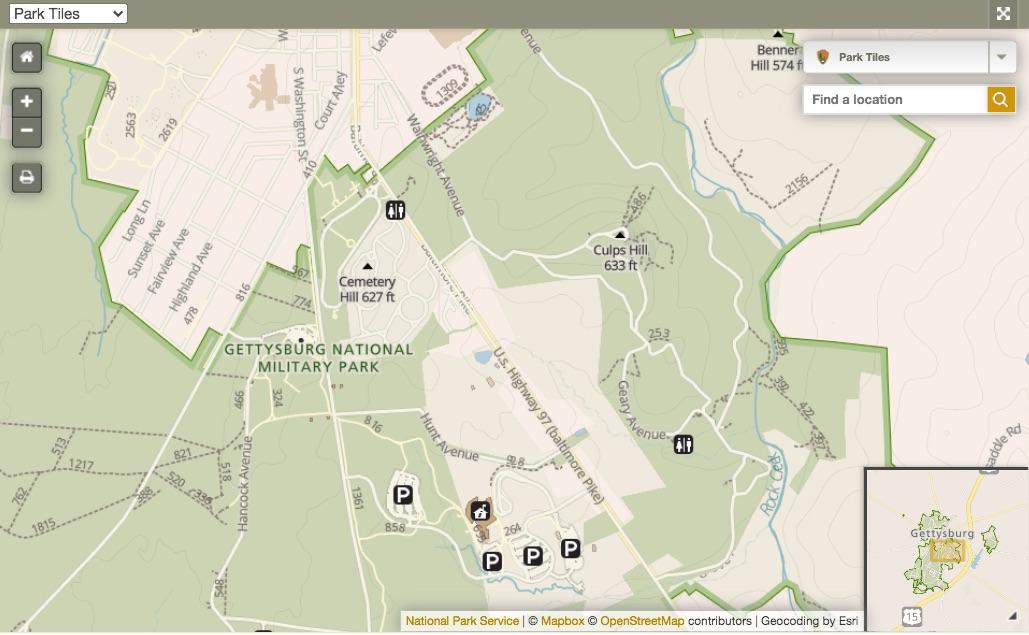 Phone Number: (717) 334-1124
Accessibility in the Park 
More than 26 miles of paved roads 
Official Map and Guide with a self-guiding auto tour or licensed battlefield guide available at the National Park Service Museum and Visitor Center
Access to exhibits at tour stops are designed to be mobility friendly and accessible through uneven surfaces and weather may affect access
Restrooms located in the visitor center 
Other services: 

For Those With Mobility Impairments: Touring may be done in your own vehicle. Private companies in Gettysburg offer bus tours. Wayside plaques and exhibits along the tour route are partially accessible on paths and in flat, grass-covered areas. Restrooms along the tour route are not handicapped accessible except for the restrooms at the West End Guide Station on US Rt. 30.
For Those With Hearing Impairments: The free park map and guide available at the Visitor Center is keyed to the self-guiding tour signs along the park roads. Wayside exhibits with text and visual illustrations are also located throughout the park.
For Those With Vision Impairments: Visitors may wish to hire a licensed battlefield guide at the Visitor Center. The guide will present a two-hour tour in your own vehicle. Audio stations are located at various points in the park. All monuments and cannon are touchable and may tell interesting stories.
Pack Accordingly
More often than not, a visit to a battlefield means you are outdoors for a long period of time with only your carry-on belongings. Access to amenities such as running water, food, first aid, and air conditioning is likely going to be limited. Therefore, make sure you pack accordingly to maximize your time on the battlefield!
Consider packing the following, and check out What's in Your Battlefield Bag? for further ideas. 
Plenty of water 
Towels to cool down in the heat 
Sustainable snacks to keep your energy up 
Any carry-on medical amenities or devices 
Sunscreen 
Any medication or first aid needs
Get Excited 
Most importantly, get excited! Set aside some time to research the battlefield, gather any historical questions you might have, and make note of any specific sites you wish to visit on the battlefield. To maximize your time outdoors, consider these tips and tricks to hiking mindfully— a means to pay attention to the small things in nature and appreciate what happened there as you venture through the battlefield. 
Breathe: Start every walk or hike with a few deep, calming breaths. Take a moment to look around you. What happened on this land? What is its history? 
Feel: Feel the way your feet touch the ground. Know that whether you are on the sidewalk or trail, the ground is under your feet. How does the wind or sun feel on your skin? How may it have felt for those who walked these fields in the past? 
Notice: Be on the lookout for landmarks that have stood the test of time, and for signs that can illuminate the history of the area. Take all of this into account and appreciate what happened on the hallowed ground you are visiting.