The 2nd South Carolina String Band
Keeping Civil War Era Music Alive in the 21st Century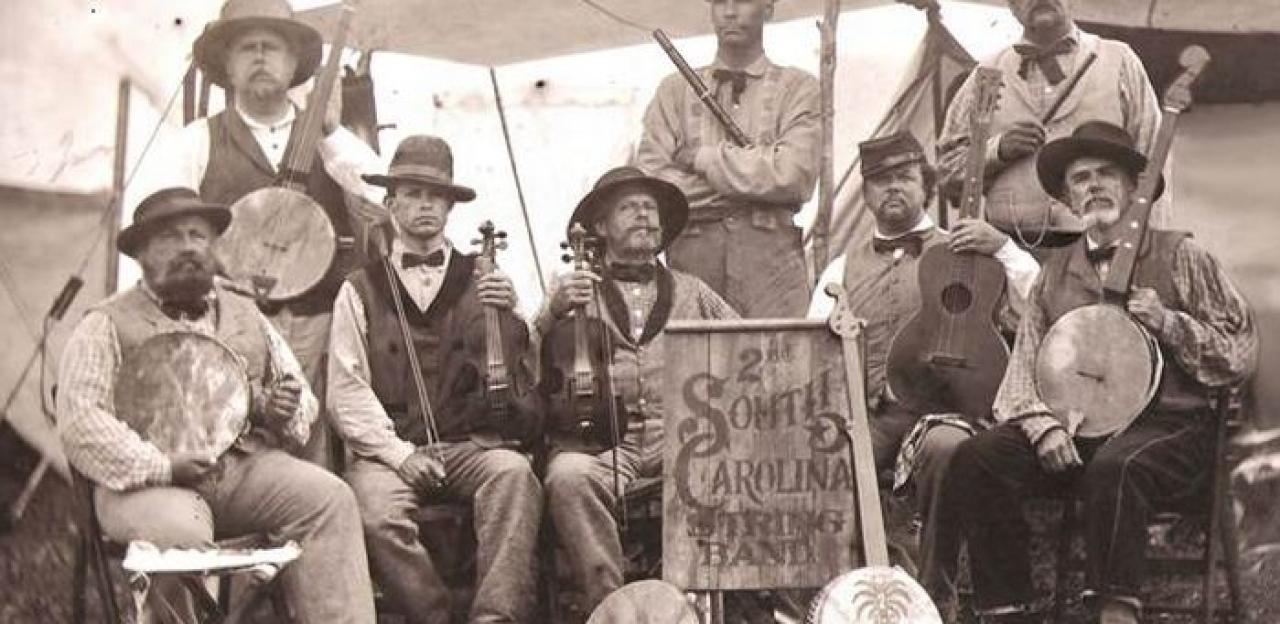 The Civil War Trust recently had a chance to sit down with Joe Ewers and Tom Digiuseppe from the 2nd South Carolina String Band - one of the preeminent Civil War era bands of our time. Learn more about the development of this great band and the important role that music played throughout the Civil War.
Civil War Trust: What lead the members to choose the name "2nd South Carolina String Band?" What is it about this regiment that led the band to honor them?
Joe Ewers: In the early 1980's, during the period leading up to the advent of the 125th anniversary of the War Between the States (as it's often referred to by southerners), or the Civil War, as most Americans call it, a much decorated veteran of the Viet Nam War, Richard Johns, founded a company of reenactors - Co.I, 2nd South Carolina Volunteer Infantry. Initially, it was a pretty small group, but by 1986, the beginning of the 125th celebrations and observances, it was well established and quite active. By early 1988, an "1863" year, it had grown to near the size of an average wartime infantry company - 30 to 40 men, when the unit went to the Chancellorsville and Gettysburg 125th reenactments. Two of the original five members of the band, Dave Goss and John Frayler, joined the unit that year, in time to serve at both events. The three other men of the original five, Joe & Fred Ewers, and Bob Beeman, would join Co.I in the winter and spring of 1989.
This would probably be a good place to point out the not insignificant fact that the unit was formed in Salem, Massachusetts - where it ain't easy bein' Confederate.
Richard "Rich" Johns was a long time student of the Civil War and his in-depth reading on the subject had led him to select the 2nd South Carolina Volunteer Infantry regiment, and Co.I, the Palmetto Guards, in particular as the unit he would interpret. The 2nd was formed originally as a militia artillery company (a very prestigious social activity at the time) in ante-bellum Charleston, SC, mostly of well-to-do men from Charleston and its' environs. Edmund Ruffin, one of the most fire-eating secessionists of them all, was an honorary member of the Palmetto Guards. The 2nd and the Guards, Edmund Ruffin included, participated in the attack on Fort Sumter in April of 1861 and went on to fight in every campaign of the Army of Northern Virginia, leaving only near the end of the Siege of Petersburg to return to South Carolina to fight with Joe Johnston at the Battle of Bentonville, surrendering more than two weeks after Lee's army. During the course of their service, the 2nd had been first and last in the fight and have since been distinguished by many historians as one of the hardest fighting regiments of the war.
There was really no question among the original five members about what we would call the band. We named it, in the first place, to honor the "founder of the feast", Cap'n Johns. Were it not for him and the reenactment unit he'd put together, in all likelihood, we would never have met. In the second place, and fittingly, to honor the memory of the brave men of South Carolina and the Palmetto Guards.
All of us in the band, the four remaining original members along with our "newer" members ("only" 10 years in harness), are extremely proud that our music has been so well received - not only by Civil War devotees, but by much of the general public. Our five CDs, representing six albums of music from the 1830's through the 1860's, are consistently to be found in the Top Fifteen or Twenty of all recorded music of the period as listed on Amazon.com's Civil War Music page - currently more than 470 titles. One,  Southern Soldier, is frequently at number 3, just behind Ken Burns' two titles.
Nothing would please us more than to know that our music has somehow helped to keep alive the legacy of the Palmetto Guards and the 2nd South Carolina Volunteer Infantry Regiment.
What steps does the band take to ensure that the music it plays sounds the way it did during the 19th century?
JE: Research. Oh, yeah. That's us. I'm only half kidding here. As a group, we kind of "backed into" trying to play 19th century music in as authentic a manner as we could. We began, in 1989, as five guys camped out in Boston Harbor's Fort Warren (a former Confederate prisoner-of-war compound) for an August weekend of Civil War reenacting. It was the first time since joining the unit that the five of us had all been in the same place at the same time with all our instruments. Sitting together near the fire, while other men in the unit conversed about the day's activities and shared a few beverages, we began to explore our shared musical heritage - some bluegrass and folk songs from our adolescence and young adult days and some Dan Emmett and Stephen Foster songs learned in childhood music classes. One of our original members, Dave Goss, has a phenomenal memory for such material, and as guitar player, it was a natural for him to became our lead singer and front man. It also didn't hurt that he has a fine singing voice and in more than 20 years, we haven't seen or heard anyone who can 'sell' a period song like Dave can. My brother, Fred, ain't bad either - I've never heard a better rendition of "Oh, I'm a Good Ol' Rebel".
After that weekend, we concentrated on learning the most obvious "Top 30" songs of the period - staples like "Tenting Tonight on the Old Camp Ground", "When Johnny Comes Marching Home", "Battle Cry of Freedom", "The Bonnie Blue Flag", and, of course, "Dixie", to name a few. At that point in our journey, just playing those songs was authentic enough. At reenactments there was no shortage of bad Bob Dylan and just plain bluegrass in camps at night. Our instruments, with the exception of the ageless fiddle and a period military drum, were all modern: Gibson and Yamaha guitars, a Japanese Aida bluegrass copy of a Gibson Mastertone banjo, and for extra percussion, spoons and tambourine.
Between '89 and 1993, we recorded our first two albums: Tenting Tonight and Band of Brothers, which pretty much covered all the best known songs and melodies of the Civil War and by 1995, we had lots of company. Many other groups had the same idea and ambition and had made their own recordings. Although we were not the first out of the Civil War music gate, we were among the first few and our interpretation of the material was being fairly well received - well enough that we began to think and talk about making a third. Who'd a thunk it?
In the two-plus years between Band of Brothers and our third album (all on audio-cassette at the time), a number of events combined to lead us into a much more serious pursuit of "authenticity" in both our music and our "interpretations" (that is, the quality of our presentation - clothing, camp gear, instruments, & etc.). One fellow in the unit presented us with a new audio-cassette recording by a Virginia musician and reenactor named Joe Ayers entitled Banjos, Bones and Boatmen, a collection of some of the best known antebellum minstrel pieces. Joe had been studying original banjo 'self-master' books published during the antebellum years from the 1840's on, and had determined to republish the books and record selections from each one in succession.
Tom Digiuseppe: He followed up with Buckley's New Banjo Book, Brigg's Banjo Instructor, Converse's Method for Banjo, and Rice's Correct Method for Banjo. These publications and recordings introduced us to the music of the minstrel stage, and the beginnings of American popular music.
JE: At roughly the same time, another man in the 2nd had made and presented to me, as a wedding gift, a reproduction of a tack-head minstrel banjo. This marvelous gift came on the heels of discovering a set of three other tapes of minstrel banjo music by a man named Bob Flesher, of self-described "Dr. Horsehair's Traveling Minstrel Show" fame. This instrument and these providential recordings soon enabled me to put aside my bluegrass banjo and finger-picking styles and set me to learning the minstrel "stroke style" of banjo playing of that era (derivative of African finger styles as set forth in the early banjo method books).
TG: Over the past twenty-one years we have continually expanded our repertoire and library of mid-nineteenth century music. Our research collection now includes over seventy five books and hundreds of copies of original sheet music.
JE: Another influence that was more or less concurrent with the discovery of Joe Ayer's recordings was the comparative explosion of new research sparked by the 125th Civil War anniversary years. My reading had turned from histories of campaigns, battles and generals, to diaries, journals and memoirs. It was one of these in particular - [1861 to 1865] by An Old Johnnie - an account written by a veteran Mississippian in Lee's Army of Northern Virginia, that made me realize that the soldiers of both sides were singing and enjoying songs that were popular from well before the war - minstrel songs! This was the material that we began to explore, learn and develop. By 1996 we had turned this new knowledge into a new watershed album: our most popular title, Southern Soldier.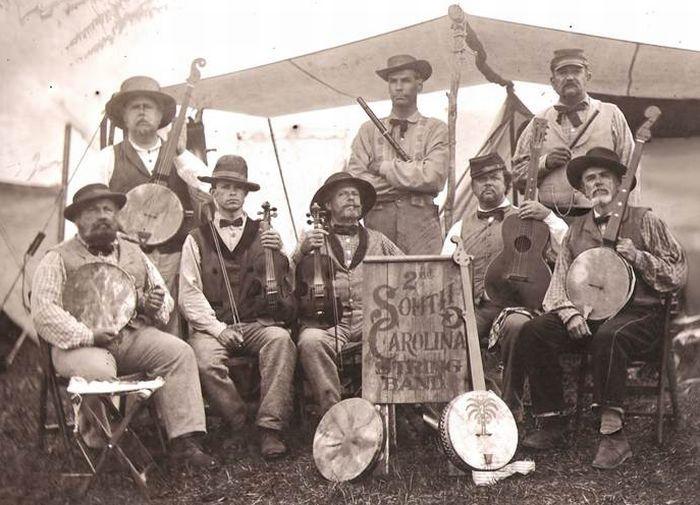 Our "impression" was and is a natural one: we are a camp band - literally. We were formed out of recruits from a company of reenactor infantry - just as happened to Confederate and Union soldiers during the war itself. So, in actuality, a band such as ours wouldn't necessarily have been made up of professionals; one or two perhaps. We have one - my brother, Fred, on fiddle. The rest of us are amateurs - gifted with not inconsiderable musical skills - not pros, to be sure, but musicians for certain. Five CDs comprising six albums of recorded music of the Civil War listing in the TOP 15 or 20 of Civil War music titles on Amazon.com for over four years pretty much validates that claim I think. Oops. I may have already mentioned that - he added, mischievously.
There's an ongoing debate about how 19th century music of the Civil War era and minstrel stage sounded or ought to sound. If the online forums are any indication, I doubt if there will ever be agreement on the subject. How can we truly know? That said, there is one thing we in the band do know, and it is that music and the musicians who play it are always evolving, always seeking new, creative and interesting ways to interpret their material. Why does anyone think minstrel music would have been any different? By the time Buckley's book was published, he was probably already playing the songs in it differently.
On the other hand, finding period or period style instruments was probably the easiest part. Once we had discovered the wonderful world of American minstrel music, it wasn't long before we were able to identify the instruments necessary:
The Parlor-style Guitar: Smaller than today's instruments and more delicate. Strung with gut rather than steel strings and played with or with our a plectrum.
The Fiddle: A classic and basically unchanged in centuries.
The Minstrel Banjo: The Boucher Banjo being the archetype, today there are many excellent reproduction banjo makers. Our band plays banjos made by WunderBanjo maker, George Wunderlich.
The Woodwinds: We have two. One is an original 1850's Firth & Pond flute. We also have a fifer who plays a number of different fifes and penny-whistles depending upon the tune of the moment.
The Percussionist: We have one - who does the work of two: Mr. Bones and Mr. Tambo - literally the left and right flank men of any minstrel band of the period. Our Mr. TamBones plays a bewildering array of objects drawn from the natural world: shinbones, rib bones, jaw bones, wood bones, a pair of tamborines, a triangle - you name it, he'll play it. His display is a source of endless fascination at our performances and he always draws a crowd of curious folks.
What do you see as the role music played for Civil War soldiers?
JE: In order to properly respond to this question we should recognize that, for soldiers of all wars before the radio communication, music - drums, bugles, fifes, etc. - were a vital part of the military command process used to marshal, move and direct troops in camp or on the march, and especially in battle where the noise of the fighting drowned out nearly all verbal commands beyond a few feet.
It's different kind of music that our band has focused on: familiar or "popular" music that the troops brought with them when they went off to war. During the War Between the States, much of that music came from the minstrel stage and had been popularized by minstrel groups such as the Christy Minstrels, the Virginia Minstrels, and others who traveled throughout the country and major cities in the two and a half decades before the conflict. It had also been widely distributed through a new and robust music publishing industry as well as its' inclusion in folio form in quarterly women's subscription magazines.
TG: The most popular form of home entertainment during the 19th century was singing. Families gathered in their parlors around a piano, guitar, fiddle or banjo and sang. The Blue and Grey volunteers took great solace in familiar antebellum music that evoked these fond memories. The lyrics rekindled emotions, reminded men why they enlisted and help forge a common bond throughout the ranks.
JE: In the months when both armies, unable to campaign because of impassable roads, would go into winter camps where there was often little to keep them occupied. During these times, especially in the early years of the war, groups of amateur musicians would spontaneously form - drawn from companies, regiments and brigades - to put on plays, reviews, minstrel performances and even excerpts from famous operas. Interestingly, just such a group as ours was formed from men of Kershaw's Brigade (of which the 2nd SCVI was a part) and was known as "Kershaw's Minstrels". According to one Tally Simpson, of the 3rd SC Infantry Regiment, who wrote "Tis said that Kershaw's Brigade has the finest minstrel band in these parts and I am inclined to believe it. The minstrels are carrying the day. They perform excellently and afford intense amusement."
TG: John Billings of the 9th Massachusetts Battery and author of Hardtack and Coffee wrote; "There was probably not a regiment in the service that did not boast at least one violinist, one banjoist and bones player in it's ranks, not to mention other instruments generally found associated with these and one or all of them could be heard in operation … most any pleasant evening. However unskilled the artists they were sure to be the center of an interested audience. The usual medley of comic songs and negro melodies composed the greater part of the entertainment."
Whether sentimental or high-spirited, the Confederate and Union soldier's music was an important part of the way-of–life and culture they fought to preserve. It is our belief that this "popular" music was a crucial antidote to declining morale that could be brought on by the boredom and discomfort of military camp life.
The band has contributed to the soundtracks of several films, including multiple Ken Burns documentaries and "Gods and Generals." How did these projects come about? Did the band have any initial reservations about contributing to these films?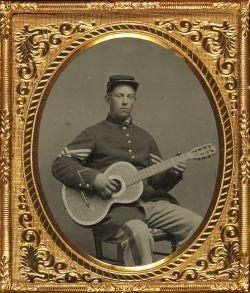 JE: Truthfully, our participation in these projects came about partly through hard work and partly through 'connections'. The "G & G" appearance was the result of several years of on and off work by Dave Goss and I - almost ten years, actually. The band had first come to the attention of Ron Maxwell, the director of the movie "Gettysburg", during a camp concert while filming in August of 1992, and later, through the auspices of Gabor Boritt, head of the Civil War Institute at Gettysburg College and a consultant on the film. Gabor invited us to play for a gathering at his home where Maxwell was the guest of honor. Maxwell liked us and we gave him the first of many sets of our recordings. Over the years between "Gettysburg" and "Gods & Generals" our paths crossed several times - with more sets of recordings offered along with ardent confessions of our passion to be a part of the next film in the trilogy. When "G & G" finally became a reality and was in full production, Dave Goss was contacted by the film's music director, David Franco, who sought his advice regarding what instruments would have been appropriate to a concert in a Confederate camp in Fredericksburg in the winter of 1862-63. Following a series of telephone consultations, we were ultimately chosen to represent on screen exactly what we represent in camp at reenactments and living history events - a typical camp band of the period. It hadn't been easy, but we were IN at last.
Our chances as contributors to Ken Burns's films were probably helped along by the fact that my son, Erik, was working as a film editor for Ken at the time (still is - 21 years and two Emmy's). This is not to say that we were a shoo-in - Erik was charged with selecting music from a wide variety of sources for a wide variety of uses and our tracks were only a few mixed in with the work of many other very talented contributors, Plus, Erik did not have the final word on which pieces would be used. In many ways it was a competition to find the most suitable music for any given "scene." We are extremely proud that a few of our tracks 'made the cut' on their own merits and found their way into a few of Florentine Films wonderful documentaries.
Several of the founding members of the band met through their participation in battle re-enactments around the time of the 125th anniversary of the War. With the Sesquicentennial fast approaching, do you expect a surge of interest related to all things Civil War?
JE: Actually, I think we do. I remember it was about ten or so years ago that I first began to hear grumbling about the "greying of the hobby," referring to the aging ranks of men who had gotten interested in the activity in the early and mid-eighties - like our Captain Johns (then a sergeant), by the late 1990's. Since that time, the hobby has seen an explosion of research into all aspects of the war, but especially clothing, accoutrements, weapons, and campaign-style camping gear, to name a few areas. We began to notice younger, fitter recruits on sutler row more often - hanging out and showing off their carefully researched "impressions." Also, more and more civilian impressions began cropping up from the mid-nineties on - improving in style and quality of craftsmanship as time went on. Considering the cost involved in outfitting any of these "authentics," this seemed to me a positive trend. One which appears to be continuing and expanding, if the numbers of younger, enthusiastic dancers and fans at our concerts and dances would seem to indicate.
I think that as the anniversaries of the great events of the Civil War begin to roll around, especially the big battles, with all their military pageantry and great scale, we'll see more and more young and middle-aged men come out to "see the elephant". They'll watch the big show that reenactors put on, the booming cannon, the ripping volleys of musketry; they'll walk around the camps, look at the cannons and the cavalry displays, pick over the fascinatingly vast array of Civil War gear on Sutler Row, and they'll be hooked. At least I hope that's what happens. We in the band have been doing this for more than twenty years and I've met the best people in my life in this hobby during those years.
As we approach April 12th, the 150th anniversary of the attack on Fort Sumter and from there on as we move through the Sesquicentennial of the War Between the States, I expect more and more attention to be focused on the war and all its' social and political ramifications, but often viewed, unfortunately, through the prism of today's values. Some of that is valid, of course, and proper, but the tendency today seems too often to shout down or try to demonize those of us who only want to respect the history of the period and the courage and fortitude of the men who struggled and died on both sides - in the context of their times, not ours. I think for most reenactors, it's truly about history and heritage, not hate. We all hope the 150th doesn't get washed away in a tidal wave of political correctness.
TG: We have great expectations that the Sesquicentennial will ignite attention and curiosity of Americans to their Civil War. The present economy has reduced funding for some programs but new events, exhibits and re-enactments are already in the planning stages and will go forward. The national media is already covering this story and during this four year period there will be new movies, television programs and hundreds of new books dealing with this war. The Civil War community will have an opportunity and responsibility to remind and educate America about this pivotal event in our nation's history.
The War Between the States was a very complex and multi-faceted conflict. It perfected the ideals of the American Revolution and forged our nation. As author and historian Shelby Foote said "The American Civil War is a wonderful example of good coming out of evil, of strength coming out of suffering….By a paradox of having this dreadful thing in which we tried to tear each other to pieces, we wound up in the end with a Union that has been stronger than it was before the war started."
Prior generations took the anniversary of the war as a time to take stock of the sacrifices made to perfect this nation. During this anniversary we believe it is our generation's responsibility to get involved and pass on our knowledge to the next generation.
With changes in technology transforming the way in which we experience music, where does a band grounded in history like the 2nd SC String Band fit into the music landscape?
JE: A good question! I presume you're asking where we fit into the overall commercial music landscape? A wise friend and fellow reenactor in a companion unit, Ira Greene, said to me early on, "One of the best things about this music is that it is 'evergreen'." What he saw going into the future was that what we were doing would never go "out-of-style." Every year, new recruits are added to the ranks of reenactors and Civil War buffs. Newcomers will always be "discovering" our music. At least that's what we fervently hope! As I think I mentioned earlier, having five CD albums in the TOP 15 or 20 on Amazon on a routine basis gives us reason to hope that Ira was a prophet.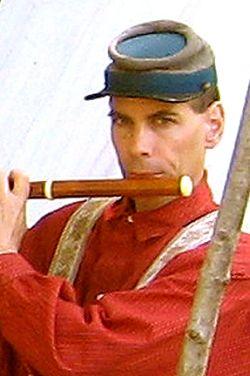 Is it possible to fully recreate the intimate experience of hearing music around the campfire for a modern audience?
JE: Absolutely! Playing for a campfire audience remains our favorite venue. We have done numerous such concerts over the years. In fact, we played one last fall at Cedar Creek, in the camp of the 14th Virginia Cavalry. Actually, our campfire concerts have been the inspiration for the sound and the setting that we strive to bring to any of the audiences we play for. In the past several years, we have experimented with various ways of reducing the technological profile that seems almost unavoidable in most concert settings. In big, circus-like tents where we often find ourselves, or in auditoriums, ballrooms, or low-ceilinged function rooms, it's imperative nowadays that an acoustic, stringed instrument group have a pretty good sound system. In the past that's meant large-ish speakers, microphones and stands, a sound board, amplifiers - in short, all the equipment you'd expect a rock band to have. Without sacrificing the band's sound quality, my vision was to be able to lower that tech-heavy profile to a barely perceptible level - everyone knows it's there, but they're 'in the moment' and they don't notice it because most of the gear is now out of sight. We had long since 'electrified' our instruments in ways mostly undetectable to the average onlooker, but we still needed to improve our sound system heading into the Sesquicentennial years.
Over the past two years, we've acquired a new, state-of-the-art, slimmed down sound setup that has smaller, more powerful speakers, a sophisticated, but compact and versatile mixing board, a couple of really good low-profile condenser mics, and a pair of practically invisible head-gear mics for our two principal vocalists. Now, when the crowd sees us on stage, they have to look closely to spot the evidence of a modern sound system. We've even gone a step farther: one of our members, Joe Whitney, has taken it upon himself in recent years to research, design and reproduce many of the decorative elements common to Civil War era productions - buntings, flags, garlands, and even lighting. All of these different elements: amplified instrumentation and vocals, period decorations, and low-profile sound equipment together enable us to present ourselves to large groups in very much the same intimate seeming manner as if we and our audience - almost regardless of the number - were out-of-doors, huddled around a crackling campfire.
Where does the future of the band lie? Is there a musical avenue you wish to explore more fully?
TG: Reenactors recreate the War Between the States with maximum participation in five year cycles - 125th, 130th, etc. The events of 1861 will be celebrated in 2011 and again in 2016 and 2021. We are now entering the very important Sesquicentennial cycle. Because we are reenactors, the 2nd South Carolina String Band's future has always been influenced by the sequential events and battles of the war. We recognize this current cycle will provide the most significant opportunity the band will ever have to re-introduce America to the origins of its popular music. Therefore, our five year future and all of our energies will be concentrated on this 150th anniversary period.
Over the years, our research has enabled us to better interpret the music heard in Civil War camps. However,it has also proven to us there are hundreds of songs that have not survived as a part of our musical memory. We are currently reviewing numerous tunes to determine if they will stand the test of time and should they be recorded. For us, this has become a very time consuming but extremely satisfying exploration into the life of the common soldiers.
JE: Our fans are relentless! Time and again, we've debuted a new album at a big reenactment and had folks asking, "When's the next one coming out?" And the ink is hardly dry on the packaging! Setting aside the extensive research efforts, logistics involved in getting everyone the materials to study and learn, rehearsal and travel time, studio engineering, recording and mixing time and costs, we are quite aware that there's a finite amount of worthwhile original material to be mined. As the man said, "They ain't writin' any new Civil War tunes." Not any authentic ones, anyway.
Much as we want to satisfy our fan's desire for "new" recordings, we have to recognize that in our genre, most of the remaining music is unknown and unrecognizable to today's listeners. We want folks to buy what we record, but we've learned through experience that many buyers shy away from lists of titles they don't recognize. It took several years, for example, before  In High Cotton, which we consider something of an artistic high point to start selling in any significant way. Folks that have a few of our albums usually go on to buy the lot eventually - which is a good thing, of course. But that occurs over a period of time and therefore we have to be careful about how far we extend ourselves money-wise when it comes to investing in a new project. In spite of all that, I confess we are in the process of developing a seventh collection of songs and instrumentals - he said, teasingly....
The band has partnered with the Civil War Trust before on events. Do members of the band see a connection between the soil where these soldiers fought and the music they played for one another?
TG: In the spring of 1861 thousands of citizen-soldiers left their families and friends behind, shouldered muskets and marched off to defend their states or to preserve the Union. After the war ended and the guns had fallen silent the surviving citizen-soldiers wanted to create a lasting memorial to their compatriots. It was these veterans who lobbied for the creation of military parks.
The Civil War Trust continues the legacy of the Civil War veterans by working to preserve and enhance these battlefield memorials. To date the Civil War Trust has added 30,000 acres at 110 battlefields in 20 states so that future generations can visit and reflect upon the pastoral sites that witnessed the forging of America.
The 2nd South Carolina String Band plays the songs and music that moved the American people of the early and mid-eighteen hundreds. We play the music that was in the hearts and minds and on the tongues of the citizen-soldiers that made up the ranks of the armies of the North and South. It is our hope that the revival of their musical heritage will also help perpetuate the memory of these gallant Americans and their sacrifice.
JE: Amen to that! It will be our privilege and honor if our music can in some way contribute to the continuation of that heritage and to the efforts of Civil War Trust.

Learn More: Visit the Band's Website