10 Facts: America's Battlefields
Fact #1: America's battlefields are hallowed ground and are relevant to you
Your freedom as an American citizen was secured on the battlefields of the Revolutionary War and the War of 1812. The country we know today was forged on the battlefields of the Civil War. Preserving these sacred lands is crucial to understanding what it means to be an American citizen and to sacrifice for your country.
Fact #2: America's battlefields teach us about our history
There is no better way to learn about a battle on American soil than to visit and walk on a preserved battlefield. Learning the stories of these cauldrons of strife teach broader lessons, especially while you are standing where the soldiers stood and seeing what the participants saw. One who studies the Battle of Antietam also learns about the Emancipation Proclamation. The stories of the remarkable sacrifices and against-all-odds victories of Gen George Washington's Continental Army in the Revolutionary War have helped mold the grittiness and resolve of generations of Americans.
Fact #3: America's battlefields are affordable, family-friendly destinations
Many battlefield parks cost nothing to visit. Nearly everyone living east of the Mississippi River can drive to a battlefield in an hour or two. Millions more can do so from elsewhere as well. Most have facilities, such as picnic areas, trails, restrooms and visitor centers. Most have outdoor interpretive signs and displays to explain what happened there.  
Fact #4: America's battlefields stimulate the economy
One in three out-of-town guests in battlefield communities traveled there primarily to see that battlefield, a 2017 economic impact study showed. It also found that in 2015, 9.7 million visitors came to the 10 battlefields studied, generating $569 million in spending for communities, supporting nearly 6,800 local jobs and adding $15 million to state and local coffers.
Fact #5: America's battlefields save and nourish green space
Battlefields often include sensitive watersheds as well as a rich variety of flora and fauna, all of which are protected because the battlefield is preserved. The battlefield at Perryville, Kentucky, for example, is home to a number of rare bird species and has a dedicated "Bird Trail." The green space makes battlefields desirable neighbors. In general, property next to state or national parks is worth about 20 percent more than other nearby property.
Fact #6: America's battlefields are teaching laboratories for our military
National Military Parks such as Vicksburg and Shiloh were preserved in the 1890s as both memorial parks and as places to be studied by the military.  During World War I, the field of Pickett's Charge was a tank training camp. In 1921,when the U.S. Marines staged an elaborate demonstration and training session at the Wilderness battlefield.  America's battlefields were increasingly seen as training grounds and outdoor classrooms. The Marine Corps University at Quantico, to name just one institution, trains at virtually all of the battlefields from Richmond to Philadelphia.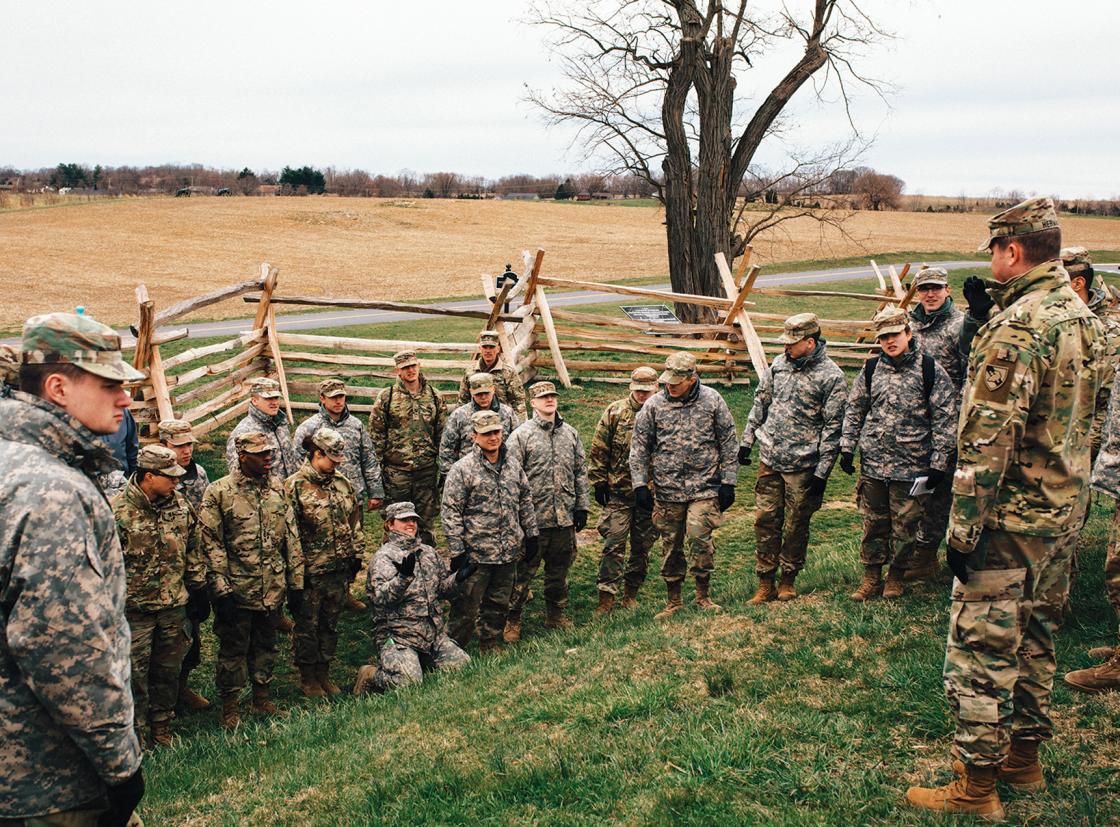 Fact #7: America's battlefields are art parks
At most major battlefields and at many smaller ones, the veterans of those battles erected monuments and markers. The 1,300+ monuments, markers, and tablets at Gettysburg include one of the largest collections of outdoor statuary in the world. Vicksburg, Shiloh, Yorktown,, Chattanooga/Chickamauga and many other battlefields also have significant collections of monuments.
Fact #8: America's battlefields are beautiful
From the panoramic vista at Gettysburg's Little Round Top to the expansive, breathtaking view of Chattanooga and the Tennessee River Valley from Lookout Mountain, America's battlefields have some of the most beautiful and historic scenery in the nation. Unforgettable sights, such as the stone bridge at Concord Massachusetts and Charleston Harbor from the remains of Fort Sumter, greet those who visit America's battlefields.
Fact #9: America's battlefields can help you live longer
Many studies have underscored the health benefits of battlefield parks, not just for exercise but for reducing stress, connecting with nature, improving productivity  and meeting people. Many battlefields stage hikes from simple to challenging while others offer biking, climbing and other opportunities for exercise.
Fact #10: America's battlefields need more preservation
Although the American Battlefield Trust has saved more than 52,000 acres at more than 130 American battlefields, much more needs to be saved. Only a few battlefields are considered fully preserved. Key parcels of core battlefield land still need to be acquired and preserved at even the biggest battlefields, such as Spotsylvania Court House, Cold Harbor, Saratoga, Antietam, and even Gettysburg.