The Genesis of the Modern Battlefield Preservation Movement
In 1987, a group of concerned historians gathered informally to discuss the rapid destruction of Civil War battlefields in Northern Virginia. Eventually, they would come to call themselves the Association for the Preservation of Civil War Sites (APCWS), a group that has evolved into the modern American Battlefield Trust. In recognition of the group's 25th anniversary, the Trust began working with historian Bob Zeller, president of the Center for Civil War Photography, to record the oral history of the early battlefield preservation movement. An early example of that research is excerpted below. Ultimately, Zeller published his findings in conjunction with the 30th anniversary as a full-length book, "Fighting the Second Civil War."
---

Of the countless threats, the one that finally spurred the Civil War community to action, on a national level, was the desecration of the battlefield at Chantilly, Va., in the mid-1980s. For more than a century after the battle that was fought there in pouring rain, the Chantilly/Ox Hill Battlefield remained very much a part of the heritage of Fairfax County. In 1962, the county itself sponsored the centennial commemorative events at the battlefield. The sense of heritage that burned brightly in the 1960s disappeared in the 1970s and 1980s in the bright gleam of the almighty dollar. Fairfax County was exploding with growth, and nearly every acre of undeveloped land, including the old battlefield, was up for grabs.

By the time Civil War buff Ed Wenzel of Vienna noticed the first townhouses sprouting up along nearby U.S. 50 in the summer of 1986, the game was already all but over. Wenzel understood the pressure to develop, but "I just assumed the county (of Fairfax) would be doing something with the site as far as making it a park," he recalls. "Whatever the county was doing, I just sort of assumed they had it under control. But they didn't."
The bulldozers were already scarring the landscape for good when Wenzel began a furious, one-man, rear-guard action, soon joining forces with historian Brian Pohanka and another lone wolf, Clark "Bud" Hall, who was fighting the same battle.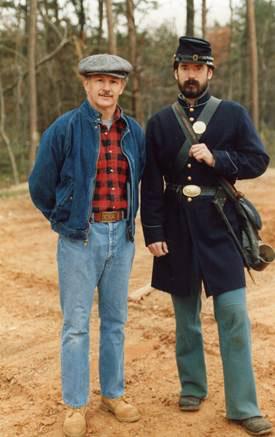 "You talk about three angry guys," Wenzel said. "We just couldn't believe what the county was doing. This was one of the wealthiest counties in the United States, and they knew full well it was a historic site, and nobody was doing anything about this. It was a time when I didn't get much rest."
Wenzel managed to ignite a brief national firestorm when he put the Washington Post onto a story about the remains of a South Carolinian whose grave had been unearthed by the bulldozers, and whose remains were sitting forgotten in a box on a shelf at the local medical examiner's office. In the end, though, most of the battlefield became condos. The preservationists did manage to thwart the plan to move the Kearny and Stevens memorials behind the old Confederate lines, and eventually they were able to help save 4.9 acres (more than twice as much as originally allocated), which is now Ox Hill Battlefield Park.
Down in Petersburg, Va., the controversy touched something deep in Donald Pfanz, then a supervisory historian at the City Point Unit of Petersburg National Battlefield. On a research trip to Fredericksburg in April 1987, Pfanz made a point of speaking to Robert K. Krick, his former boss, the now-retired Fredericksburg National Military Park chief historian. Pfanz decried the Chantilly tragedy and said something had to be done on a national level to prevent this sort of thing from happening again. Krick was dubious of the prospects of a successful national preservation organization, but suggested that Pfanz write Pohanka and explore the idea with him.
Pfanz's letter to Pohanka on April 22, 1987, filling two typewritten, single-spaced pages, is the fountainhead of the modern Civil War battlefield preservation movement. "The organization I envision would consist of a small, but active group of members divided into local chapters based on geography and answerable to a single, central committee," Pfanz wrote.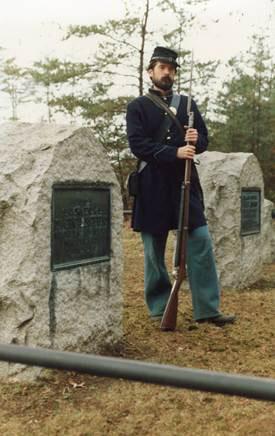 Pohanka, meanwhile, had also come away from the Chantilly episode convinced that "something had to be done, on a national scale, to prevent such a travesty from happening in the future," he wrote in a 2004 letter to current Trust president Jim Lighthizer, a year before his death. Pohanka said he and Pfanz "both agreed that a meeting ought to be held of concerned individuals with a view to forming a Civil War preservation organization."
See the minutes from the first Civil War battlefield preservation meeting: View the Minutes
Pfanz's letter led to just such a meeting of concerned Civil War enthusiasts in July 1987 in a dimly lit but full banquet room at Arbuckle's Restaurant on Sophia Street in Fredericksburg, overlooking the Rappahannock River. Out of that meeting came the Association for the Preservation of Civil War Sites – the first national organization dedicated to saving and protecting Civil War battlefields. It took a year and a half before this grassroots group of volunteers had its first save, and that was donated land. But it was a start.
Although Chantilly was a done deal by July 1987, there was no lack of preservation threats facing the new organization, even at the major battlefields. At Antietam, for instance, local preservationists in 1986 had fought off a plan to put a shopping center next to Grove Farm, where Lincoln visited McClellan, only to face a proposal in 1987 to put up a cell tower overlooking the battlefield. In January 1988, at Manassas, a much graver crisis erupted with the planned development of 542 acres next to Manassas National Military Park. Developers wanted to put a mall and 500 houses on Stuart's Hill, where Lee had his headquarters before the second battle in August 1862.          
Volume One, Number One of Hallowed Ground, published in June 1988, sounded the alarm on these threats. Members of preservationist Annie Snyder's Save Battlefield Coalition responded with the fervor of soldiers in a cause. Protest letters went out by the dozens, T-shirts were printed and sold and information booths went up at Civil War reenactments. It was boots-on-the-ground work in the grandest tradition of a grassroots organization, all of which failed to impress wealthy New York broker Richard Gilder when he attended an APCWS board meeting in 1988.
Gilder said he'd give the group a $50,000 grant if it matched it with $50,000 raised independently. It was the first in a long line of matching grants that would become an ever-more-valuable tool in the organization's arsenal. The fund-raising campaign began in August 1988, and by early 1989, members and supporters had responded with more than was needed to match Gilder's offer.
The first land saved by APCWS came at Port Republic, Va., when the organization took title in December 1988 to 8.55 donated acres of "The Coaling," a key Union artillery position in the battle that culminated Jackson's Valley Campaign. At the same time, Gilder issued a new challenge — $35,000 — which supporters matched with more than $47,500, prompting Gilder to kick in an extra $25,000.
In July 1989, a month after APCWS made its second save —1.5 acres donated acres at Spotsylvania — and before the year was out, APCWS actually began buying land to save it, securing the first of four parcels totaling 30.3 acres with beautifully preserved entrenchments on White Oak Road in Dinwiddie County not far from Petersburg.
By the end of 1991, in less than five years as an organization, the APCWS had saved 467.2 acres at nine sites at a cost of $478,834. Looking back through the lens of history, it was the tip of the iceberg — for saving land and for new threats as well. But for the efforts begun by the APCWS in 1987, there is little doubt that the rolling fields of many other battlefields would look the same as Ox Hill/Chantilly — a sea of dwellings, strip malls and fast food restaurants. But the initiative to preserve Civil War battlefields, which became largely overlooked or forgotten in the years after the Civil War Centennial, was revived in the years leading up to the sesquicentennial in a way unimagined by any of the founders of the modern Civil War battlefield preservation movement.
"No one envisioned that many thousands and thousands of acres would be saved and millions of dollars (spent) on the scale that has come about," reflected noted historian and early APCWS president Gary Gallagher. "That was absolutely beyond what anyone would have imagined."
Pfanz, who started the ball rolling with his letter to Pohanka, served on the APCWS board for a year and then stepped down for geographical reasons when he accepted a new position at Fort Sumter National Monument in Charleston, S.C. Today, he's the historian at Fredericksburg/Spotsylvania and his interest in battlefield preservation is as keen as ever.
"Although my role in creating the organization was modest compared to that of many others," he said, "nevertheless I view it as the greatest accomplishment of my life."