Cemetery
Arlington National Cemetery
1 Memorial Ave
Arlington, VA 22211
United States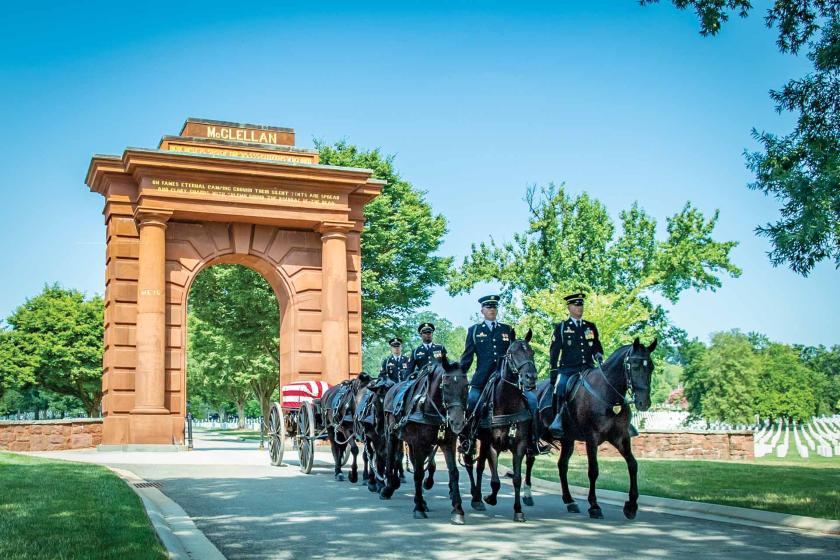 The United States Army runs two national cemeteries, both of which are found near our nation's capital. The more famous, Arlington National Cemetery, sits just across the Potomac River. The Army first occupied the land in 1861, including the plantation home of Robert E. Lee that sat upon the sprawling estate. Its above-sea-level position kept it free from flooding and offered a dynamic view of the District of Columbia. In 1864, the U.S. Government purchased the property at public auction and Quartermaster General Montgomery Meigs identified it as the ideal location for the burial of Union dead, including his own son, John. Meigs himself was buried at Arlington National Cemetery in 1892. The inspiring landscape of Arlington stands as a reminder of the service and sacrifice of all enshrined within its hallowed ground.
Since the Civil War, the national cemetery has grown considerably. On May 30, 1929, Herbert Hoover cemented its legacy by choosing the site to conduct America's first national Memorial Day ceremony.
Today, more than 639 acres of Arlington, Virginia, are dedicated to the 400,000 servicemen and women who devoted their lives to defending justice and liberty both within our nation and beyond. Over 400 Medal of Honor recipients across multiple conflicts lay at rest here, including those that lay in the Tomb of the Unknown Soldier. The cemetery still conducts between 27 and 30 funerals each weekday and continues to expand. Arlington National Cemetery is a testament to the struggles of our nation and to the ongoing process of living history.