Buddy Secor
Saved: Three Tennessee Battlefields
We have saved 15 acres of vital Civil War history in the volunteer state, including Fort Donelson, where Ulysses S. Grant secured the "unconditional surrender" of the Confederate army in February 1862, and at Brown's Ferry, the October 27, 1863, battle that opened the "Cracker Line" and enabled Grant to eventually lift the siege of Chattanooga.
This effort included one final push to ask supporters to get us to the finish line at Franklin, to save land right in the heart of the battlefield, a literal stone's throw away from the center of the main Union defensive line. These close quarters were the scene of horrific carnage.
You responded to the call and now we can declare a preservation victory on a battlefield that was once considered lost, paved over, and nearly forgotten! It wasn't too long ago that both a Domino's and a Pizza Hut stood on the land where 11 Medals of Honor were awarded, and 9,200 soldiers fell, killed, wounded or missing.
Thanks to steadfast supporters like you and a dedicated team of local partners, we have been able to help claw back this battlefield, acre by acre, to tell the story of one of the Civil War's most horrendous days.
Preserving these parcels incorporates more tiles in the mosaic of Tennessee's rich Civil War heritage, adding to the approximately 639 acres we have already saved at these three battlefields. This is a tremendous accomplishment.
The History 
From the very beginning of the Civil War, Tennessee figured prominently in Union and Confederate strategies. It was in Tennessee – during the war's early stages – where Gen. Ulysses S. Grant first gained national recognition by demanding and securing the "unconditional surrender" of a Confederate army at Fort Donelson. In 1863, strategists in blue and gray crafted schemes to seize control of Chattanooga—a vital railroad hub that ultimately remained in Union hands after fighting at places like Brown's Ferry, Lookout Mountain, and Missionary Ridge. And it was in Tennessee that Gen. John Bell Hood launched a last-ditch effort to strike back at the Yankees, resulting in inconceivable suffering at Franklin and subsequent defeat at Nashville.
Your Victory
15
ACRES SAVED
Donation Match
$21.17-to-$1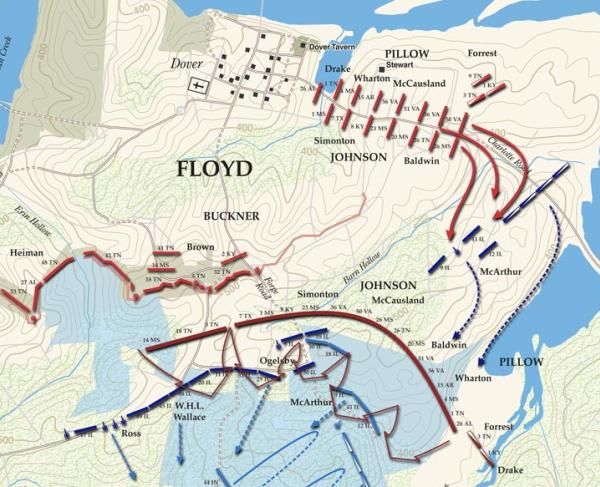 BATTLE MAPS | American Battlefield Trust's maps of the Battle of Fort Donelson, Tennessee on February 15, 1862