Lindsey Morrison
Saved: 94 Revolutionary Acres
For the first time in the Trust's history, modern-day patriots like you have saved land at Saratoga battlefield. These 26 acres, together with 68 preserved at Newtown, will enrich New York State's Revolutionary history for generations to come.
Not only do these two battlefields help us to better understand the complex story that led to the founding of our nation, but modern-day veterans have also made history at Saratoga Battlefield through an innovative partnership with the National Park Service and a nonprofit called American Veterans Archeology Recovery. A couple months ago, the National Park Service supervised a program that trained veterans from the conflicts in Iraq, Afghanistan, and Vietnam – many of whom are dealing with life-altering wounds as well as PTSD – to perform vital research work on the battlefield. We look forward to sharing more about their archaeological survey and transition from military to civilian life in a future edition of Hallowed Ground. We extend our deepest thanks to these brave patriots for their valuable contribution to our understanding of this crucial American history. 
The History
The Battle of Saratoga. The American victory over the British at Saratoga in autumn of 1777 changed the course of the Revolutionary War. British General John "Gentleman Johnny" Burgoyne believed the Hudson River Valley was "precisely the route an army ought to take" to crush the American rebellion. Unfortunately for Burgoyne, coordination between the British armies broke down and a series of battles left him short on supplies and men. As his 6,800-man army retreated north the way they had come, along miserable muddy roads, they found themselves surrounded at Saratoga by troops under the command of American General Horatio Gates. On October 17, Gates accepted their surrender.
As authors Theodore Savas and J. David Dameron write of Saratoga in their book, A Guide to the Battles of the American Revolution, "The victory prompted France to recognize the American colonies as an independent nation, to declare war on England, and to commit money, ships, arms, and men to the rebellion. Without this support, future victories, including the 1781 Yorktown Campaign, would not have been possible."
The Battle of Newtown. On the morning of August 29, 1779, American General John Sullivan led a force of 4,000 soldiers on a mission to destroy an Indian settlement that had been established at Newtown. Sullivan's men advanced on the breastworks constructed by British Colonel John Butler and Indian Chief Joseph Brant, manned by about 300 soldiers and 800 Iroquois warriors, taking their time to reach their positions along steep ground. Once the fighting broke out, it was brutal, even hand-to-hand in some parts of the battlefield. Finally, the British commander called for a retreat. Sullivan mounted a lackluster pursuit, but still managed to achieve the crucial objective of driving the Iroquois nations out of the area, depriving the British of an important ally.
Your Victory
94
ACRES TARGETED
Donation Match
$5.39-to-$1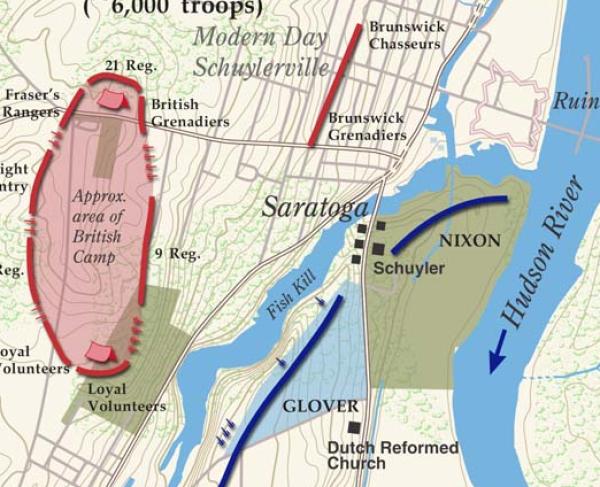 BATTLE MAP | The American Battlefield Trust's map of the Revolutionary War Siege of Saratoga, New York on October 10-17, 1777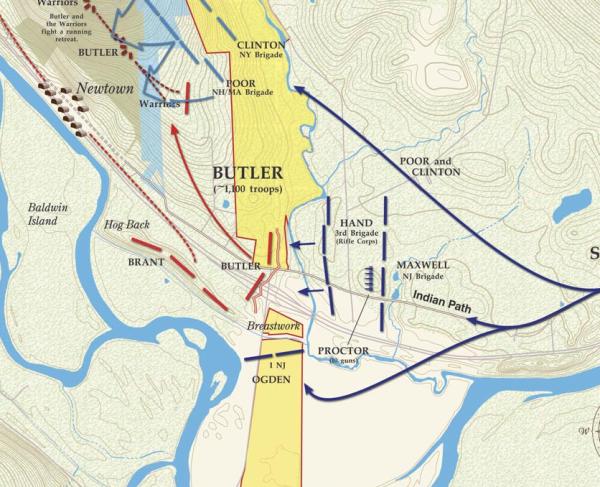 BATTLE MAP | The American Battlefield Trust's map of the Revolutionary War Battle of Newtown, New York on August 29, 1779