Brian Callan
Saved: 29 Acres at Williamsburg
We declare a preservation victory at Virginia's Williamsburg Battlefield, as 29 Civil War acres have been protected. Largely eaten away by the press of development thathas dominated along U.S. Route 60, theWilliamsburg Battlefield and its incredible history have been slowly fading in acreage and memory. Yet, this achievement—made possible by a critical partnership with The Colonial Williamsburg Foundation and support from the American Battlefield Protection Program, the Commonwealth of Virginia, and Trust donors — has the power to reinvigorate Williamsburg's 19th century ties.
The Battle of Williamsburg was the first pitched battle of the Peninsula Campaign, beginning when Union Maj. Gen. George B. McClellan's forces clashed with Confederate Gen. Joseph E. Johnston's rearguard brigades on the rainy morning of May 5, 1862. As the day pushed on, so did forces under Union Brig. Gen. Joseph Hooker. However, Hooker's persevering efforts were dampened by counterattacks directed by Confederate Maj. Gen. James Longstreet. Ultimately resulting in a Confederate withdrawal up the peninsula, the battle was deemed by McClellan to be a "brilliant victory" over superior forces.
The historic value of the property is priceless: It provides opportunities to honor seven valiant American soldiers who earned the Medal of Honor at Williamsburg and to tell important stories of often overlooked African American involvement in the Civil War.
The outcome of the battle was greatly influenced when enslaved persons offered the Union army intelligence about unoccupied Confederate fortifications, enabling them to gain a protected foothold on their opponent's flank. Slave labor had been used to construct these fortifications, and some of the same men who built them clandestinely led Union soldiers through the woods to exploit them. Seeking avenues to freedom, many enslaved persons in the region would pursue self-emancipation while others enlisted in the United States Colored Troops as the war progressed.
The acreage was originally zoned for commercial use and located in a sought-after, highly developed location. So, it was no surprise that the fair-market value of this land presented a challenge. But our gracious partner in the Foundation, along with state and local grants, led us to a viable solution. It was up to donors to ultimately secure the save — and that they did. With each dollar matched $220-to-$1, the Trust swiftly raised the amount needed to protect the 29 historic acres at Williamsburg.
The victory is multifold. While it allows storytelling to flourish at a battlefield impacted by development, it can also reinvigorate the community through the introduction of acharming green space andexpanded tourism's economic perks. Supporters of the Trust are not simply protecting the historic landscape and its accompanying tales; they're supporting hardworking communities across the country.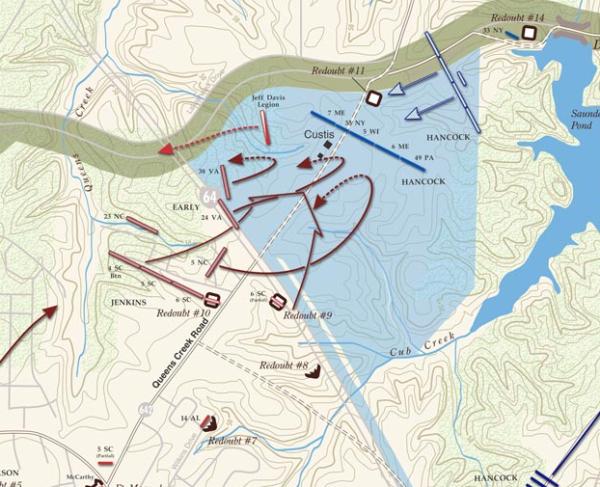 BATTLE MAP | American Battlefield Trust's map of the Battle of Williamsburg, Virginia on May 5, 1862