News
Trust President Emeritus, James Lighthizer, Honored by American Association for State and Local History
Longtime leader of the American Battlefield Trust is recognized for his treasure trove of preservation successes with AASLH's 2021 Award of Excellence.
Colleen Cheslak, (202) 367-1861 x7234
(Little Rock, Ark.) — Leading the American Battlefield Trust for 21 years, President Emeritus James Lighthizer made quite an impression on the history community. The over 53,000 acres saved with Lighthizer at the organization's helm speak to his unyielding determination to ensure that American history can be taught upon the fields it unfolded and shared for generations to come. For his impact, he was selected as a 2021 recipient for the American Association for State and Local History's (AASLH) Award of Excellence. The award was accepted by a Trust representative on his behalf during a reception at the AASLH Annual Meeting in Little Rock, Arkansas, on September 24.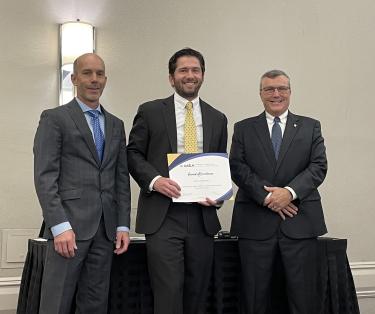 "For more than 80 years, AASLH has connected all those who are dedicated to protecting and interpreting the American story through its advocacy work, conferences, slew of growth-oriented programs, research and publications," said Lighthizer. "But no matter the endeavor, AASLH makes certain the value that history carries within local and regional communities and provides pathways to highlight those stories in practical and thoughtful ways."
This year marked the 76th anniversary of the AASLH Leadership in History Awards, and recognized leaders across the country for their innovative achievements in the field of history. The Award of Excellence is presented to those who go above and beyond for a standalone project — like a publication, public program, or exhibit — but also lifetime achievement. In receiving the award, Lighthizer stands among nationally recognized museums, high-reaching historical societies and insightful authors.
"AASLH is proud to recognize the great work that Lighthizer has done to preserve the landscapes that witnessed transformative American stories," said AASLH Chief of Operations Bethany L. Hawkins. "Battlefields are places of memory and meaning that engage communities and bring localities together in acknowledging their past."
The Trust has often drawn on many of the lessons that AASLH teaches, especially regarding its concern for community impact. Preserved land often translates to sought-after, open green spaces; outdoor classrooms for students who travel near and far to learn about the places where our nation's formative conflicts unfolded; or identity builders for American towns seeking to showcase their unique history and profound past. History creates bonds that unite cities, towns, states, and regions.

The American Battlefield Trust is dedicated to preserving America's hallowed battlegrounds and educating the public about what happened there and why it matters today. The nonprofit, nonpartisan organization has protected over 53,000 acres associated with the Revolutionary War, War of 1812, and Civil War. Learn more at www.battlefields.org.
###