News
Trust Debuts Revolutionary War Traveling Trunks, Expanding Popular Education Program
Applications for the 2023-2024 School Year Are Now Being Accepted
Contact: Mary Koik, (202) 367-1861 x7231 
(Washington, D.C.) — The American Battlefield Trust is expanding its popular Traveling Trunk series for educators to include, for the first time, Revolutionary War Traveling Trunks. Applications for the 2023-2024 school year are now being accepted and teachers can specify whether they would prefer to receive the Civil War Traveling Trunk, filled with artifacts and documents related to that conflict, or one filled with materials related to the Revolutionary War.
"Every year teachers tell us these trunks are an invaluable learning tool that brings history alive for their students," says Kristopher White, the Trust's Deputy Director of Education. "We're especially pleased this year to be able to offer this hands-on experience as it relates to America's fight for independence, too."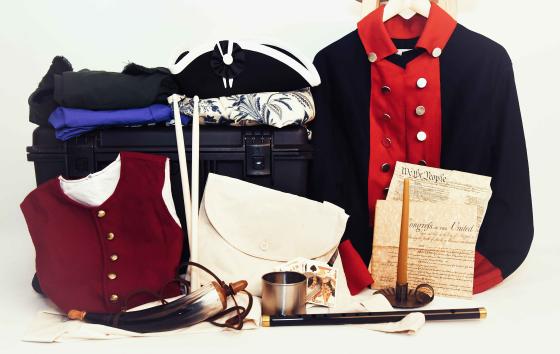 The Traveling Trunk program is free of charge to educators and provides reproduction artifacts, clothing, documents, and other various materials for teachers to utilize during their early U.S. history instruction. The Revolutionary War Traveling Trunk includes more than 30 items for students to explore, including a Continental Army uniform jacket, Colonial dress, powder horn, haversack, hats, flags, hardtack, fife and more. Similarly, the Civil War Traveling Trunk includes reproduction blue and gray uniforms, mess kit, canteen, playing cards, paper money and more.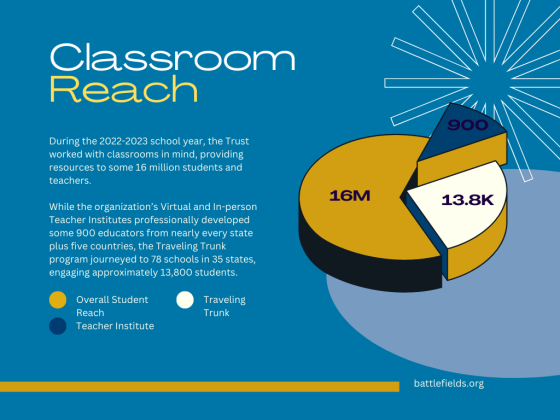 In addition, the Trust is making available lesson plans that work in conjunction with the trunks and their contents. Lesson plans for the Revolutionary War Traveling Trunk include instruction about the everyday life of a Revolutionary War soldier, camp life, the home front, music and notable people from the war. Civil War Traveling Trunk lesson plans address the common soldier, home front, camp life, music and instruments during the war and Civil War photography.
"Traveling Trunks are among the Trust's most longstanding programs, one we have seen yield stellar reviews for decades," said organization president David Duncan. "Their ongoing popularity is a testament to the very human desire to touch the past and find tangible connections to the generations that came before us."
Applicants are selected based on specific criteria and receive a trunk to use with their students for five days, before it moves on to a new destination. During the 2022-2023 school year, the trunks visited 78 schools. Over the years of the program, the trunks have visited 49 of the 50 states!
The American Battlefield Trust is dedicated to preserving America's hallowed battlegrounds and educating the public about what happened there and why it matters today. The nonprofit, nonpartisan organization has protected more than 56,000 acres associated with the Revolutionary War, War of 1812 and Civil War across 155 sites in 25 states. Learn more at www.battlefields.org.
###