'Road to Freedom' App Telling Story of Black Virginians In Civil War Era Wins Silver In Inaugural Anthem Awards
American Battlefield Trust map brochure and app connects residents and heritage tourists to the places tied to under-told historical narratives
Jim Campi, (202) 367-1861 x7205 
Mary Koik, (202) 367-1861 x7231
(Washington, D.C.) – The Road to Freedom, a digital tour guide from the American Battlefield Trust showcasing scores of Virginia sites integral to the Black experience during the Civil War era, has received a Silver Award in the Education, Art, & Culture division of the inaugural Anthem Awards. This new initiative of the Webby Awards celebrating purpose and mission-driven work is presented by the International Academy of Digital Arts & Sciences (IADAS). Other honorees in the Trust's category include the National Geographic Society and Center for Inspired Teaching.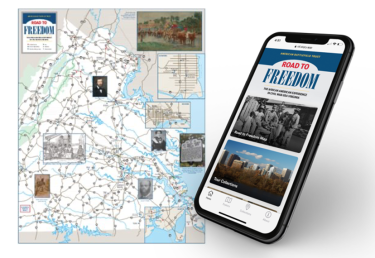 The "Road to Freedom" program, created through a partnership between the American Battlefield Trust and Civil War Trails, Inc., with assistance from the African American Heritage Preservation Foundation, offers free physical and digital products— a map guide available in visitor centers and distribution sites across the state and a web app with downloadable versions for Android and iOS devices. The trail highlights scores of locales across Virginia, a key Civil War battleground state and an important passageway in the Underground Railroad. Sites stretch from Alexandria, just outside Washington, D.C., to Abingdon, near the Tennessee border, and tell stories of soldiers, slaves, educators, politicians and others, marking the places where they staged rebellions, fought for freedom, educated their children, were born and were buried. 
"The American Battlefield Trust is committed to the power of place," said Kate Kelly, a member of the American Battlefield Trust board. "The contributions and experiences of African Americans during our nation's first century have traditionally gone under-told, but programs like this allow us to elevate them and demonstrate their true impact."  
Renee Ingram, president and founder of the African American Heritage Preservation Foundation, praised the work done on the project, adding layers of context and history, including first-person narratives and multimedia elements. "The stories embodied along the Road to Freedom, like the Freedman's Village established on the grounds of what is now Arlington National Cemetery, are rich and profound. It's an honor to be part of a project that enables users to stand at these places and contemplate the threads that tie past and present together."   
The Road to Freedom features Virginia places ranging from museums to battlefields to historic cemeteries pertaining to key topics in African American history, such as slavery, emancipation, the United States Colored Troops, and Reconstruction — and the proactive role that those men and women took in forging their own narratives. While the first Road to Freedom release focused on Virginia sites and stories, plans are underway to expand the project into Tennessee and North Carolina, as well as other potential locations.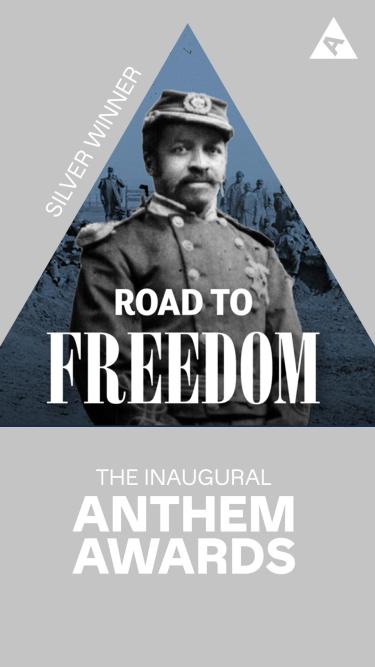 Drew Gruber, executive director of Civil War Trails agreed, noting that "The Road to Freedom introduces historical figures and locations that have been given little voice until now. It invites users to find places where they can stand in the footprint of the past and feel the impact of those events in a tangible way." 
The Anthem Awards were launched in response to the prevalence social good has taken within the national conversation and cultural zeitgeist in recent years. The inaugural competition received nearly 2,500 entries from 36 countries worldwide. By amplifying the voices that spark global change, the Anthem Awards are defining a new benchmark for impactful work that inspires others to take action in their communities. A portion of program revenue will fund a new grant program supporting emerging individuals and organizations working to advance the causes recognized in the inaugural Anthem Awards. 
"It is our distinct honor to recognize the work that brands, organizations, and individuals are all making to create an impact in their community," said Jessica Lauretti, Managing Director, The Anthem Awards. "We launched this platform to show the world that all corners of our culture, from sports and entertainment to business leaders and celebrities, are all standing up to say, it is time for systemic change and that social good is what we value as a society." 
Anthem winners are selected by the International Academy of Digital Arts and Sciences. Members include Daniel Dae Kim (actor, producer, and activist);  Ashley Judd (Author, Actor, and Social Justice Humanitarian); Mitchell Baker (CEO and chairwoman, Mozilla); Lisa Sherman (president and CEO, Ad Council), Sarah Kate Ellis (president and CEO, GLAAD); Renata Erlikhman (chief investment officer, OW Management); Shayla Tait (director of philanthropy, The Oprah Winfrey Charitable Foundation); Russlynn Ali (CEO and co-founder, XQ Institute); Marc Ecko (chief commercial officer and board member, XQ Institute); Heidi Arthur (chief campaign development officer, Ad Council); and Alexis M. Herman (chair and chief executive officer, New Ventures, and former U.S. secretary of labor). 
Winners for the inaugural Anthem Awards will be celebrated at the Anthem Voices conference followed by a star-studded virtual Awards Show on Monday, February 28, 2022.  Fans will be able to hear from social impact leaders during the day and then watch the show, featuring special moments, and hallmark speeches from the winners at www.anthemawards.com. 
The American Battlefield Trust is dedicated to preserving America's hallowed battlegrounds and educating the public about what happened there and why it matters today.  The nonprofit, nonpartisan organization has protected more than 54,000 acres associated with the Revolutionary War, War of 1812, and Civil War. Learn more at www.battlefields.org. 
###