News
Nashville Joins Forces with American Battlefield Trust to Protect Additional Land at Fort Negley
Metro Council approves contribution of $3 million to expand UNESCO 'Site of Memory'; federal and state matching grants also sought
(Nashville, Tenn.) — At their August 1, 2023, meeting, Nashville Metro Council approved a $3 million contribution toward the American Battlefield Trust's acquisition of 2.36 acres adjacent to Fort Negley Park, a critical step toward reintegrating this land into the city's popular park and landmark. The national nonprofit historic preservation organization has secured a purchase contract for the acreage, a project that will help advance the city's ambitions Master Plan for Fort Negley, and will also apply for federal and state matching grant funds to cover the remainder of the $9.25 million transaction cost. 
"This is a community that has embraced the historic resources that set it apart, and we are exceptionally grateful for the vision of Mayor John Cooper and the commitment of Nashville's Metro Council as they have ushered in an exciting new era for Fort Negley," said Trust President David Duncan. "Their eager participation in this project from the outset — philosophically, logistically and financially — has been its driving force, and the Trust is thrilled to facilitate this game-changing acquisition."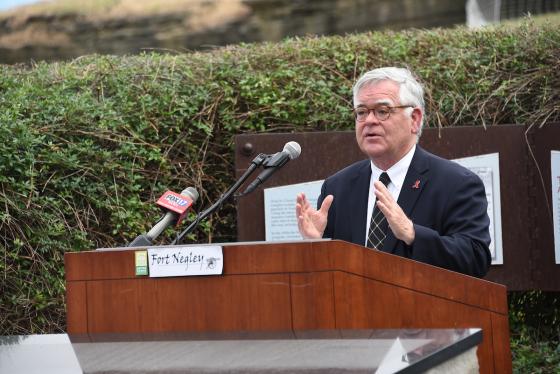 The Trust has protected more than 57,000 acres at 155 battlefields in 25 states by leveraging public matching grants against private donations to compensate preservation-minded landowners at fair market value. Tennessee is a leader among state governments when it comes to assisting in conservation of historic landscapes through the Tennessee Historical Commission's Civil War Sites Preservation Fund, administered by the Tennessee Wars Commission. Fort Negley is eligible for federal Battlefield Land Acquisition Grants, but the success of a project of this magnitude hinged on Metro Nashville's involvement from the outset. This week's final vote by the council is the result of months spent in constant communication and successful passage of the city's FY24 budget. 
"As we work to fully reintegrate this land into Fort Negley Park, this is a moment for Nashville to celebrate," said Nashville Mayor John Cooper. "This acquisition is an investment in Nashville's future by honoring our past and creating space for future generations to learn, remember, and come together as a community. Working with our state, federal and nonprofit partners, we are on a course to transform Fort Negley Park into one of the jewels of the entire region."  
Built by Union forces during the Civil War, Fort Negley may not have played a decisive role in combat for control of the city, but it has become a major Nashville touchpoint in the decades since. It has faced 21st-century battles that pitted conflicting visions for a growing city against an iconic place integral to its past. In just the last five years, large-scale mixed-use development and an arboretum connected to the neighboring Adventure Science Center were proposed on portions of the historic park property. 
The Trust was just one of many regional and national organizations that rallied to Fort Negley's defense, citing its unique story. The labor to build it was largely performed by the formerly enslaved who flocked to contraband camps near Federal lines and were pressed into the harsh service. Many died in the process, and some remains may still lie in the ground in and around Fort Negley Park. The finished fort was defended by regiments of United States Colored Troops, many of whom remained after the war creating a vibrant community that lasted until the building of the nearby federal Interstate forced them out. In recognition of this important narrative, Fort Negley is the first American site nominated for the United Nations Educational Scientific and Cultural Organization (UNESCO) Slave Route Project.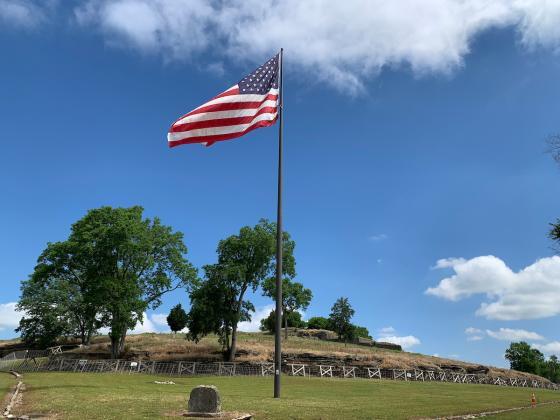 During the 2019 mayoral election, Cooper pledged to champion Fort Negley, a campaign promise he has fulfilled. When the Trust arrived in Middle Tennessee in May for its 2023 Annual Conference, it gathered activists at Fort Negley to present both Cooper and the African American Cultural Alliance of Nashville with its prestigious Preservation Legacy Award in recognition of their stalwart commitment to the site's integrity. That same week, Metro Nashville Council passed a resolution "affirming the protection of Fort Negley", declaring the site "more than a Civil War Relic … [it] presents the unique opportunity to interpret history from the Civil War to the Civil Rights movement at one location" and setting guidelines that all future development should adhere to the master plan's vision.   
All told, Metro Council has approved a budget that includes $18.5 million for Fort Negley, including funds to repair damaged masonry, to begin implementation of Phase One of an ambitious master management plan and, work with groups like the Trust to acquire additional historic land to add to the park. 
"Once, Fort Negley, atop St. Cloud Hill, was a beacon for the newly emancipated, making their way to Nashville and the hope of a brighter future," said Cyril Stewart, president of Friends of Fort Negley Park. "As we prepare for the acquisition and integration of meaningful new land into our park, we kickstart a new era for this incredible site, knowing that it will teach and inspire future generations even more powerfully than it does today. The community of likeminded individuals and organizations that have come together here will undoubtedly find even further success."   
To view photos from the Trust's May 2023 gathering at Fort Negley, click here. 
The American Battlefield Trust is dedicated to preserving America's hallowed battlegrounds and educating the public about what happened there and why it matters today. The nonprofit, nonpartisan organization has protected more than 57,000 acres associated with the Revolutionary War, War of 1812 and Civil War across 155 sites in 25 states. Learn more at www.battlefields.org. 
###