News
Media Advisory: America's Volunteers Called to Action to Maintain Our Nation's Heritage on Park Day
American Battlefield Trust's 27th annual Park Day encourages volunteers nationwide to uplift historic sites on April 15
Mary Koik, (202) 367-1861 x7231  
(Washington, D.C.) — For more than a quarter of a century, the American Battlefield Trust's Park Day effort has welcomed volunteers of all ages to get our nation's battlefields and historic sites ready for spring. In communities across the country, Park Day has become an annual tradition, ensuring that these sites of great importance are primed to welcome their warm weather crowds. Hands-on projects, from trail maintenance and fence repair to historic sign installation and ground maintenance, help keep communities engaged with history in their own backyard. This year, the Trust will celebrate Park Day on April 15, 2023.
"The tradition of Park Day is one that can be enjoyed together as a community, a family, a team — the list goes on and on," says Trust President David Duncan. "But it's more than a day to gather and soak in the outdoors; it's about putting a spotlight on the historic treasures scattered across this great, diverse nation. Even more, it's about service to the places that make up our American story."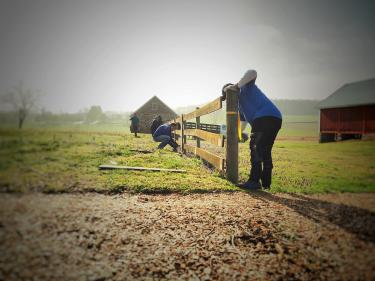 Throughout its history, Park Day has yielded more than 458,000 cumulative hours of volunteer labor and over 100,000 participants. From Boy and Girl Scouts, Lions Club members, church groups, Wounded Warrior groups, ROTC units, youth groups, Rotarians and more, each volunteer has rallied behind the importance of keeping these pieces of American history clean and accessible for visitors from every corner of the world. Understanding and embracing the benefits of preservation, many local businesses and community organizations provide volunteers with food and drink.  
Scores of sites tied to the Revolutionary War, War of 1812 and Civil War have already enlisted in this year's Park Day initiative, and more will follow through Friday, March 17. Using the Trust's Park Day hub at www.battlefields.org/parkday, site managers can register for the event and potential volunteers can browse participating sites using an interactive map. 
Please note that as Park Day sites consider weather and local public heath guidelines, some may choose to participate at another time. For any questions regarding weather policies, rain dates and other considerations, the Trust recommends that volunteers contact their site of interest. 
The American Battlefield Trust is dedicated to preserving America's hallowed battlegrounds and educating the public about what happened there and why it matters today. The nonprofit, nonpartisan organization has protected more than 56,000 acres associated with the Revolutionary War, War of 1812 and Civil War across 155 sites in 25 states. Learn more at www.battlefields.org.    
###