American Battlefield Trust
News
History Nonprofit's Efforts Have Sent More Than 40K Students and Teachers on Field Trips Across America
Upon serving more than 40,000 students and teachers through field trip funding assistance, the American Battlefield Trust has renamed the program and raised the funding ceiling
Colleen Cheslak-Poulton, (202) 367-1861 x7234
(Washington, D.C.) — Much like Civil War veterans believed battlefields could serve as classrooms for civilians and military alike, the American Battlefield Trust is adamant in its belief that battlefields are outdoor classrooms — locations for education, commemoration and contemplation. As such, the leading battlefield preservation and education nonprofit has had a hand in sending K-12 classrooms from across the country to historic sites connected to the Revolutionary War, War of 1812 and Civil War since 2014. Through the nonprofit's Field Trip Fund, more than 40,000 students and teachers on over 450 trips have been given the opportunity to explore these outdoor classrooms, whereas they wouldn't have had the ability to. Now, nearly a decade after its creation, the funding program has officially been renamed the History Field Trip Grant Program, and its funding ceiling raised from $1,500 to $3,000. 
"The American Battlefield Trust is proud to support schools in seeking out placed-based experiences that put their students in contact with the places and artifacts that make up our American story," said Trust President David Duncan. "The number of students and teachers we've served through our field trip funding program is a testament to our dedication to history education."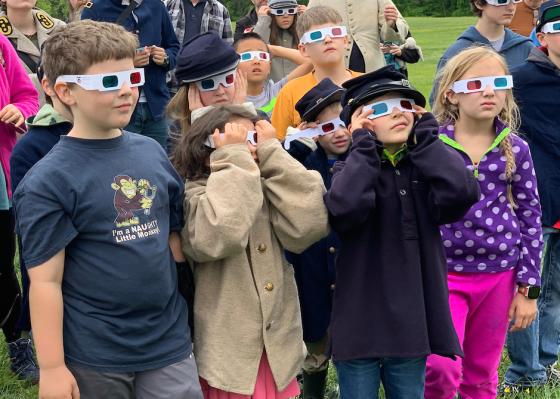 Designed with the goal of augmenting the impact of history education through place-based opportunities, the Trust's funding program helps to cover transportation, admission fees and guide fees — as a method of offsetting the cost of field trips. A continuation of its mission, the Trust's program extends to battlefields, museums, and other historic sites related to the Revolutionary War, the War of 1812 and the Civil War — some of the most popular destinations include Gettysburg National Military Park, Antietam National Battlefield, Independence Hall and Mount Vernon. 
Funding for each trip is determined based on demonstrated need and must be applied for in advance of the trip taking place. But now, with increased funding potential as high as $3,000, the Trust's support may play an even more critical role in determining whether or not a field trip is possible. For more details on the funding program, or to apply, visit www.battlefields.org/history-field-trip-grant-program.  
American Battlefield Trust-funded field trips always yield gratitude from their participants. Of the many notes of thanks received, one teacher said, "Your generosity in helping fund our trip went a long way in making it an unforgettable learning experience for my students. Raising thousands of dollars for a trip is not an easy task, and I needed all the help I could get."  
Through a constant effort to listen to educators' needs, the Trust knows that video resources are in great demand in the modern classroom. As a result, the organization embarked on a journey to expand its video library, including the creation of free and accessible virtual field trips. Beginning with a Trust-produced virtual field trip to War of 1812 Baltimore, the series has expanded thanks to an interpretation grant awarded through the National Park Service's American Battlefield Protection Program. With the help of acowsay, an award-winning film company, the Trust launched its visually stunning and content-packed Boston Virtual Field Trip earlier this year. Iterations for Charleston, New Orleans and Vicksburg will follow. For the Trust's current array of video resources, check out its expansive YouTube channel.   
To learn more about the History Field Trip Grant Program or the vast array of teacher resources the Trust provides, visit www.battlefields.org/learn/educators. 
The American Battlefield Trust is dedicated to preserving America's hallowed battlegrounds and educating the public about what happened there and why it matters today. The nonprofit, nonpartisan organization has protected more than 56,000 acres associated with the Revolutionary War, War of 1812 and Civil War across 155 sites in 25 states. Learn more at www.battlefields.org. 
###