Historian Chris Mackowski Named to Copie Hill Civil War Fellowship
Position will create exceptional written and multimedia content in the honor of preservation pioneer
Mary Koik, (202) 367-1861 x7231
(Washington, D.C.) – The American Battlefield Trust has selected Chris Mackowski, Ph.D., as a recipient of its highly regarded Copie Hill Civil War Fellowship. As the Copie Hill Civil War Fellow, Mackowski will be responsible for a variety of writing and media projects for the Trust, which is America's largest battlefield preservation organization.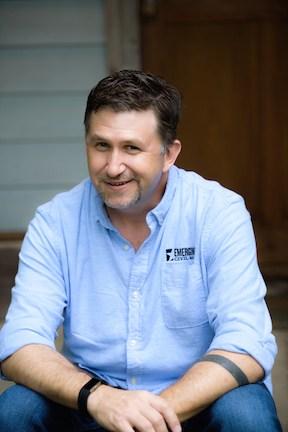 "For more than a decade, Chris Mackowski has been a trusted friend, ally and partner to this organization. His skills complement and enhance the many educational initiatives we have underway," said Trust President David Duncan. "In this new and formalized role, he will serve as a writer in residence for the Trust, working on public-facing content while also helping our internal staff improve their own writing skills."
Mackowski is a familiar face to Trust members. He regularly appears in video projects with Chief Historian Garry Adelman and Deputy Director of Education Kristopher White. He has led tours and given programs at numerous Trust events, and his writing has appeared in the Trust's magazine, Hallowed Ground. He has also been heavily involved with the Trust's annual Teacher Institute for the past several years.
Mackowski is a writing professor in the Jandoli School of Communication at St. Bonaventure University, where he also serves as the associate dean of undergraduate programs. He has authored, co-authored, or edited more than twenty-five books related to the Civil War, and he serves as editor-in-chief of Emerging Civil War, a group of more than 30 historians dedicated to connecting the public with the story of the Civil War.
"I am a huge believer in the idea that battlefields teach us something about our history that we can't learn in any other way, so preserving those battlefields is vital. That's why I've been so committed to the American Battlefield Trust for so long. Their preservation work has made such a huge impact," Mackowski said. "This is an exciting opportunity to deepen that relationship in a way that will, I hope, help both me and the Trust do even more to spread the good word about battlefield preservation."
The Copie Hill Civil War Fellowship was made possible through a gift from the HTR Foundation, founded by Arthur Copeland "Copie" Hill. Hill was a self-made businessman who founded Hill Truck Rentals. He passed away in 1997, but before his death, he established the HTR Foundation to support saving Civil War history through education and battlefield preservation. "Copie Hill's influence looms large on the battlefield preservation landscape," said Duncan. "His foresight and generosity has led to the direct preservation of thousands, of acres of threatened battlefield land. It is a remarkable legacy."
The American Battlefield Trust is dedicated to preserving America's hallowed battlegrounds and educating the public about what happened there and why it matters today. The nonprofit, nonpartisan organization has protected more than 56,000 acres associated with the Revolutionary War, War of 1812 and Civil War across 155 sites in 25 states. Learn more at www.battlefields.org.