News
Experience Black History Month With These Thirteen Exhibits and Events
The American Battlefield Trust recommends these insightful events, exhibits and programs in honor of Black History Month
Colleen Cheslak-Poulton, (202) 367-1861 x7234
(Washington, D.C.) – In America's bicentennial year, 1976, President Gerald Ford first designated February Black History Month. The American Battlefield Trust is committed to elevating stories about the role African Americans played in the formative conflicts of America's first century through digital interpretation, the development of key park sites and continued preservation at battlefields central to these stories — not only throughout the month of February, but year-round. With more than 200,000 Black soldiers who fought and sacrificed to establish a more perfect union on our nation's battlefields, there are several stories waiting to be told.
With a place-based mission, the Trust encourages individuals, families and classrooms to seek out sites connected to our American past. So, to reflect on the multifaceted roles African Americans played in the country's formative wars and beyond, the organization recommends the following 13 events and exhibits.
---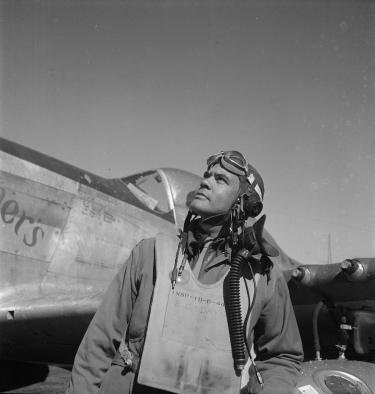 February 2: "Half American: The Epic Story of African Americans Fighting World War II at Home and Abroad," virtual event
Virtually join the Boston African American National Historic Site at 4:00 pm on February 2, as they welcome civil rights expert and Dartmouth history professor Matthew Delmont to discuss the definitive history of World War II from the African American perspective. Delmont will draw from his book, "Half American," to expand upon the stories of Black heroes like Thurgood Marshall, Benjamin O. Davis, Jr., Ella Baker and more. While this event is free, registration is required. Learn more.
February 3, 11, 12: "Lift Every Voice: African Americans & Civil War Navies," Columbus, Ga.
The National Civil War Naval Museum is celebrating Black History Month by amplifying the voices of African American nurses, pilots, sailors and engineers of the past. This performance, featuring professional actors, will engage guests with remarkable accounts from these real-life figures. The first show is free, but visitors are advised to register beforehand. Learn more.
February 4 – 27: "Keep Going," A Black History Discovery Hunt, Philadelphia, Pa.
Looking for a fun way to uncover hidden stories of Philadelphia's unsung heroes? Join Independence National Historical Park for an interactive scavenger hunt throughout Black History Month, and journey to places in Old City Philadelphia that speak to Black resistance and resilience. To learn more about this activity, click here.
While at Independence National Historical Park, make sure to check out their temporary exhibit, "Freedom On Trial." Exploring how men, women, and children escaping a life of enslavement once faced legal hearings for their freedom in Independence Hall, this exhibit will be on display February 1 – May 28. Learn more.
February 11: "First in '61: Nick Biddle and Pennsylvania's First Forgotten Defenders," Gettysburg, Pa.
Join historian John Hoptak at Gettysburg National Military Park for a lecture on the soldiers who composed the ranks of five companies of Pennsylvania militia who later became known as the "First Defenders." Centered around the journey these brave men made to Washington, D.C., the lecture will elaborate on the violence they endured and the men in their ranks, such as 65-year-old Nicholas Biddle, who had escaped from slavery. Learn more.
February 11: "Black Founders: The Forten Family of Philadelphia," Philadelphia, Pa.
This new special exhibit at the Museum of the American Revolution will introduce museum guests to the life of James Forten and his descendants over the course of a century. Using objects, documents and immersive environments, visitors will explore the different ways in which the Forten family was involved in the Revolutionary War, the economy of Philadelphia, the abolition movement and the women's suffrage movement. Learn more.
February 13 – March 12: Black History Month Art Contest & Exhibition, Springfield, Ill.
Rising artists in grades K-12, show off your creative talents with the Lincoln Home National Historic Site! To commemorate Black History Month, the site is hosting an art contest — for mediums including photography, painting, collage, drawing, etc. — revolving around the theme "What does Black History mean to you?" With submissions accepted until February 12, the artwork will be displayed at the Lincoln Home Visitor Center from February 13 – March 12. Learn more about the contest and exhibition.
Check out a plethora of other February events that the Lincoln Home National Historic Site is hosting here.
February 18: "Walk in the Footsteps of Dr. Carter G. Woodson," Washington, D.C.
Honor Black History Month by walking in the footsteps of its founder, Dr. Carter G. Woodson. Do so by joining the Association for the Study of African American Life and History at the Mary McLeod Bethune Council House National Historic Site at 11:00 am on February 18, to start an interpretive journey to Dr. Woodson's residence in the Shaw Neighborhood. Led by actor Darius Wallace, who will portray Dr. Woodson, the tour will spotlight places tied to his story. Learn more.
February 22: "Black Spaces in White Worlds: Prince Hall Freemasonry, Emancipation and the Contingencies of Empire," virtual event
Hosted by Boston National Historical Park, Dr. Chernoh Sesay and Old North Illuminated will be exploring the topic of Black religious and political spaces during the Revolutionary War and early republic via Zoom at 7:00 pm on February 22. Join for an insightful presentation and learn how enslaved and marginalized people of African descent fashioned community in unexpected places and played pivotal roles in historic change. Registration is required. Learn more.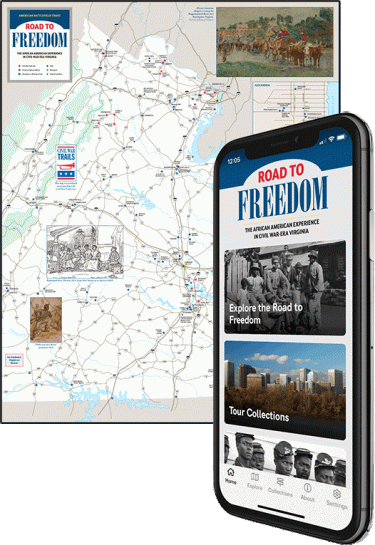 February 25: "Antebellum and Civil War African American Experience," Kenosha, Wis.
Join the distinguished image collector and historian Mike Medhurst at the Civil War Museum, as he unveils a photography presentation made of his own collection, along with the museum's curated pieces. Including one-of-a-kind photographs, the presentation will provide visual insight into the lives of African American soldiers and civilians before and during the Civil War. Learn more.
Ongoing: "Double Victory: The African American Military Experience," Washington, D.C.
This National Museum of African American History & Culture exhibit highlights the African American military experience, spanning from the country's origins into modernity. It discusses that the idea that service is not only a demonstration of patriotism – but a demand for liberty and citizenship. Learn more.
Ongoing: "Contested Franchise: The 15th Amendment and the Right to Vote in America," virtual exhibit
Presented by the American Civil War Museum, "Contested Franchise" digitally explores voting rights in the Civil War era and how the 15th Amendment changed so much yet did so little. Learn more.
Ongoing: "Finding Freedom," virtual exhibit
Delve into this interactive feature from the Museum of the American Revolution to learn about the lives and decisions of five real people of African descent living in war-torn Virginia in 1781. This award-winning experience draws from a combination of historical sources and contemporary analysis to help these first-person narratives breach the bounds of time. Learn more.
Ongoing: Virginia's "Road to Freedom" Program, various locations in Virginia
The American Battlefield Trust and Civil War Trails, Inc.'s Road to Freedom network encourages visitors and Virginians alike to uncover stories of strife, growth and community by highlighting the Black experience during the Commonwealth's tumultuous Civil War-era. Between a free map guide and app, the Road to Freedom features more than 90 sites across Virginia, from Alexandria just outside the nation's capital to Abingdon near the Tennessee border. Included locations range from Civil War Trails interpretive signs and historic highways markers to museums and battlefields with permanent installations pertaining to topics in Black history, including slavery, emancipation, the United States Colored Troops, and Reconstruction. Learn more.
---
For more travel ideas, check the National Park Service events calendar, visit a state park website, search for museums and historic sites near you, or visit the American Battlefield Trust's events calendar.
The American Battlefield Trust is dedicated to preserving America's hallowed battlegrounds and educating the public about what happened there and why it matters today.  The nonprofit, nonpartisan organization has protected more than 55,000 acres associated with the Revolutionary War, War of 1812, and Civil War. Learn more at www.battlefields.org.
###