News
Commemorate Memorial Day Weekend at Fourteen Engaging Battlefields and Historic Destinations
The American Battlefield Trust recommends the following programs, events and activities at some of America's most famous battlefields and historic sites in honor of Memorial Day 2022
Colleen Cheslak, (202) 367-1861 x7234 
Michael Froning, (202) 367-1861 x7244 
(Washington, D.C.) — In the years following the Civil War, Americans began dedicating a day each spring to remember friends and family members who lost their lives during that tragic conflict. Initially known as Decoration Day, the tradition has evolved to encompass all American wars, and Memorial Day became a national holiday in 1971. To honor the sacrifices made by of our nation's military, the American Battlefield Trust — a national nonprofit organization that preserves battlefields of the Revolutionary War, War of 1812 and Civil War — recommends the following events, volunteer opportunities and activities for Memorial Day weekend 2022. For more activities and destinations, visit the Trust's online events page or check out calendars maintained by the National Park Service and state parks or museums near you.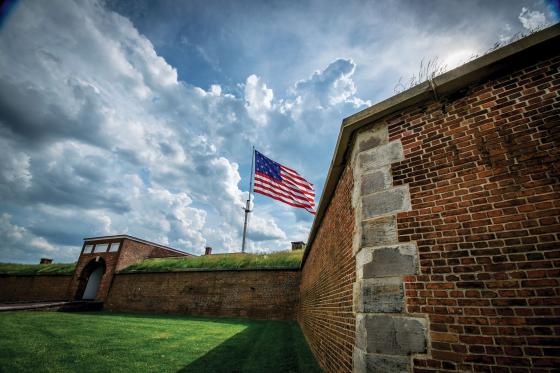 May 19 - June 4: Field of Remembrance at River Raisin National Battlefield Park, Monroe, Mich. 
River Raisin National Battlefield Park displays 500 flags each year in honor of all those who have answered the call of their Nation to defend, protect and selflessly pay the ultimate sacrifice. Learn More. 
May 27-31: Symbol of Sacrifice at Fort Scott National Historic Site, Fort Scott, Kans. 
Visit the historic fort parade grounds where approximately 7,000 US flags will honor service members who have made the ultimate sacrifice to keep our county free. There will also be guided tours daily. Learn More. 
May 27-30: Memorializing Veterans at the Tomb of the Unknown Revolutionary War Soldier, Philadelphia, Pa. 
Join rangers from Independence National Historic Park as they share stories of war veterans from 1775 through the present at the Tomb of the Unknown Revolutionary War Soldier in Washington Square. Learn More.  
May 28-30: Field of Honor Flag display at Franklin D. Roosevelt Home Site, Hyde Park, N.Y. 
Hundreds of American flags will fly in a patriotic display honoring veterans and first responders. The event will feature family activities, local entertainment, story walks, and a kids tent with crafts and games. Learn more. 
May 28 - 30: Decoration Day at Fort McHenry, Baltimore, Md. 
Fort McHenry National Monument and Historic Shrine will offer special programs focusing on the Civil War origins of Memorial Day, including a living history encampment and ranger programs. Learn more. 
May 28 - 29: Booming on the Battlefield at Shiloh National Military Park, Shiloh, Tenn. 
Join the Shiloh Cannon Crew as they present Civil War artillery demonstrations featuring a reproduction Model 1841, 6-pounder cannon. Learn More. 
May 28 - 30: Memorial Day at Perry's Victory and International Peace Memorial, Put-in-Bay, Ohio 
Activities will include weekend firing demonstrations (cannon and small arms) and a Memorial Day service on Monday to honor those that gave the last full measure of devotion to their country. Learn More. 
May 28: Memorial Day Weekend Luminaria at Fredericksburg National Cemetery, Fredericksburg, Va. 
During the 27th annual luminaria, "Taps" will be played every 30 minutes and local scouts will light 15,300 candles in the cemetery to honor each veteran burial. Learn More. 
May 28: Historic Weapons Demonstration at Harpers Ferry National Historical Park, Harpers Ferry, W.Va. 
Learn about Harpers Ferry's role in the gun-making industry with ranger programs and living history displays along Arsenal Square, plus historic weapons demonstrations from the Chesapeake Independent Blues and the U.S. Marine Corps Historical Company. Learn More. 
May 28: Vietnam Casualties in the Gettysburg National Cemetery, Gettysburg, Pa. 
Park rangers from Gettysburg National Military Park and Eisenhower National Historic Site will highlight the stories of service members from south-central Pennsylvania who were killed in action or died of wounds during the Vietnam War with a free 90-minute guided walking tour of the Gettysburg National Cemetery. Learn More. 
May 28: Memorial Day at the Princeton Battlefield State Park, Princeton, N.J. 
The Princeton Battlefield Society is hosting a Remembrance Day that will include a wreath and ribbon event and a remembrance ceremony. Learn More. 
May 30: Memorial Day Ceremony at Culpeper National Cemetery, Culpeper, Va. 
The Culpeper National Cemetery will be hosting a Memorial Day Ceremony at 11:00 a.m. and all are welcome to attend. Learn More. 
May 30: Memorial Day Commemoration at Saratoga National Military Park, Stillwater, N.Y. 
Join park rangers and staff to honor those Americans of the Northern Army who perished fighting for the very existence of our nation in the 1777 Battles of Saratoga. Learn More. 
May 30: The Reconstruction Era Origins of Memorial Day at the National Mall, Washington, D.C. 
Join the National Mall and Memorial Parks staff for a commemoration of Memorial Day at Logan Circle and learn about the Reconstruction Era origins of Memorial Day. Learn More.  
The American Battlefield Trust is dedicated to preserving America's hallowed battlegrounds and educating the public about what happened there and why it matters today. To date, the nonprofit, nonpartisan organization has protected nearly 55,000 acres of battlefield land associated with the Revolutionary War, War of 1812, and Civil War.  Learn more at http://www.battlefields.org.  
###